Where's Juju?
Right where you'd expect him to be, playing video games surrounded by a sea of teenagers while his pup Boujee is lounging behind him. 
It's an overcast Saturday in Torrance, California and Juju Smith-Schuster, the 21-year-old Pittsburgh Steelers wide receiver, is spending the afternoon at El Camino College for the Adidas Football 7v7 Championship. Other pros and highly rated draft picks are walking around the grounds, like former North Carolina State defensive lineman Bradley Chubb and Broncos receiver Emmanuel Sanders, but Smith-Schuster, wearing clout goggles, is getting the most picture requests among the teens competing for a national championship. Which makes perfect sense because Smith-Schuster just might be the most related NFL player for your average high schooler. 
We caught up with the USC product coming off an impressive first season with the Steelers to chop it up about his memorable night gaming with two rap superstars, what he's learned playing alongside Antonio Brown, and what he's driving these days since he finally got his license in November. 
(This interview has been edited and condensed for clarity.)
We're here at 7-on-7 tournament and you're not that much older than a lot of these kids. How easily can you relate to where they are on their football journey? 
Man, I can relate. I'm not that far, like two, three years away. It's just awesome to give back to the community thanks to Adidas being able to sponsor. It's great to see young kids in a position to move forward.
Did you ever have anything like this when you were coming up?
Not anything like this. This is crazy. I played 7-on-7, but nothing this serious. I think it's great that we're able to communicate from older guys to younger guys how the game is changing.
What's the been the most frequent question these kids have asked you about football?
Just the transition of going from college to the NFL. My response is just, honestly, if you put your mind to it, put God first, work hard, and put all your eggs in one basket, it's easy.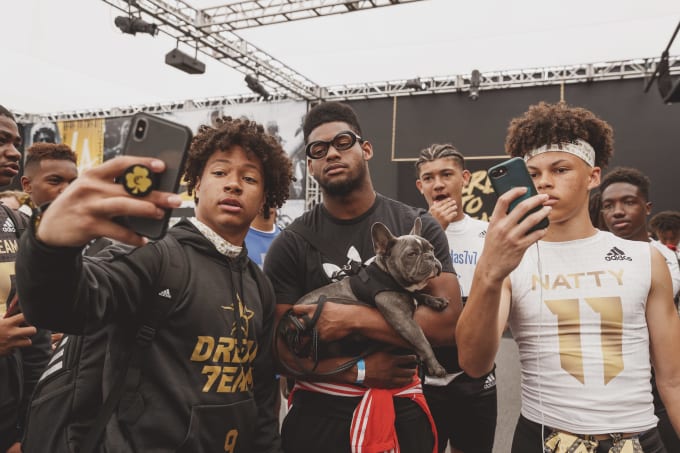 You really blew up this past season so tell me how different life is this off-season compared to last. Your profile jumped up big time. 
It's crazy. I can't explain it. I was at Roscoe's the other day. And there was a group of like 54 in front of me. And I just walked up and that group of 54 was big fans of me and the manager was like you can go ahead of this big group. It was like an hour wait. That was dope. So some perks. 
You nerded out about the experience of playing "Fortnite" with Drake and Travis Scott. Still surreal to think you were playing with those two? 
It was unreal.
How'd that come about?
Ninja hit me up a while ago, I hit up Ninja like we should play some time. We've been off and on. Drake's been the same way. He hit me up, like, yo let's play tonight. I'm like I'm down. Next thing you know Drake invited Travis Scott and it's us three and it's crazy. 
Have you played again with these guys? You staying in touch with these guys?
Drake's invited me a few times to play. Ninja does streaming stuff. Other than that, it's crazy. I've got Drake giving me bandages. I've got Travis Scott reviving me. It was pretty cool.
Did you get any hints of Drake's new music?
Nah. 
And now you have to recruit him to the Three Stripe family.
I heard about that. I heard about that. That would be awesome. 
How did the whole recruiting LeBron to the Steelers thing come to you?
Me and my team had an idea of doing this. It was like, why not go all out if we're doing this. When we did it it blew up to this big thing where I was able to get courtside tickets. And I met LeBron. Then I had to retire it because at the end of the day we all know LeBron's not going to play football. It was just a fun moment.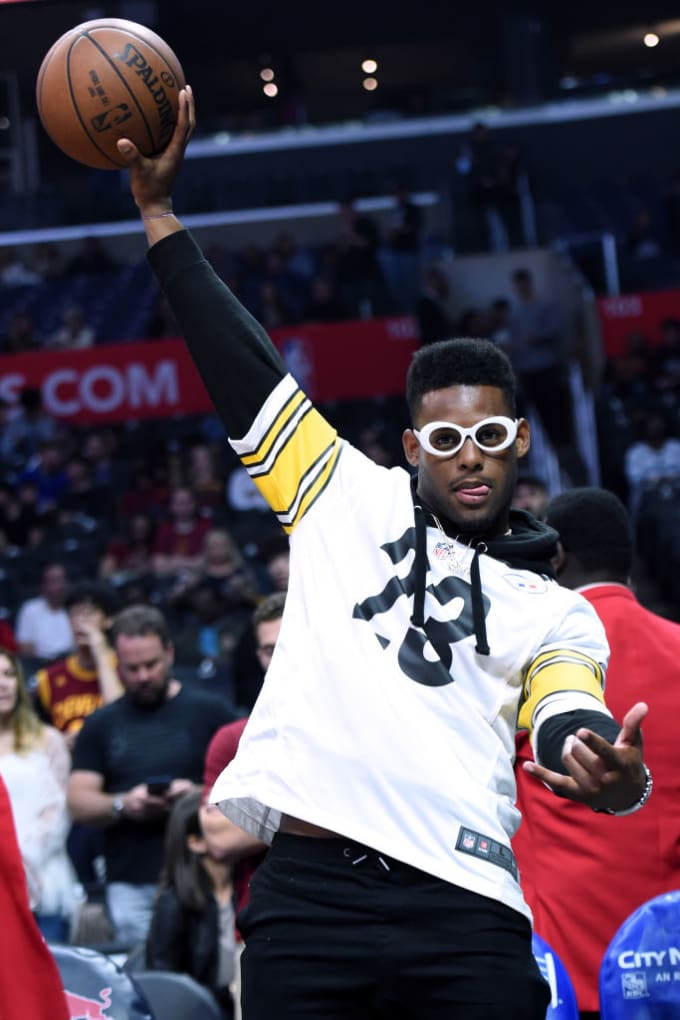 Would he be a better wide out or tight end?
I think he'd be a better tight end. Because he's too big. And man the physical-ness, he's all about that. 
So you got to witness LeBron's greatness in person, whose greatness in football do admire?
A.B. is the man.
What have you learned playing alongside him?
With A.B., it's hard. A.B. is like his own...it's hard to explain. I was a big fan of A.B. in college. Why is he so good, what does he do? Of course, what he does, I see it every day. People he works with, people he hires, he [does] ballerina [movements], yoga. Random stuff. Like why would you do that? But it's A.B. I can't even explain it. When you watch him do the stuff he does in the game, he does that every day in practice. I'm used to it. It's A.B.
You got to knock off meeting a few people from your celebrity bucket list this year, who is the one person you want to cross paths with or collab with on a project?
Kobe Bryant. Big Kobe fan. He was a young dude that went into the league and dominated and him following Michael Jordan's footsteps, he was unbelievable. We all know his work ethic. I would love to pick his brain. 
The Three Stripe family keeps growing. We talked to Aaron Judge before the baseball season started. Who is somebody in the Adidas family you really admire and are inspired by?
[Looks down at his Yeezy 350 V2 Beluga sneakers.] That's an obvious one. 
How popular is Boujee when he's with you?
He's actually very popular. It's like my dog, then my bike, then me. In that order. 
Do you miss the bike at all?
I do. 
I know you finally got your license. What are you driving right now?
Right now I have a Nissan rental.
Ok. You going to take it up a level at some point? 
Yeah, I bought a Tesla. Nobody has a Tesla in Pittsburgh. I've got to be a trendsetter.