Honor is pretty important in boxing and, like many of his fellow fighters, Danny Jacobs was not happy with the punishment handed down to Canelo Alvarez. 
"From all my peers and everyone who I've talked to inside the boxing world, they don't appreciate or think that the six month suspension is justice," says Jacobs. 
Alverez, of course, was caught with the banned substance clenbuterol in his system earlier this year and was handed what many feel was a joke of a six month suspension by the Nevada State Athletic Commission. Instead of facing the wrath of the governing body for committing one of the sport's most egregious sins, Alvarez essentially had his highly touted, and extremely lucrative, rematch with Gennady Golovkin delayed a few months from May to a likely meeting in September. 
Jacobs (33-2, 29 KO) is an interested party because Alvarez is a potential future opponent. The Brooklyn native and former middleweight champ is back in action Saturday (HBO, 10 pm ET) against undefeated challenger Maciej Sulecki (26-0,10 KO) and the winner becomes the mandatory challenger to Golovkin's WBA belt. That title will be on the line when GGG and Canelo square off again, presuming GGG—who Jacobs nearly upset in 2017—takes care of business in two weeks against Vanes Martirosyan. 
Before he headlines the card at Barclays Center (tickets remain available through Ticketmaster), we talked to Jacobs about what he expects from Sulecki, why he was frustrated with Canelo's punishment, who he would like to face next, and the special Wakanda-themed ring entrance he has planned for Saturday.  
(This interview has been edited and condensed for clarity.)
How different do fights feel in Barclays Center compared to other venues? 
It's like performing at the Apollo, man. You really get to see and feel the energy of your people. I think it's just special. I'm truly from New York and being that it's right in my backyard, so many friends and family are going to be here. It's a special thing because I feel so connected to it. Whether it's through the culture or sports, I feel a connection through the people and I'm just glad to represent Brooklyn the right way.
If there's one thing you have to zero in on about Suleki, the thing you're most worried about facing him in the ring, what is it? 
I would probably say he's a tall guy so mainly trying to get past his jab and trying to control that. I really feel like my experience will be able to carry me through whatever situation he presents. But if there's anything I can point out it would probably be his reach. He has a good work rate. It really calls for a great fight. In my last fight, [Luis Arias] didn't come to put on a good show. He talked a good game but he didn't deliver. But I'm really expecting [Suleki] to deliver like he says he is. 
If boxing fans haven't seen Suleki before, what kind of fight should we expect between you two? 
Style wise you can expect two guys coming forward because style wise he's a boxer/puncher. He's more a puncher than a boxer even though his body and his range and his reach says he can use his jab, but he can come forward. And I know what I bring to the table. We both understand the opportunity at hand as well: this is the mandatory for the WBA belt which Golovkin holds at the moment so the winner of this fight will have an opportunity to fight Golovkin or whoever has that belt at the time. 
How much is the prospect of a rematch with GGG, or Canelo, whoever has the belt after they probably fight in the fall, is weighing on your mind heading into this fight?
It's weighing on my mind a lot. It's not going to interrupt my flow or make me nervous, where I try and look so good that I end up making a fool of myself. But motivation, I know what it represents. I have good enough experience to know to remain focused and level to the point where I can get the game plan done. Knowing that in the back of my mind it helps me. My thing is I can't force these guys to fight, but there are mandatories in place to set up opportunities for me to get a rematch. These guys really aren't in a rush—these top guys—really, to fight me. So I'm thankful that we have a mandated title fight. 
Do you have a preference? Do you want to square up with GGG again or would you like to take on Canelo?
No, I mean I've always wanted to prove to the world that I'm the best. Whoever they consider the best, which is Golovkin at this time, that's who I want to go against. But who knows how long before they'll actually step into the ring? But I'm grateful that I'm in the middleweight division which is stacked with competition so I don't have to count on one guy to prove who is the real deal and prove that I am what I say I am. There's guys like Jermall Charlo and guys like Billy Joe Saunders. We want Golovkin, but at the same time we're not going to wait around for him if he doesn't win the fight.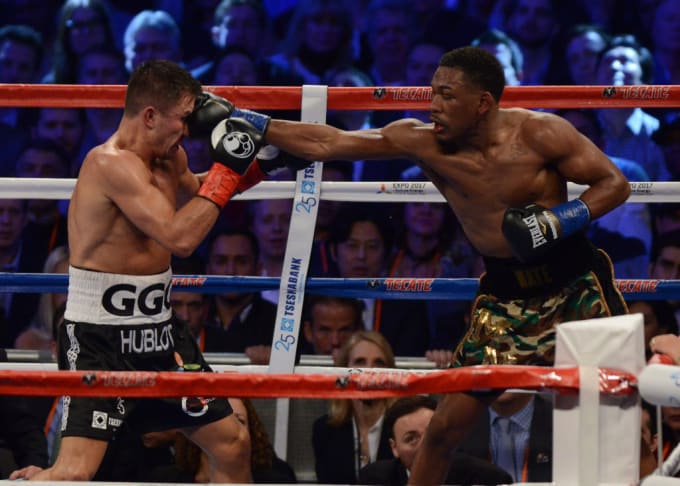 Your new promoter, Eddie Hearn, made some comments recently that Charlo is a legit potential opponent. Is that something you're interested in?
One hundred percent. He's creating a lot of noise for himself in the middleweight division right now. After only two fights, it's very rare that you get this type of attention from the public when they consider you to be one of the future of the division already. So I'm just looking forward to proving that I'm the best so if it's going to be against the new guy in the division or the old guy, who is already considered one of the best, it doesn't matter to me. I'm just glad I have options. 
You've been asked about Canelo before. People have different opinions about his recent suspension. Bottom line: Do you consider any guy that gets caught using PEDs, no matter the circumstances or excuse, to be a dirty fighter?
It's evident, and not that I'm putting anything out there, but he knew exactly what was going on. Every athlete is responsible for what they put into their bodies. So tainted meat is a very poor excuse. He needs to be fined very, very heavily. A six month suspension, to me, is something, but he needs to be hurt where it counts and that's his purse. I think it would really send a strong message if they could fine him a great deal. 
Is that the opinion that's widely shared in the gym? That the stain of this is not going away anytime soon?
From all my peers and everyone who I've talked to inside the boxing world, they don't appreciate or think that the six month suspension is justice. They're saying, not that you can get away with it, that it's just like when your mother hits your hand with the ruler, but you're allowed to go play with your toys afterward. I would prefer to have his toys taken away from a while and learn his lesson. I am grateful that they suspended him, but it taints his legacy and that's the most important thing. People are not going to respect him. He's a Mexican. Mexican's fight for pride and they fight for the glory and for that to be tainted for him cheating, it serves him right. 
Welterweight is still probably the best division in boxing. You can make a case for light heavyweight as well. Is the middleweight division getting it's due respect?
I think right now the middleweight division is starting to be stacked with a lot of competition. At one point it was the welterweight division that had all the guys. Now with Canelo moving up and a couple of other guys moving up, we're getting our just due. Where we stand on the line in terms of best divisions? That's an option. At the end of the day, I'm just grateful that we're the center of attention at the moment.
Andre Ward had an interesting question to you in your sit down with him, about the narrative of African-American boxers having to play the villain often. That's never been your style, but did you ever seriously think about needing to play that stereotypical role to further your career? 
It's very frustrating. I look at some of my YouTube views and look at some of the charity work I've done in my community as opposed to the Charlo incident just recently and that other thing had almost 500,000 views and this [charity] thing only had 20,000 views. It's crazy because people love controversy. I guess it's just the world we live in. But I'm a man that comes from a background where morals and being true to yourself meant something and I'm going to stick to that regardless. I can dip and dab into it in terms of keeping it respectful but still causing a little controversy. But at the same time, I'm not a guy to go out of my way to try and just do things to bring attention to the sport. That's not me.
So was the Charlo incident blown out of proportion?
I think it was blown out of proportion. I went up to him simply to get a point addressed. But with the people being there, his entourage, it was definitely blown out of proportion. This is what happens in boxing and throughout the history of boxing. So I'm not doing anything other than what I've seen so many past champions do. I'm continuing that tradition of fighters calling out each other or sometimes step to each other. There might be a little tension. But I've known these kids since they were young. But there's no beef between us. It's just the sport. But if we can cause a little drama before the fight so people know we're going to fight then that's great. It's definitely not going to be no disrespect.
You teamed up with Hearn and his promotion team, Matchroom Boxing. The majority of American die-hard boxing fans probably have a somewhat negative opinion of Hearn as we watch Anthony Joshua and Deontay Wilder circle each other. But why did you decide to work with Eddie? 
I just thought it was a great opportunity for me because I want to be the center of attention. I don't want to be in a stable of guys that have to fight for the spotlight. I want to be with a promoter who is solely focused on me. When I was presented with the opportunity to work with Eddie, I thought it would be perfect. I see the job he does with Anthony Joshua and if I can have the same kind of attention and same promotion and a guy back me like that, it was almost a no-brainier. It was kind of a duel package, too. I signed with him and HBO. They're both trying to make me into an American superstar.
"I'm definitely going to be doing a Wakanda themed entrance. We have some African dancers, some drummers, it should be really interesting and cool and definitely for the culture."
How badly do you get roasted for calling "Titanic" your favorite movie?
Well, "Titanic" is probably my second favorite movie. "Black Panther" is now my favorite movie, to answer your question. I definitely got roasted, but I don't care about that. A lot of people behind closed doors love "Titanic" so I'm cool with where I stand.
You love Frank Ocean. So does the Complex audience. Why does Frank's music resonate with you so much that he's your favorite artist? 
Oh my goodness, this guy. His storylines, his passion, just the contrast of everything. He really takes you to a different place every time you listen to him. You can listen to him anywhere and everywhere you go. I have so many memories, and I love music because you can listen to a song when you're at a certain place or doing something special and that particular song will always remind you of that thing. So for Frank, it's more like I have a connection with him. His music resonates with me. It penetrates me. He has a beautiful soul. I love who he is as a person. From what I do know, he's a very secretive guy. But I love what he stands for. Coming out with his sexuality, he's a very bold guy. I support everything about him. But his music, from the very first time I listened to his album, I was hooked. 
You've said you can sing a little in the past. But can you sing like Frank?
Definitely can't sing like Frank. I'm the guy who sings in the shower, more than anything.
In your previous fights, you've had elaborate entrances to the ring, like the band you had for the Peter Quillin fight at Barclays Center in 2016. What do you have planned for Saturday?
So I've been real inspired with the whole Wakanda thing and I'm glad we finally have a black hero the kids can look up to and be inspired by. So I'm definitely going to be doing a Wakanda-themed entrance. We have some African dancers, some drummers, it should be really interesting and cool and definitely for the culture.