Michael Jordan famously said that the biggest reason for all of his success was that he failed over, and over, and over again.
Even GOATs play like trash sometimes.
Everyone rightfully remembers Jordan for his greatest moments, like his shot over Craig Ehlo, The Shrug, The Final Shot, etc. Nobody can forget these moments when remembering MJ, because they're the cornerstones of his legacy.  
But these moments were only part of the Michael Jordan story. Along with every Jordan triumph was the (very, very occasional) Jordan fail. It can be difficult to find the low points, because even on nights when MJ's shot wasn't right, it wasn't uncommon to see him still find a way to put up 20 points.
But the bad games do exist. The 50 percent from the line games, the .178 field goal percentage games, and even a single-digit game are all part of Jordan's otherwise unblemished career. They happened, just like his six NBA Finals did. And we think they deserve some shine, if for no other reason than to prove to you that no one is perfect. Not even MJ.
If there was a big enough sample size of awful games, we'd give you Jordan's 23 worst. But there isn't. At least not if you leave out his Wizards days, which will not be included on this list. Instead, we'll give you 12 forgettable MJ moments, in honor of the one night Jordan wore the No. 12 after his regular jersey was stolen.
12. March 14, 1985 vs. Knicks
Stats: 16 points, 3 rebounds, 8 assists, 5-of-18 shooting
Result: Knicks 106, Bulls 97
Jordan took the basketball world by storm as a rookie during the 1984-85 season with his dazzling dunks and a sizzling shot. On this night, though, Jordan showed his inexperience against a lowly Knicks team. He shot just 28 percent from the field and missed five free throws in 11 tries.
11. May 11, 1989 vs. Knicks
Stats: 15 points, 8 rebounds, 3 assists, 7-of-17 shooting
Result: Knicks 114, Bulls 97
Jordan was just about always at his best in the playoffs, but this night would be an exception. MJ recorded just 15 points on the night, missing both of his three-point attempts and three of his four free throws. The 15 points were the fewest Jordan ever scored in a playoff game.
10. April 1, 1995 vs. 76ers
Stats: 12 points, 5 rebounds, 6 assists, 5-of-19 shooting
Result: Bulls 91, Sixers 84
Michael Jordan is a bad basketball player…
April Fool's!
Jordan pulled a fast one on the world on April Fool's Day 1995, scoring just 12 points on a 5-of-19 effort from the field. It was just Jordan's seventh game back from his first retirement, so perhaps there was a bit of rust that he needed to shake off. Or maybe he was just playing with us all.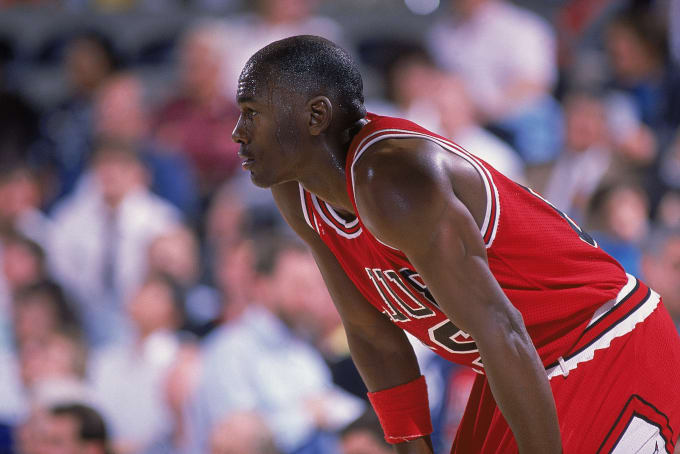 9. December 7, 1988 vs. Pistons
Stats: 18 points, 7 rebounds, 7 assists, 4-of-16 shooting
Result: Pistons 102, Bulls 89
The "Bad Boy" Pistons owned Michael Jordan early in his career.
Detroit's "Jordan Rules" matched MJ up with extremely physical defense and represented the biggest hurdle Jordan ever had to climb in the NBA. The Pistons bounced the Bulls from the playoffs in 1988, 1989 and 1990, going 12-6 against Chicago in the process.
This night in December was the perfect example of how those Pistons teams shut Jordan down. It's not often you hold the league's most potent scorer to just four field goals.
8. December 26, 1987 vs. Pacers
Stats: 17 points, 6 rebounds, 6 assists, 6-for-22 shooting
Result: Pacers 106, Bulls 92
Jerry Seinfeld said that people snap out of their Christmas spirit like it's a drunken stupor. And for Michael Jordan in 1987, that was apparently true — on the stat sheet, at least. Jordan was off all night and turned the ball over a game-high five times. Maybe he had a little bit too much eggnog the night before or something.
7. March 14, 1987 vs. Bullets
Stats: 13 points, 7 rebounds, 8 assists, 5-for-20 shooting
Result: Bullets 106, Bulls 105
MJ's 13 points were the second-fewest he had in any game during the 1986-87 season, and it made a major difference in this one, as the Bulls lost by just one point. Had Jordan summoned even a slightly better performance, Chicago would have likely won the game.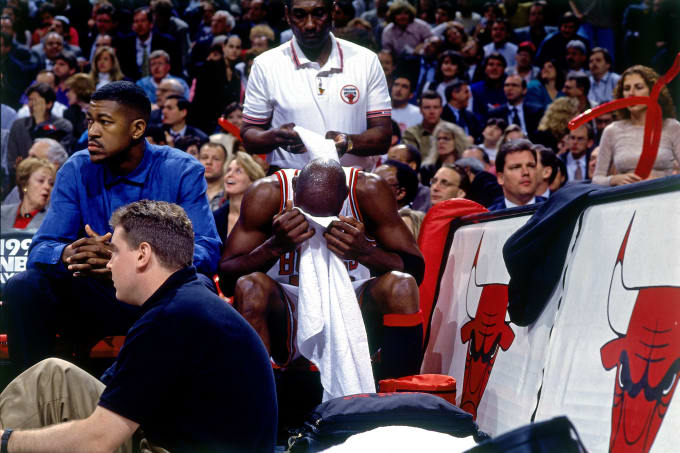 6. April 15, 1998 vs. Pistons
Stats: 19 points, 6 rebounds, 4 assists, 7-of-25 shooting
Result: Pistons 87, Bulls 79
Jordan was off on every aspect of his game against Detroit, missing all three of his three-point attempts and half of his ten free-throws. He was ice cold from the field as well, shooting just 28 percent on the night. For just a brief moment at the end of the 1998 season, the 35-year-old Jordan showed his age.
5. May 7, 1995 vs. Magic
Stats: 19 points, 5 rebounds, 3 assists, 8-of-22 shooting
Result: Magic 94, Bulls 91
You're down three in a playoff game. Ten seconds to go. If you could have any player in the history of, well, ever take that shot, most people would say they would want Jordan.

This actually happened on May 7, 1995, but thanks to Magic swingman Nick Anderson, it was not to be. He stole the ball away from No. 45 Jordan in the final seconds of Game 1 of the Eastern Conference Semifinals to hand Orlando the game. This stands as Jordan's worst playoff game, as he turned the ball over eight times and went just 8-for-22 from the field, scoring 19 points.

This game actually caused many to wonder if Jordan's best days were behind him. Anderson then infamously took Jordan to task after the game, saying, "No. 45 doesn't explode like No. 23 used to. I couldn't have done that to No. 23."

Jordan then switched back to 23 the following game and went on to win another three championships, making all the talk about Jordan's demise premature. But this still stands as Jordan's worst performance in a playoff game.
4. March 15, 1997 vs. Hawks
Stats: 10 points, 4 rebounds, 3 assists, 5-of-11 shooting
Result: Bulls 99, Hawks 79
The Hawks did a fantastic job of keeping the Bulls in check on this night. Jordan's 10 points were the second-fewest he ever scored in a Bulls uniform. He never made it to the free-throw line, and he missed his only attempt from beyond the arc on the night. It's too bad for Atlanta that the Bulls did an even better job of keeping them in check.
3. March 27, 1997 vs. Raptors
Stats: 12 points, 10 rebounds, 4 assists, 5-of-17 shooting
Result: Bulls 96, Raptors 83
March 1997 wasn't a good month for Jordan.
In just their second season of play, the Raptors did a great job containing Jordan. He was ice cold from the field, shooting at a meager .294 clip, and turned the ball over six times—tied for the most of any player on either side in that game.
Luckily for Chicago, Scottie Pippen and Luc Longley each came through with 16 points, with the former shooting 40 percent from the field and the latter hitting six of his seven free throws.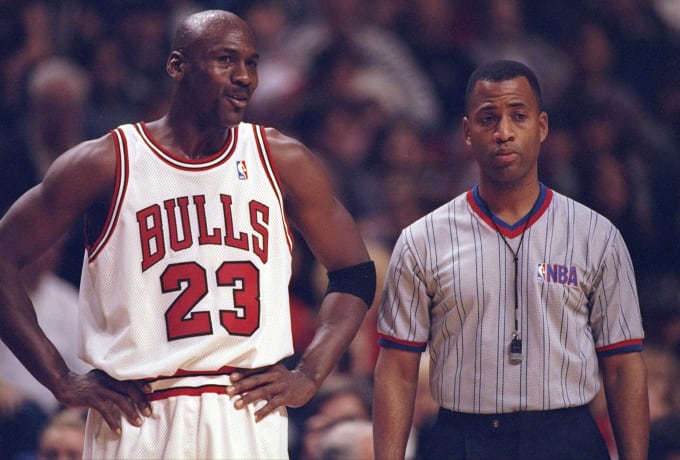 2. December 13, 1986 vs. Bucks
Stats: 11 points, 4 rebounds, 2 assists, 3-of-17 shooting
Result: Bucks 113, Bulls 90
Shooting just 17 percent from the field? Ouch. This wasn't far off from Jordan's .202 batting average as a Double-A outfielder.
1. March 22, 1986 vs. Cavaliers
Stats: 8 points, 1 rebound, 1 assist, 4-for-13 shooting
Result: Cavs 123, Bulls 97
Jordan was off all night during this game against Cleveland, shooting just 31 percent from the field. This ended up being the only game in MJ's 930-game Bulls career that he failed to reach double figures in scoring. The only one. If you're doing the math, that's 0.00107 percent of his games with the Bulls that ended with Jordan scoring fewer than 10 points.
In a way, this game says quite a bit about MJ's greatness, as he went the next 12 years without hitting single digits even once. It also goes to show how rare a dud game from Jordan was, which is part of what made him so great. Not only were his best moments legendary, but his worst moments were so few and far between that there was practically only peak MJ to speak of.
His Wizards career notwithstanding, at least. Let's get that thing from Men in Black and erase that part of MJ's career from our memories.