This summer saw Carmelo Anthony disappear from the Knicks' roster as well as lose his status as one of the game's superstars. But it was also the summer of Hoodie Melo. It became shorthand for the diabolical version of Melo who fans saw training and playing pickup. He seemingly couldn't miss with the hoodie on, so much so he busted out a dang skyhook with the drawstrings pulled tight. His banana boat pal, LeBron James, couldn't contain him in a hoodie, either.
Melo's former teammate and friend, J.R. Smith, nicely summed up Hoodie Melo in an interview. 
"Hoodie Melo doesn't play with a conscience," Smith said. "Regular Melo has a guard up. Both great, but I like Hoodie Melo." That lack of conscience means Hoodie Melo isn't worried about what anyone thinks; he's gonna play his game.
Anthony seems to agree with Swish. He packed his hoodie for the 1500-mile trek from New York to Oklahoma City and during media day with the Thunder he again pulled up the hood and offered an explanation for  its power: "It was so much going on that was surrounding me that I just wanted to find a way that I can just focus in," he said. "And that's when Hoodie Melo was created."
For Melo, the hoodie was a figurative way to blot out the distractions this summer and just hoop. But it's also quite literal: If you've ever looked out on the world with a hood over your head, you know that your peripheral vision is covered. It creates a single-minded focus on what's directly in front of you. In order to get the most out of a body that's logged over 40,000 minutes in his NBA career, along with all his international play, it's the hooded version of Carmelo Anthony who can best affect a basketball game.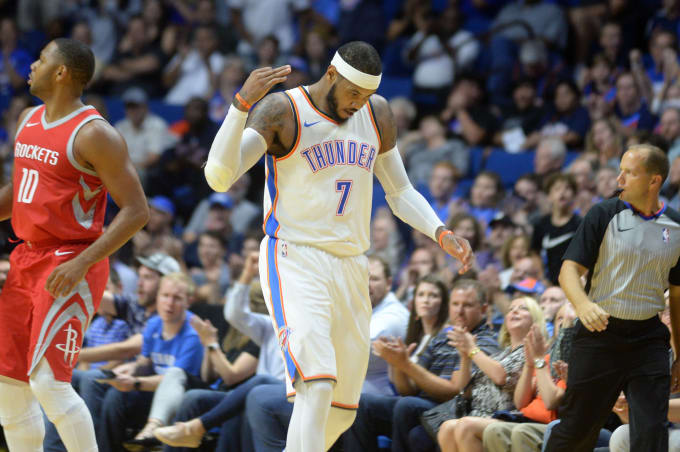 Hoodie Melo isn't bogged down by superficial concerns like where to be in the Triangle offense, or hustling back on transition defense. When that hood comes up, he doesn't hear the detractors who say he's too selfish and lazy to win a ring. Hoodie Melo is almost solely focused on the task at hand, dropping buckets, and that's how he should play when the season tips off—even if the NBA doesn't allow him to actually wear a hoodie.
At one point in time, Carmelo Anthony might have been capable of being the best player on a title-winning NBA team. Perhaps the 2009 Denver Nuggets win a ring if Kobe Bryant's Achilles tendon rolled up his tibia four years earlier, and the Boston Celtics lost Kendrick Perkins for a Game 7. On that team, Melo could focus on scoring and leave the playmaking duties to Chauncey Billups, and the defense to Nene and Kenyon Martin.
It's Hoodie Melo who has a record three gold medals as the sharpshooting wing for Team USA. It's not really hyperbole to call Melo the greatest international basketball player ever, but it is a misnomer. Carmelo Anthony didn't win gold at the 2008, 2012, and 2016 Summer Olympics; Hoodie Melo did.
The Carmelo Anthony who can carry a crappy NBA team (think every Denver squad before Billups arrived) into the postseason is probably gone. This season, like Team USA, Melo might finally have the personnel to unlock the Hoodie version of himself in an NBA game. In Oklahoma City he's got the reigning NBA MVP in Russell Westbrook, one of the top two-way players in the game in Paul George, and a defense that's primed to be one of the league's best. It's the perfect team for Anthony, but more than that, it's the perfect fit for Hoodie Melo.
Despite the perceived shortcomings in his game, and the actual ones, Anthony has always scored at an elite level, and you could make the case he was the best pure scorer in the league in his prime. He can still score in a multitude of ways, with few—if any—weaknesses on the offensive side of the ball. His commitment to defense and involving his teammates can come and go, but he can rip nylon as well as nearly anyone in NBA history.
The hoodie just unlocks and then magnifies what makes Anthony so special. Be prepared for Hoodie Melo in an NBA arena near you.