On first glance, the bombshell trade sending Chris Paul to the Houston Rockets might make Rockets fans a tad queasy. After Houston overachieved last season, such a drastic addition could shake up a squad that appeared ready to be one of the best teams in the West for the next couple of seasons. But upon closer inspection of the Kevin Durant Warriors era, Paul offers Magnolia City a better chance to slay Goliath when it matters most: the postseason.
Rockets coach Mike D'Antoni smartly moved James Harden to point guard last season and the Beard rewarded him for that decision by putting up an MVP campaign (after coming to camp in shape), even if he again finished second for the award (the second time that's happened in three years). After the move, the Rockets played like one of GM Daryl Morey's fever dreams: Everything was beyond the 3-point arc or at the rim. Their shot chart for the season reflects this emphasis: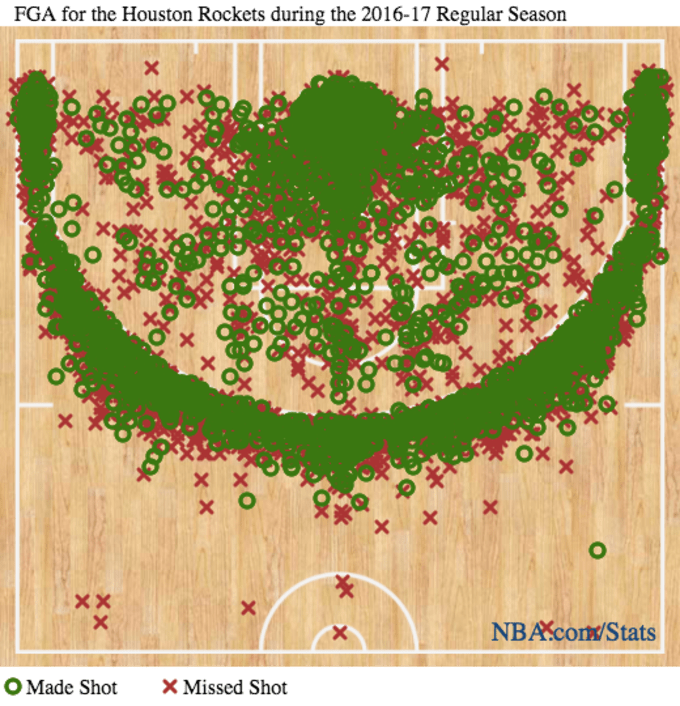 But because Houston's offensive game plan was so obvious and predictable, when they got into a seven-game series during the playoffs, their opponents knew exactly what was coming. That's a severe disadvantage when you're focused on stopping the same team over a two-week period.
While Oklahoma City didn't have the manpower to get four wins in the first round, they did offer up some intriguing options for Gregg Popovich and the Spurs in the conference semifinals. Mainly, stick an athletic big near the rim and try to stay at home on Houston's shooters along the arc.
Harden is so good, it often doesn't matter. When he's attacking in the pick and roll, your defensive execution has to be close to perfect. He might be the best in the NBA at finding crevices in the defense to drive, draw fouls, make shots in traffic, or spot the open shooter on the weak side if a defense has closed off those drives by pinching into the paint.
Popovich has even said Harden's the only player he actively watches on film in an effort to slow him down:
Pop said he doesn't watch game tape on the opponent this time of year. "Except for the Rockets. Harden is ridiculous."

— Tom Haberstroh (@tomhaberstroh) December 23, 2016
But, again, Houston's predictability is more acute in the playoffs when everyone is trying their hardest on defense and—at least theoretically—executing at their apogee. That's where CP3 comes in.
You noticed it with the Warriors: Secondary and tertiary playmakers are most important in the playoffs. Yes, Steve Kerr's motion-heavy offense is beautiful to watch over the grind of a regular season, but when an opponent schemes specifically for your sets, you gotta have guys who can break down their man off the dribble, or execute out of the pick and roll.
The Warriors have four of those playmakers, and two of them are MVPs. Relying solely on Harden as the primary playmaker with some Eric Gordon, Ryan Anderson, or Patrick Beverley touches when he takes a brief breather on the bench won't dent Golden State's dominance.
With Paul, Houston is one step closer to that overabundance of playmaking that helps so much in the playoffs. Aside from Harden, Paul might be the best in the NBA at finishing out of the pick and roll. Last season's numbers back up the eye test on that, too:
44% of Houston's half court offense was created out of the pick & roll last season. The Rockets now have 2 of the NBA's top-3 PnR passers pic.twitter.com/GvOcx6xTjW

— Synergy Sports Tech (@SynergySST) June 28, 2017
Not only that, but Paul's not averse to picking teams apart in the one area of the floor—the mid-range—Houston steadfastly avoids. That makes them less predictable.
Houston didn't give up as much as you might think to acquire perhaps the second-greatest point guard of all time: Sam Dekker, full-time pest Beverley, mid-season scoring acquisition Lou Williams, young big Montrezl Harrell, and three players only hardcore fans have heard about (DeAndre Liggins, Darrun Hilliard, and Kyle Wiltjer). That leaves the core nucleus of their pick-and-roll attack in place.
While they've dangled Anderson in trade talks, he's still in a Rockets uniform to pick-and-pop to his heart's content. The same goes with the NBA's Sixth Man of the Year, Gordon, and smooth-shooting wing Trevor Ariza. Clint Capela has matured into a diabolical rim-runner for Harden out of the pick and roll, and a capable rim protector and pick-and-roll defender in this age of position-less basketball.
Nene might not be back and Houston will have to upgrade its frontcourt, especially defensively, but they have the full mid-level exception and bi-annual exception at their disposal because they did the deal before July 1.
By doing it like this, the Rocks will stay over the cap and have both the non-taxpayer MLE ($8,406,000) and BAE ($3,290,000) to fill roster.

— Mark Deeks (@MarkDeeksNBA) June 28, 2017
The big question is whether CP3 and Harden can co-exist. On that front, it's worth mentioning that Harden was a primary catalyst behind the deal, and Morey explicitly credited him with making the trade happen.
Houston's best player wants Paul, even if it means fewer touches.
The Rockets are better than they were before the trade. That much shouldn't be in question even with the overlap between Paul and Harden's game. Just how much better we still don't know, but—unlike some teams around the NBA—the Rockets aren't sitting back and letting a Warriors dynasty play out without trying anything they can to knock them off the NBA mountain.