When you hear that an athlete also dabbles as a rapper an eye roll usually follows. Because so few of them have ever shown the skills worthy of earning praise or even a legit listen, yet so many futilely think they have bars.
"I would think the same thing if I was a real musician and I hit me," says Chargers linebacker Melvin Ingram. "But my music speaks for itself."
While he ambitiously plans on roughing up quarterbacks for at least another 14 years in the NFL, Ingram swears he's just as serious about rhyming as he is about football. Always imagining that he'd make it in music before he'd make it in sports as a kid growing up in North Carolina, Ingram is on a mad dash to drop two EPs this year and out to prove he's the best rapper in sports. 
That means better than Damian Lillard. Better than Le'Veon Bell. Better than Iman Shumpert. Better than Kevin Durant. Better than everybody else.
"I feel like I'm the most talented athlete in music, period," he says.
During a recent trip to the Complex offices, Ingram talked about the Chargers' move to Los Angeles, how different the NFL could look in 10 years, who he's looking to collab with in the studio, and precisely why you should take him seriously behind the mic.
(This interview has been edited and condensed for clarity.)
Is it still weird that you play for the Los Angeles Chargers?
I don't think it's weird. We're still playing football. We're still in California. The thing is we really aren't all the way in LA so we're only an hour from San Diego. 
Is there a different vibe?
There's definitely a different vibe because San Diego is more of a touristy place. Our game field is kind of in LA so it's more up-tempo. LA went from two years ago not having any football teams to two so I feel like it'll be hyped. 
Are LA fans vibing with the team so far?
I feel like they're going to support like I tweeted one time. If you're a fan, no matter where your team go, you're still going to be a fan. It's not like we're going to a whole new state. 
How'd you find out the news?
On the Internet. They always told us it was a possibility. And that went on for one or two years. Then I seen it on the Internet and I was like, "Man, that's crazy." 
Did you run into a lot of fans telling you their sob story of losing the Chargers?
We'd go out to eat, go to the mall, and people used to be like "Why are ya'll doing this? I've been supporting you." But I'm just here to play football. I don't make the decisions upstairs.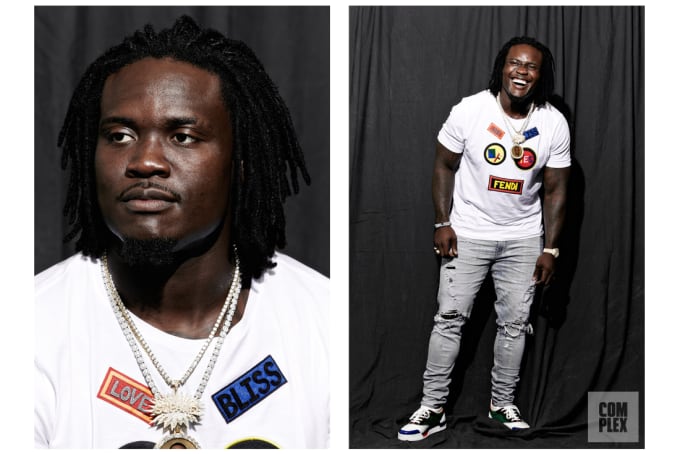 There's a new coaching staff—a new head coach and new defensive coordinator. So what are you expecting from the new staff?
I expect more up-tempo and more accountability type of coaching staff. We're holding them accountable and they're holding us accountable. It's all in-house. Good coaches make good players. Good players make good coaches. I feel like it's going to be more of a win attitude. Before, we had like more of a military school [attitude]. Now I think it's going to be more of a "let's get it done" attitude. 
How is your role under defensive coordinator Gus Bradley, who is installing a new 4-3 scheme, going to change?
I think it'll change more because I'm basically going from an outside linebacker to a defensive end. It'll be the same stuff, but more getting after the quarterback.

Who is your favorite quarterback to sack?
I would probably say Peyton [Manning]. 
Why is that?
Living legend. To be a great you've got to hang out with the greats, you've got go after the greats. 
What does it feel like to get a clean hit on the quarterback?
Like Pac said, the sweetest joy next to getting… 
Speaking of teams moving, is it crazy the Raiders are moving to Vegas?
I feel like that's one of the worst moves ever. You're setting players up for failure. 
Why because there are so many distractions?
Yeah, Vegas is the place that never sleeps. 
"People always look at it like I'm really ain't trying to hear this. But I would think the same thing if I was a real musician and hit me. But my music speaks for itself." 
You think there's going to be issues with guys not focused?
No, I think if you're a grown man you know how to conduct yourself. But I don't condone putting a team in a place where gambling is at its biggest in America. 
It's ridiculous that the NFL is so anti-gambling but puts a team in Vegas.
Exactly. 
What about visiting players in Vegas? Will there be more opportunities for guys to get in trouble?
I feel like anywhere you go there's opportunities to get in trouble. You might go to the casino and gamble a little but I don't feel like you're going to go out there and do something absurd. But every team got curfew. 
One rule change in football you'd really like to see?
The celebration rule. When I was growing up that's what the NFL was all about. You loved to see people like T.O. and [Chad] Ochocinco and what they were going to do. They've tried to handicap you. It's entertainment. You should be able to have fun with it. The thing about it, they're trying to find any way possible to get that money back. 
Do you think about how different the game could look in 10, 15, 20 years?
Me personally, I think it's going to be flag football in 10 years. 
What gives you that feeling we could have such a drastic change in such a short time?
If you watch football, if somebody get hit hard, they're going to throw a flag. They're making it more of a soft sport. Football was always an aggressive contact sport and they're trying to take that away from the game.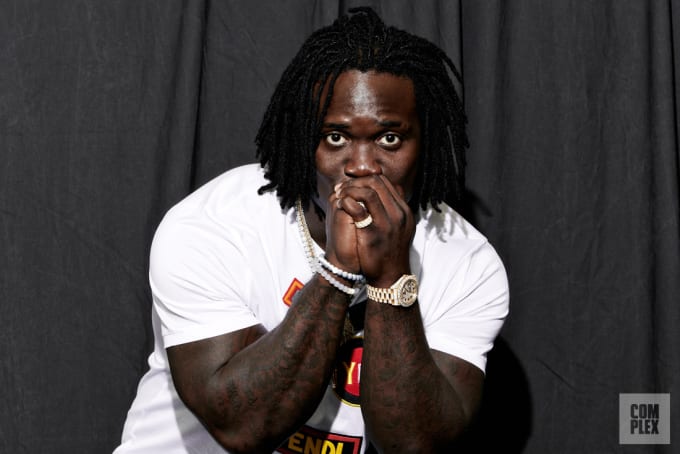 Alright, let's talk some music. So when did you start rapping?
When I was a kid. Probably like 10 just in the neighborhood. Cyphers, rapping. I just never stopped. 
What do you love about it so much that you haven't stopped since you were 10?
To me, rapping is more of a way to vent and express yourself and some people will understand you. It's a way to tell your story more than anything. 
What story do you want to tell?
My life story. I feel like my story can change lives. 
Why is that?
My thing is, somebody may be going through the same thing I went through or going through and by hearing my music and telling a story through my music it might let them know they can make it through it. Or some kid to know not to go down that path that I went through. 
Where does most of this go down?
I record everywhere. I recorded a whole mixtape in New York. I record in Miami. I record in LA. I record in Atlanta. 
Are you one to write down your rhymes when stuff comes to your mind and put pen to paper?
It's basically just a bunch of thoughts and about putting them together. To me it comes easy. 
Has it always come easy?
Always. Growing up, I thought that's how I would make it [through music]. I just happened to be good at sports. Where I come from, it's a small town and it's hard to make it in anything. Me, it was music. Then I was playing basketball and football, but I always had a love of all three. I didn't know what to do so I did all three. 
But you feel you're better at music.
I feel like I'm the most talented athlete in music, period. 
Alright, so I wanted to ask you about that. We've seen Le'Veon Bell put out his mixtape. Kevin Durant has bars. We had JaVale McGee tell us he wants to produce music for KD. But you think you're the best.
I know I am when it comes to making music.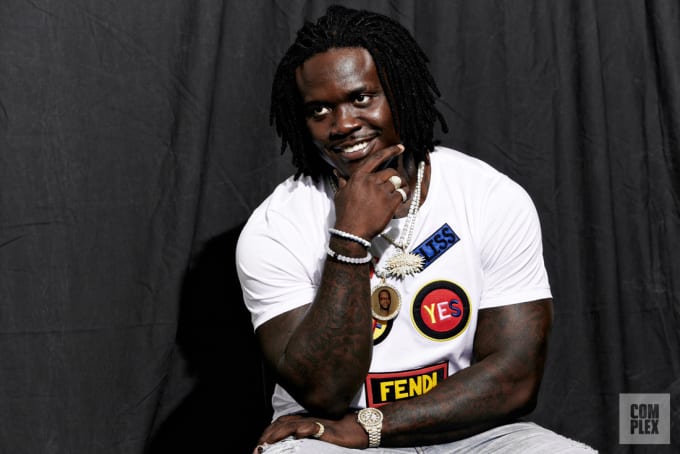 What puts you head and shoulders above the Damian Lillards of the sports world?
I know quality of my music. I can go in the studio with anybody—athlete or rapper—and produce good music no matter what. I know the music I produce is great. 
So who do you want to collaborate with?
To put a trophy in the case, you want to collaborate with the greats. The JAY-Zs, the Kanyes, Dr. Dres, people like that. But people that's really on, Loochie, Moneybag Yo, Meek Mill, Drake. I would be honored to collab with anybody. 
How do you get to that point so you start collabing with guys like that?
It's not hard. Money.
I would assume you have some connections. You're with Roc Nation.
I have some collabs coming. 
What can you reveal?
It's coming soon. I have an EP that's going to drop before the season. 
"I want people to know that I'm an athlete. One thing I try to tell people is to don't ever think I'm sidetracked by music."
Do you have trouble convincing people to take you seriously because you're an athlete?
People always look at it like I'm really ain't trying to hear this. But I would think the same thing if I was a real musician and hit me. But my music speaks for itself. 
How would you describe your style?
Real. There's a lot of weird shit going on these days. Me, I'm like the old music. I really rap like the Nases and JAY-Zs. I speak when I rap. In today's music, some people I don't know what they do. 
Who would be a good comparison style wise?
I never really compare myself to anybody. My EP is kind of like about the whole process of the deal [four-year, $66 million] I just signed. About holding out. Some of the songs are called "First Offer," "Holdout," "Second Offer," "New Deal." 
And why'd you pick SupaMel?
That's me. 
But you're already established. You could just be like Kanye.
I can definitely do that. I want people to know that I'm an athlete. One thing I try to tell people is to don't ever think I'm sidetracked by music. That's 1. and music is 1a. Family is zero. 
Who is the best rapper in the game right now?
That's not a question I should be answering.
Who are you bumping the most?
We definitely bumping JAY's shit. 2 Chainz. We bumping Moneybagyo. We bumping Trouble album. Loochie album. 
When you're working out what are you listening?
Myself.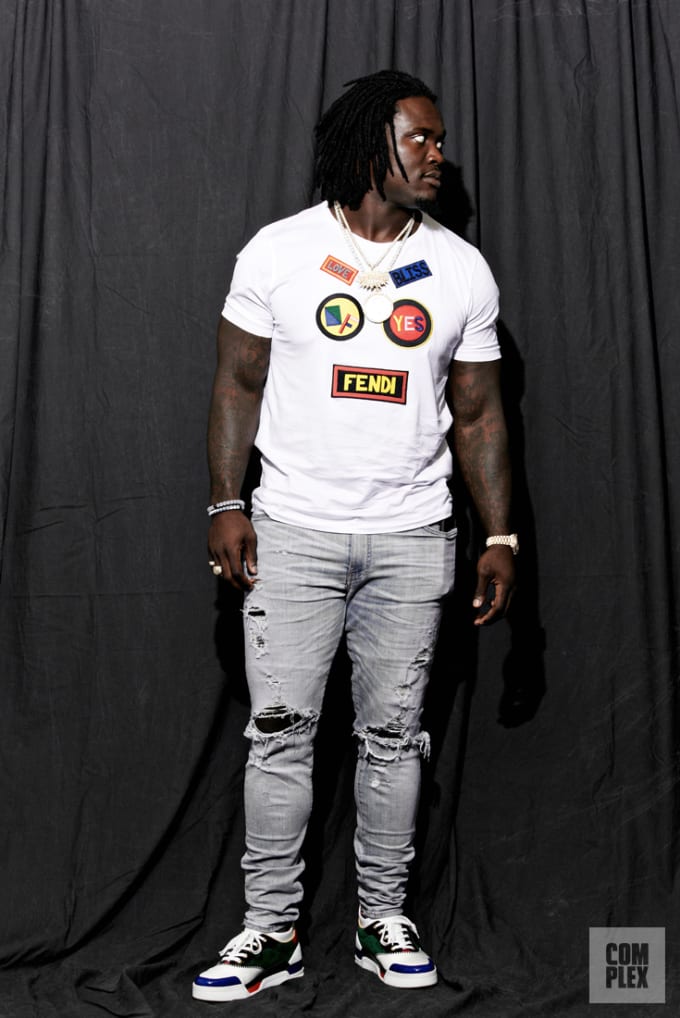 That's a Kanye move.
Definitely. We listen to other music but we're listening to my music. I don't see the purpose of making music if you don't. 
What's the best album that's been put out this year?
JAY, but I just don't want to state the obvious. JAY went platinum in a week. I just don't want to say JAY for every answer because I'm with Roc Nation and you don't put his album with everyone else. His shit just be up here. 
Have you talked to him about music at all?
Nah. When I'm at Roc Nation we talk about sports. But there's definitely going to be some conversations about music because he's a living legend. 
What about Kendrick vs. Drake debate?
Me, I'mma take Drake's music over Kendrick. I feel like Kendrick's trying to be Pac. Kendrick is nice. When it comes to lyrics, Kendrick is nice. Kendrick make like great music. Drake make great music. Drake make more club music. 
How long do you see yourself playing football for?
Twenty years. Like [Brett] Favre. My favorite quarterback. 
That's ambitious. The second you're done with football it's full throttle music?
Head first. All in. It's finna be crazy when I drop these two EPs.