ComplexCon returns to Long Beach Nov. 6 - 7 with hosts J. Balvin and Kristen Noel Crawley, performances by A$AP Rocky and Turnstile, and more shopping and drops.
Secure your spot while tickets last!
Thanks to a monster season, Karl-Anthony Towns brought some hope to a Minnesota Timberwolves franchise that hasn't sniffed the playoffs since the Kevin Garnett era. His double-double average (25.1 points, 12.3 rebounds) wasn't enough to elevate the team to contention, but it certainly got the Wolfpack excited for more.
Let's not forget that the center also made history by becoming the only player to have at least 2,000 points, 1,000 rebounds and 100 3-pointers in a season. For all his ballin', fans everywhere considered it a slight when the All-NBA Team was announced, and Towns' name was nowhere to be found.
He's not sweating it though. While the world was watching Cavs-Warriors Take 3, Towns was having the time of his life in Paris and Denmark. The 21-year-old relished the chance to be a tourist and a fan for a week, learning how to make macarons at the Hotel Ritz Paris and checking out Parc des Princes soccer stadium, home of the Paris Saint-Germain Football Club. But he had work to do, too; the 2015-2016 Rookie of the Year headlined NBA 3X in Odense, Denmark, a 3x3 tournament with 100 teams in Scandinavia competing for streetball glory.
"I'm having a bunch of fun here in Denmark," Towns told Complex between events. We got a few minutes with the affable big man to learn about his first foray to Europe, representing the NBA on an international level and what he has up his sleeve for next season.
(This interview has been edited for length and clarity.)
Your first trip overseas; what do you pack? Tell us about your travel essentials.
KAT: You know, just bringing the necessities. For me, having big feet, you try to make sure your outfits match what shoes you pack and try to pack as much shoes as possible. I don't have a lot of them, but I make my outfits work with the shoes that I have.
How do you pass the time up in the air?
KAT: I like watching YouTube a lot, so I have YouTube Red. I do that, I play video games on my phone, sleep—I just go by the flow. I like traveling and flights for me are pretty easy.
Speaking of games, I know you're a big Call of Duty guy.
KAT: Yeah, it is my favorite game. It's the one I play a lot. I play that and 2K all the time so I get a chance to really do a lot of great things. 2K is coming up, so I can't wait to see the announcements with that and Call of Duty as well.
Once you touched down, what were your initial impressions of Paris and Denmark?
KAT: Paris is more like Paris. It's ancient, has great artwork always all around. Every detail is paid attention to. It's really scenic. Denmark is more like Minnesota. Very green, a lot trees, a lot of bushes, a lot of everything like that. Also just how calm and chill it is. It's amazing. It matches my style really well and I'm having a bunch of fun here in Denmark.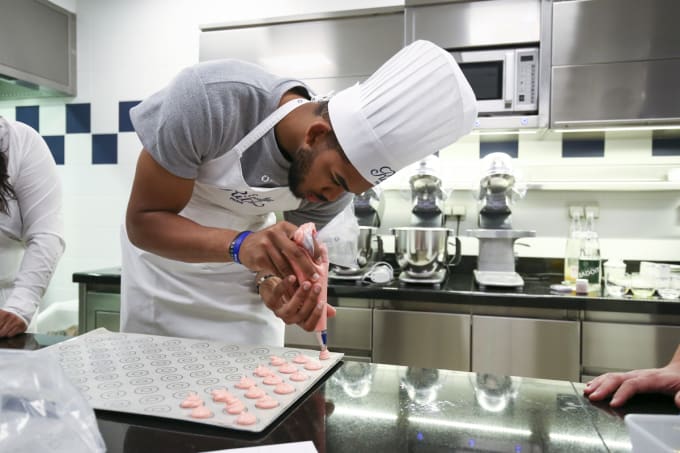 Did you have an agenda of things you wanted to see?
KAT: Yeah, I got everything off my list. I was very efficient in Paris. I used a lot of my time to really see historical places and everything that goes around with being in Paris.
I'm not sure how many people are aware that the oldest basketball court in the world is in Paris. How did it look?
KAT: Yeah it is, and it was really cool to go out there and shoot some hoops. I didn't do any monster dunks or anything. I kinda just messed around with it, enjoyed the environment and enjoyed the history I was stepping on. It looked like a basketball court that you were told about but you never seen with your own eyes, so it was really cool.
So after exploring Paris, you popped over to Denmark. What are you up to over there?
KAT: There's a 3-on-3 tournament. It's a really good tournament. There's obviously respect between the peers but also a chance to win some money.
How has the response been to your presence?
KAT: It's been great. To me, it's more about me watching them, but I'm glad that they can talk to me, I get to just share the game of basketball and be a presence.
We saw the video of you blocking that little kid's shot, too. You didn't have to do him like that!
KAT: [Laughs] It was a little fun.
"Streetball" and "Denmark" aren't words you normally associate with each other. Were you surprised at the level of talent over there?
KAT: The skills were good. I think when you're watching, you're just seeing people fighting for the opportunity. I love watching the true competitiveness and true heart and the desire to win here is refreshing. I played streetball when I was younger, so it's awesome to see the game in its natural state.
Why was it attractive to get involved?
KAT: I think that it's a great event that gives a lot of kids opportunity. It's a good chance for the youth to interact with their favorite NBA talent and also get the chance to learn the game from people who are more talented and get the chance to take those things and implement them into their game. This is a joy to able to be in Odense
Considering that you are Dominican-American, would you like to see similar events in the DR to what you're doing in Europe right now?
KAT: Yeah, I think it would be really cool. The NBA is doing a great job of traveling the world and introducing the game of basketball to communities that possibly never would have recognized this, so it's really cool to part of something here in Denmark in Odense and to see the kids' faces.
In Paris you got a chance to visit Paris Saint-Germain Football Club, and get your own jersey, which you seemed to really enjoy. I didn't know you were a soccer fan!
KAT: Soccer is a great game I played since I was younger. It helped me become the basketball player I am today, so it's really cool when I get the chance to play a little bit. It's like the good old days.
Who is your favorite player with PSG?
I'd probably have to take [Angel] Di Maria, but [Edinson] Cavani is a great player, and I love him so much. But if you look at his playmaking abilities, I love Di Maria because he's fast, he's quick, he's explosive.
As a former No. 1 draft pick, who do you think will go first this year?
KAT: I don't know, I really have no idea. The media usually puts a good suggestion out there, but I have no idea. Draft day is one of the most unpredictable days possibly in the country. No one knows what may happen or transpire. All I know is that these kids have a great future ahead of them and whoever is lucky enough to be drafted or not even drafted, if they get a chance to be in a basketball organization, it's a true blessing and the journey doesn't stop when you get drafted or when you don't get drafted.
And as the current unanimous Rookie of the Year, who do you think you'll be passing the baton to when the awards are announced next week?
I don't have my eyes on anyone, what I care about is making sure we're the best team possible.
On that note, you had an amazing season, but didn't make the All-NBA team. Everyone agreed it was a huge snub. Is that just more fuel for you going into next season?
KAT: I mean, I got to make the playoffs. That's what I'm worried about. We had a good run this year. We were supposed to make it and didn't capitalize on the opportunity. Next year we got to do what we got to do to be a playoff team, and it starts early in the season.
This is just your second off-season as a professional basketball player. What did you learn between last year and now that will help you make the most of it this time?
KAT: I think for me, I just wanted to learn to how to take care of my body and get the gears moving. You learn a little more about to how to get the little things worked on and sharpened. I've been very fortunate to have great mentors and great coaching staffs and great teammates where I've been able to learn from a whole lot of different sides about how to take care of my body, how to take care of my game and improve my game.
Any other off-season plans?
Who knows? I always keep something in my pocket to do.