The playoffs are finally starting to get competitive, and while some players are heckling the teams still in contention from home, others are making the most of their time off. If you've wondered what it's really like in the off-season, Complex got the chance to chop it up with some of the NBA's top athletes and find out. 
CJ McCollum, who was last year's Most Improved Player, did see a little postseason action with the No. 8 seed in the West. The Trail Blazers shooting guard moved up the ranks in team history when he scored a playoff-career best 41 points in a Game 1, first-round matchup against the Warriors. Portland eventually fell to Golden State, which is not the result any competitor would wish for, but it opened the 25-year-old up for some culture and community service while representing the league on a trip to Spain.
CJ—or as he's known in Portland, DJ McCollum—has been overseas the past week to meet with excited fans in an interactive NBA Zone event. Between getting  swarmed by kids while unveiling a basketball court, and adding the local delicacies to his palate, he talked with Complex about the experience and the league's expansion abroad.
(This interview has been edited for length and clarity.)
What kind of traveler are you? Do you do a lot of research beforehand? Did you plot it all out?
In this situation I've been a very poor traveler, I didn't really have anything planned. My ex-teammate, Victor Claver, he lives in Barcelona, so I asked him a little about the city. I asked my brother, who played in Europe for a long time about the city, just to get a better understanding as far as the weather, the food I was gonna eat, what to pack, but outside of that I didn't plan anything. But normally, when I know I'm gonna have a lot of time in a city, I will plan a lot of activities or try to figure where I'm gonna get my massages at, if I'm gonna walk around the city, what kind of food I'm gonna eat, but I figured the NBA would take good care of me, and they have.
How long was the flight?
The flight was direct from New York, seven hours.
That's not too bad. Normally, how do you make it through long flights?
I'm used to it just because of the commute I make from PDX [Portland airport] to the East Coast; a long, direct flight. So I either read a book, watch a lot of movies, catch up on my TV shows, or I sleep. But on this flight I watched like two and a half movies. I watched Fences, Jackie, Collateral Beauty with Will Smith, and then I watched two episodes of 24.
You mentioned that your brother gave you advice: What kind of tips did he share?
I visit him every summer, so I actually fly into Turkey from here to go visit him in Istanbul. But, just to have fun. Pack a variety of clothes because if you're going to North Spain it's going to be a little bit cooler, and if you're going in the south and east in may be a little hotter, so I grabbed a couple jackets just in case I need to dress it up a little bit and keep it warm.
So how would you describe the country to someone who's never been?
It's a really dope place. Everybody is nice, no one's really in a hurry, people wait. The elevators are really small, so if there's one person on there they'll wait, like no, we don't want to crowd the elevator. There's a lot more swag, a lot of people dress nicely. It's a lot nicer than certain places in the United States. Food's really good, the weather's been excellent, the sun has been shining. And you eat dinner really late—I had dinner at like midnight, 11 o'clock.
Is that weird? I'm sure you're used to a regimented fitness and diet schedule during the season.
I've enjoyed it, just because it's my time to eat whatever I want for a week or so, and then I go back to really tightening up my diet and starting back training. This is a time to kinda enjoy the fruits of my labor and rest and relax my body and refocus before I get my diet back in place.
Speaking of food, what was the best thing you ate so far?
Paella. And jamón. Orange juice is fire, and they've got some really good wine.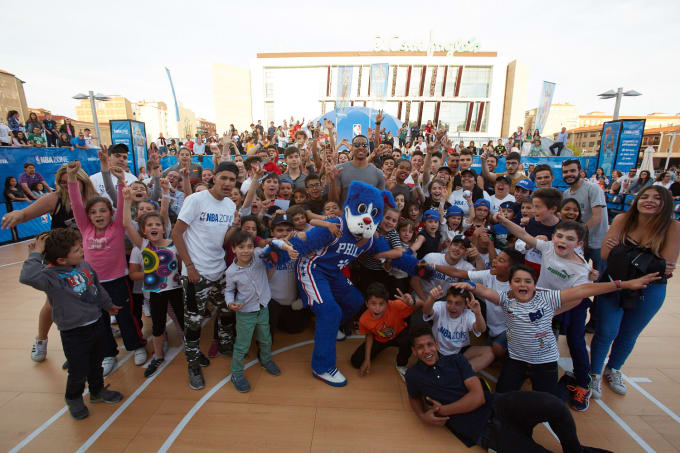 I've heard the wine in Spain is amazing! And what have you been up to?
So, yesterday I went to Palencia, and there was some media availability with the mayor and some other people involved with BBVA, the NBA's official bank sponsor. And basically we unveiled a court in a neighborhood in the city, for a school. It was about 900, close to 1,000 people, and we had a bit of an assembly with a Q&A. Some of the kids got to ask questions and shoot around.
I did a basketball clinic in Palencia, some shooting drills and knockouts, and then we drove to Salamanca, and today we started media availability with a lot of different outlets from Spain, and the NBA Zone is today, and there's two sessions tomorrow.
I also went to Antoine's house! Antoine Griezmann, he's one of the best fútbol players in the world. He's an NBA superfan. I went to his house two days ago and shot some content for NBA and it was great.
That's a packed schedule! So there's not much time to be tourist?
Yeah, so I really don't have a lot of time to do a lot. Right now I have a four-hour break, where I'm gonna walk around, find some food before 2 o'clock before the city shuts down [for siesta]. Gonna find my jamón and my Spanish happy hour.
How has the reception been?
It's been cool. Everybody was really nice, the kids were extremely excited yesterday, loud. I couldn't walk through; I got swarmed. They had to come help me get through! It's been a lot of fun, I really enjoyed it. It's a beautiful, beautiful country with a lot of great cities, and I'm gonna have to come back.
I know you host a radio show in Portland. Have you heard any music that you plan to bring back to your audience?
I have two. I have a radio show with iHeartRadio, Jam'n 107.5 "Playlist"—I'm gonna plug this—No. 1 station for hip-hop and throwbacks, on Friday nights from 10 to 12 a.m. Then I have a morning spot on the a.m. station, 620 Rip City Radio. I just aired my last episode, but it usually airs around 8:15 a.m. on Thursday.
I've heard some music, but I didn't have my Shazam on, so I don't know the artists. If I find out I will bring it back!
In your opinion, why is the league working to gain exposure overseas, and how do you think it benefits the game?
I think we just want more people to be familiar with the sport. They want to globalize it; the more fans, the better. And then also it will create an avenue to bring a variety of players; a lot of great prospects who come from outside the United States have had success. And I think the bigger they can build the game, the more widespread it is, the better the game will be, and the more money will be generated.
To that end, you're also signed up to play in the league's second exhibition game in South Africa later this summer. What was attractive about that opportunity?
I just look forward to doing some community service and some work in Johannesburg. I really want to experience being in Africa. I hear a lot of great things about it. I wanna go on a safari, I wanna do a lot of different things that I wouldn't normally get to experience, while playing the game I love. So I'm just really looking forward to the opportunity and thankful they invited me.
And finally, the NBA Draft lottery was last week, and in about a month we'll have a new rookie class. What's your advice for the newcomers?
I say just play your role. Remember who you are and what you come from, but just understand that you're gonna play a role on a team. You gotta earn your keep. And once you earn your keep, you're good to go.