Since it's kind of his color, Keith Thurman's basically rocking all red, highlighted by the fresh pair of Banned 1s he's got on his feet.
It's two days before one of the most historic fights boxing's seen in decades, and the undefeated WBA welterweight champion of the world is just as concerned with keeping the Jordans clean as he is blessing Brooklyn's Barclays Center with another championship performance.
When Thurman (27-0, 22 KO) steps into the ring Saturday against undefeated WBC welterweight champion Danny Garcia (33-0, 19 KO), airing in primetime on CBS starting at 9 p.m. ET in what easily is the most anticipated fight of 2017 so far, the storylines are about as big and bold as the champ's get-up.
"I'm just really interested in getting through that first round. Swinging a few big punches at him. Seeing how he reacts. Can there be an early home run?"
The unification match will be just the third bout between unbeaten welterweight champions and just the second between champions with a perfect record. The fight will also unify the same titles Hall of Fame fighters Sugar Ray Leonard and Thomas Hearns unified in their 1981 Fight of the Year.
Yeah, so it's the kind of fight that cements a career and Thurman, at age 28, is all about two things these days: belts and his legacy.
"Many men have walked this path before," says Thurman. "In this sport, there have been Hall of Famers, there have been champions. But how great of a champion can Keith "One Time" Thurman truly be? And for me, that's what Saturday night is all about."
Because fight week is a light week, with all the hard work of training camp behind him, Thurman dropped by the Complex offices for a sit down, just like he did before his Fight of the Year worthy slugfest with Shawn Porter last year. This time around, he talked about the historical significance of Saturday, the presence of Angel Garcia ringside, Danny Garcia's resume at 147 pounds, and how he's aiming to end the match with a signature knockout. 
(This interview has been edited and condensed for clarity.)
So your favorite stupid question during fight week is "Are you ready champ?" How many times have you gotten it so far? Are you sick of it? What's your favorite response to give?
[Smiles.] Well, it really just depends on my mood. If it's coming from somebody who's not a real boxing fan, then it's easier to deal with. They don't know what to say. But if it's coming from a real boxing head, really bro? You should know better. Am I ready? My thing is, if a fighter is not ready, you're about to watch him get his ass kicked on national television. Is an elite athlete going to tell you they're not going to perform?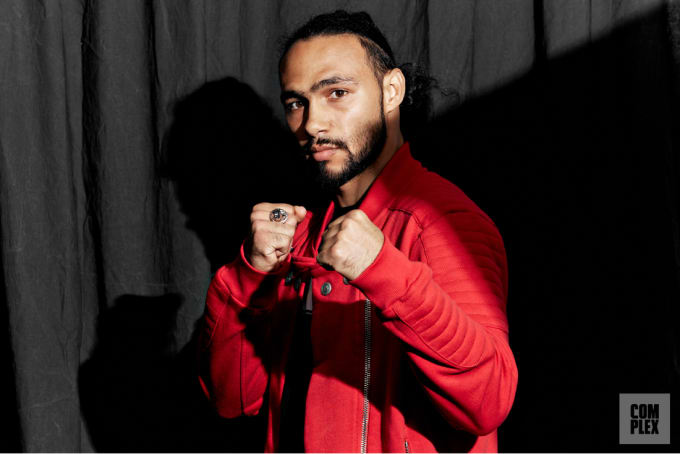 How does the mind change in the days heading toward the fight?
All the hard work has been done. This is a real calm, cool week. Just some light training to keep the body flowing leading up to the fight. The real mindset happens when I walk into the arena the night of the fight, they put me backstage, they start to put the wraps on, we change into the outfit, and now I know that we're moments away from everything you've worked for. Then my mind just starts to run through the fact its time to be a beast, time to be an animal, show this guy everything you got. Show this guy why you're the better fighter. We just go through a whole bunch of pointers on what is necessary for victory.
How much do you appreciate the historical significance of this fight?
It's great. I've loved boxing due to the history of boxing. It was one of the great American pastimes. Even today, it's still a tremendous sport to watch and admire. With this fight being on CBS, it's being broadcast for the whole world to see. It's going to be a spectacular fight. I get to showcase my skills and my talent on this world class level. Outside of that, it is a historical night of boxing. This is the third time two undefeated welterweights are unifying in the history of boxing. Loving the sport the way that I do, knowing that now is my opportunity to leave a historical mark, I mean, it's just dream come true. 
You don't get hyped for the fights the bigger they get. But is there anyway you're allowing yourself to get more hyped because of the historical nature of this fight?
Nah. It's hard to let myself do that. Nothing matters besides me and him in that ring. The spotlights don't matter anymore. The networks doesn't matter anymore. It matters leading up to the fight. At the end of the day, I signed a contract to fight a man. I've done this 27 times. This will be my 28th. I always just look at it as my job doesn't change. You do an interview with one athlete, you do an interview with one artist, now you're doing another interview. Has your job changed? The basics of it, no. There might be different questions, things of that nature. Garcia's supposed to be a different form of a challenge. But the fundamentals of boxing have been simple: hit and don't get hit.
The energy leading up to this fight is very different, especially from the press conference back in January. Why so much animosity between you and Garcia's camp?
Well, they believe they have the best fighter in the world and we believe we have the best fighter in the world. And someone's going to be proven wrong Saturday night. Leading up to it, we just have two prideful teams, two prideful champions, going toe-to-toe, putting everything on the line, neither man has been defeated, and somebody will walk away defeated Saturday night. 
I have a feeling I know the answer to this question, but do you care if Angel Garcia is cleared by the New State Athletic Commission for Saturday night?
I want him to be. He deserves to be. He wasn't on the podium [Thursday] at our presser. And I believe that's the right step if he was to be penalized for anything. His antics were at a press conference. He should be banned from up and coming press conferences. Even the post-fight press conference. He is the trainer and the trainer deserves to be in the ring.
You've had to answer questions about the level of competition you've faced in the past. In this fight, those questions are directed at Garcia. Has he proven himself at 147 pounds in your mind?
At 147, no. He has a tremendous resume that he has built up. He's fought lots of great champions, lots of great ex-champions. As have myself. His tremendous resume is at 140 pounds. Ever since he's shifted to 147, his level of opposition, I don't feel like is as adequate as a Keith Thurman. I just came off a tremendous victory over Shawn Porter. I don't think he's faced any at the level of Shawn Porter at 147 and now he's facing the man that beat Shawn Porter. I believe my level of opposition currently has been more stern and that gives me more confidence going into this fight. He's coming off a tune-up fight, a person that he was supposed to beat and not be a challenge, but they just wanted to shake off the ring rust. He's a champion, so he knows how to fight and perform like a champion. He's coming up against a champion so he's prepared for a championship type battle. He can rise to the occasion and he's done that many times in his career. But we feel confident going into this fight that we're physically and mentally prepared.
Do you have to be the aggressor in this fight? Some analysts have talked about how you might have to pick up the pace against Garcia.
I like to be willing to be the aggressor and to be the one who utilizes his ring movement. At the end of the day, I like figure out what works as soon as possible. Whatever is working, I'm going to Windows that thing—I'm going to copy and paste it all day until it stops working. If they don't' catch on it'll be an easy night. But I do look forward to seeing how he takes pressure. If I'm able to counterpunch him. Is he able to counterpunch me? Is he looking to counterpunch me? Do we do well on the inside? He wants to go to my body, I want to go to his body, too, though. I think a lot of people that have faced Danny Garcia have neglected to go to his body and I think that could a key to victory.
How does the fight play out?
I'm just really interested in getting through that first round. Swinging a few big punches at him. Seeing how he reacts. Can there be an early home run? Outside of that, when he really feels my power, is he willing to move forward or his he going to move backwards? How quickly can I take control of this fight?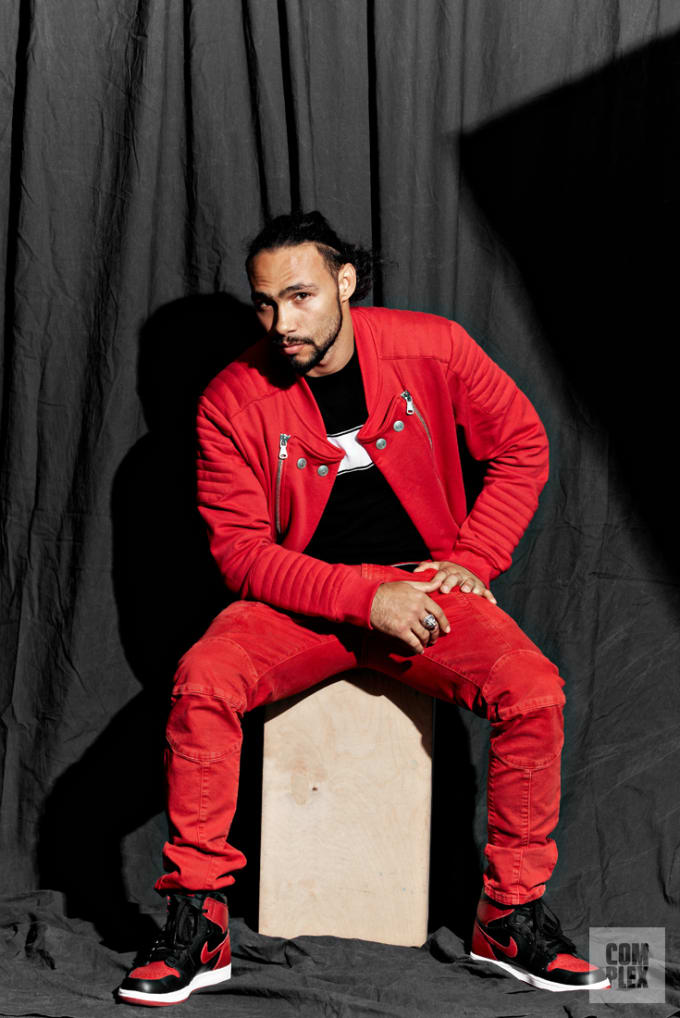 You didn't get the knockout last time against Porter. How do you get the knockout this time?
We rocked Porter. There were some heavy shots in that fight. We hurt him. For some reason, the follow-up was not there. We were mentally prepared that if we do the same thing, we just have to kick it up one extra gear and follow through and go for that knockout. I believe that Brooklyn deserves that. I would love to make a tremendous big statement on this stage, in that arena, for CBS, unifying my title, making so the judges don't have to do their job because I brought my own judges into the ring Saturday night [holds up his fists]. It's all about his defense vs my offense and then my defense vs his offense.
And you like those matchups?
I love boxing.
You told me last June that the best shot you've taken was during your car accident last March. You had a pretty brutal fight with Porter. Is your car still responsible for the best hit you've taken?
It is. It knocked the shit out of me.   
Do you have a spot reserved for the WBC belt back home already?
The funny thing is I don't hold my belts. I let my team hold my belts.
So have they cleared a space for it yet?
[Laughs.] Most likely. [Thurman's trainer Dan Birmingham nods yes in the background.] I just love achieving my goals. I'm a goal seeker. I happen to be a Sagittarius. That means we pull back the bow, we aim and fire at our target, and we aim to hit our target. I'm a hobbiest. There's a lot of hobbies that I have. But I've never devoted anything that I've devoted my time and effort to the sport of boxing. It consumes who I am as a person and as a fighter.