Mention the name Rod Smart to someone, they probably won't know who you're talking about. Mention "He Hate Me" though, and it's a different story. As the years pass, the story of how Smart, a former NFL running back most famous for his one season in the XFL, ended up choosing his iconic nickname has become its own shifting story. Some people have suggested Smart actually wanted to call himself "They Hate Me" and not "He Hate Me." Smart himself claims it was a name that came from his beautiful mind and his ability to think outside the box. According to teammates, it was also born from his endless trash talk during practice when he would scream "He Hate Me" every time he evaded defenders for a long gain. How often would Smart evoke his signature catchphrase? "Every time I did something to embarrass a guy," he says.
Despite the contrasting stories and loose facts, everyone can agree on one thing: even though the XFL, created by the WWE with its opening scramble and wrestling crossover appeal lasted just one season, "He Hate Me" remains one of the most infamous nicknames in sports history and arguably the most memorable thing about the league.
When Smart found out about the XFL in the fall of 2000, he had just graduated from Western Kentucky where he finished 10th in school history with 2,305 rushing yards. Unselected in the 2000 NFL draft, Smart signed with the Chargers but was cut before the end of training camp. Given a chance to join the XFL, Smart—who grew up a huge wrestling fan (some of his favorites included Junkyard Dog, Dusty Rhodes, Koko B. Ware, The Ultimate Warrior, and Hulk Hogan)—had no idea he would become the face of the entire league. "I saw it as an opportunity to play professional football," Smart says.
"I got to show people my personality and creativeness. Being able to put whatever you want on the back of your jersey—what's better than that?"
Smart was drafted by the Las Vegas Outlaws, one of eight teams in the XFL, and immediately formed a bond with fellow running backs Ben Snell and Chrys Chukwuma, who nicknamed themselves Thoro (Snell's dad used to always refer to him as a thoroughbred) and Chukwagon (self explanatory).
WWE chairman Vince McMahon, who promised in a press conference a year earlier that he would bring the fun back to professional football, followed through by allowing players to choose a nickname to wear on the back of their jerseys, a stark departure from what McMahon described as the No Fun League nature of the NFL. "XFL players were encouraged to be themselves and had the choice of what they wanted on the back of their jerseys," says McMahon. He was keen on building personalities and characters in the XFL that same way he did in the WWE.
The origin story of He Hate Me, according to Snell, is that he told Smart to put the nickname on the back of his jersey, but Smart laughed it off. Eventually he was convinced, and when teammates saw the He Hate Me jersey hanging in the locker room, they had an inkling it would become a phenomenon. "I had a feeling it was going to blow up," Brandon Sanders, a defensive back with the Outlaws, says. "When I saw the jersey, I told him we should make some t-shirts and start selling them. He wasn't sure. I said, 'Bro, everyone loves He Hate Me, and if they don't love He Hate Me, they'll hate He Hate Me.'"
Sanders' intuition was correct. The Outlaws were featured on national television in the first week of the XFL against the New York/New Jersey Hitmen on NBC, a game that drew a 9.5 Nielsen rating. The XFL commentators themselves were confused as to what the nickname meant when Smart had his first carry of the game. Smart rushed for 46 yards on 13 carries that evening, and caught two passes for 48 yards. His performance on the field was pedestrian, but given the size of the viewing audience, and Smart's charisma during his in-game interviews, he instantly became the most recognizable name in the XFL. The Outlaws won the game 19-0, but that was secondary to watching a star be born in the league's first game. "They didn't even call him by his real name anymore," Snell says. "He had something going on." Smart was alerted by his agent as to the notoriety the nickname was getting. His jersey became the best-selling jersey in the league without a close second, and Smart, whose nickname growing up was Rocket Rod after one of his favorite college football players, Rocket Ismail, was asked by the league to participate in their promos.
"It was something different," Smart says. "I got to show people my personality and creativeness. Being able to put whatever you want on the back of your jersey—what's better than that? It was a new wrinkle. There were a lot of nicknames out there, but mine stood out. But my play stood out as well."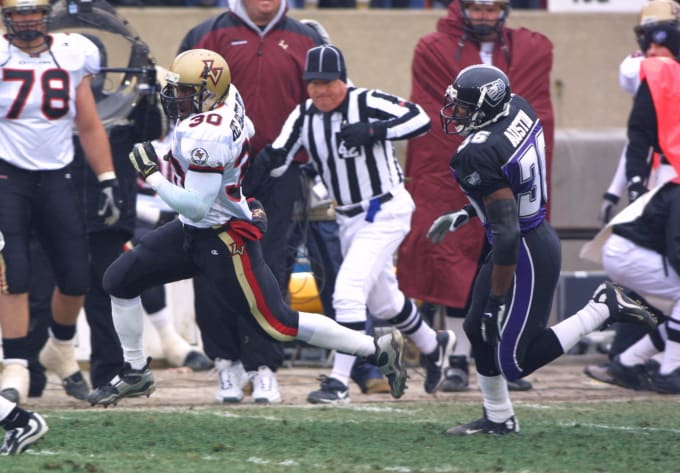 Smart finished second in the XFL with 555 rushing yards, and third in yards per carry (3.8 yards per carry). Kurt Gouveia, who played 13 seasons in the NFL before coming out of retirement to play with the Outlaws, saw the potential for Smart to have an extended professional career. "He wanted to be successful," Gouveia says. "As you practice, you find out who really wants to play football and who can get to the next level. Rod was one of them." Off the field, though, the XFL's ratings plummeted. McMahon pulled Smart aside after the league concluded its first season and told him he would be marketed as the poster boy of the league, but it wasn't to be. Despite having a multi-year agreement, the lack of sustained interest in the league and poor quality of play led to the XFL folding shortly after its debut year.
After the XFL, Smart had a brief stint in the CFL, and then joined the Philadelphia Eagles and Carolina Panthers, employed mostly as a special teams player. When he joined the NFL, Smart—who had trademarked He Hate Me—debated legally changing his name, but decided against it. "I wanted to show people Rod Smart," he says. A highlight of Smart's NFL career came during the 2003 season with Carolina, when he scored a 100-yard kick-return touchdown against the New Orleans Saints.
Even though Smart was hoping to build a career in the NFL and leave his nickname behind, the He Hate Me phenomenon did not go away. Jake Delhomme, the quarterback of the Carolina Panthers and teammate of Smart, named one of his thoroughbred racing horses She Hate Me. At the 2004 Super Bowl, Smart drew plenty of attention on media day at Reliant Stadium in Houston about his XFL days.
Over 15 years after XFL, He Hate Me is still one of the most recognizable nicknames in sports. His story is highlighted in a new 30 for 30 documentary "This Was The XFL" premiering this Thursday at 9 p.m. on ESPN. A self-proclaimed entertainer, Smart did try his hand at acting after his football career, including a role in an independent film "Don't Blame The Lettuce," but his acting pursuit was short-lived.
Today, Smart is back in Charlotte, North Carolina and does motivational speaking for the youth, teaching them about the importance of professionalism, although he still hopes to put his trademark on He Hate Me to further use. Smart talks about business ventures he's hoping to explore, and possibly revitalizing his passion for producing films to turn He Hate Me into a global icon.
"I aspire to one day use He Hate Me to bridge socioeconomic gaps in major corporations, to assist in health awareness for our youth, and to use the trademark as a platform to guide those traveling similar paths through the hardships of professional businesses, life skills, and asset securities," Smart said. "My goal as a leader in today's society and on this Earth is to help motivate, influence, and create more leaders in the world that will make a difference and create a positive environment for all mankind."
"The fact his nickname still resonates with fans today is proof that he captured people's attention in ways few athletes ever have," says McMahon.
Smart hesitates when asked whether He Hate Me is the greatest nickname in sports history, but thinks pretty highly of it. "It's going to go down as one of the greatest nicknames in the history of sports," he says. Snell is more definitive. "100 percent. Absolutely," he says.
Smart and his Las Vegas Outlaws teammates still keep in touch, and reminisce about the wonderful time they had during their lone season in the XFL. Smart's NFL teammates refer to him in conversation simply as He. For Smart, who still owns his He Hate Me jersey, it was the opportunity of a lifetime. "I was right at home," Smart says. "I did exactly what I was supposed to do with that opportunity. I was able to show my personality and entertain. I hit all the buttons that I needed to hit during my XFL stint. The rest was history."