He knew going in it would to be a fight unlike any other, but when Andre Ward hit the canvas in the second round everything changed.
"My wife's seat was right next to the corner and she gave me a death stare like 'That's how we're doing it tonight?'" says Ward, "and it just woke me up."  
Nearly two weeks after the boxer unified the light heavyweight division, winning a unanimous decision over Sergey Kovalev in their championship bout Nov. 19 in come from behind fashion, Ward spoke to Complex in his first extensive interview after the fight about his dramatic victory that still has boxing fans buzzing.
The win was controversial—because in boxing when is it not?—as all three judges scored the fight 114-113 in Ward's favor despite Kovalev staking himself out to an early lead, highlighted by the early knockdown. But Ward built up momentum over the second half of the fight and wore down Kovalev, one of boxing's most powerful punchers, with devastating body blows in a fight that will easily go down as one of the year's best.
But is Ward's next fight a logical rematch with Kovalev? Probably, but it's not as simple as that (again, boxing). The undefeated fighter (31-0, 15 KO) and Bay Area product talked to us about how he expected more out of Kovalev, why he should be considered the best pound-for-pound boxer in the world, and what it feels like to get random texts from Michael Jordan.
(This interview has been edited and condensed for clarity.)
That's a phenomenal fight so my first question is: Was that the Fight of the Year?
Man, that's a tough question. I can't say. There have been some great fights this year. But definitely think it's up there. It was high drama and I did something that nobody has seen me do as a professional which is get up off the canvas and come from behind.
And that was your first time you've been knocked down, right?
That was actually the second time and the weird thing about the knockdown was it was literally the 10-year anniversary that day of the first time I got knocked down. I can't explain that. That was a little weird.
I'ma put it like this: that was talked about before the fight and all the build-up for the fight was like the winner will be the pound-for-pound best fighter in the world. I don't have a vote in the matter but I don't see why that should change now.
You smiled after that 2nd round knockdown. Why? 
It was like honestly, once I assessed what was going on I was like, ok, my head is clear; ok, now you're in trouble, you shouldn't have done that. That's what was on my mind. I didn't feel panic. I didn't feel any of that. I felt fine. Obviously I was upset I was on the canvas, but in that kind of fight when you're fighting a champion like Kovalev you have to be prepared for things like that.
Kovalev is known for his power and after the fight you called him a "thudder." So was his power not all that it's been made up to be?
I know for a fact the knockdown was a flash knockdown, which means you just get hit in the right spot and you're on the canvas. You don't wobble. You're not hurt. You get up and you're fine. I was hit with harder shots during the fight and I took them well. And that's something I've never gotten credit for which is the type of chin I have. I took his shots and I got my own shots in. I think he has good power. I don't know if he's overrated or underrated but I know he's solid. 
Leading up to the fight, you talked about how it could secure your place in boxing history. Have you thought about that in the aftermath?  
Of course. My legacy is so, so important to me. My legacy is almost like a personal challenge to go as far as I can go. I don't know how long I'm going to continue but I'm not going to be an old fighter, over the hill. I'm going to stop long before that happens. I'm just trying to get those marquee victories and continue get those accomplishments so when the time comes and the vote is cast, hopefully my spot is secured in the Boxing Hall of Fame.
Did that win stamp you as a truly great fighter?
It's tough to say. I know what I posses. I don't pat myself on the back. Other people should say he's a great fighter. I know I'm a good fighter, probably a great fighter. I've fought the best in the world since I was a kid and I've been fortunate to come out on top. I'm making a good case, put it that way.
Are you now the best pound-for-pound boxer in the world?
I'ma put it like this: that was talked about before the fight and all the build-up for the fight was like the winner will be the pound-for-pound best fighter in the world. I don't have a vote in the matter but I don't see why that should change now.
Kovalev's promoters reportedly already exercised the rematch clause so when do you expect it to happen? Are you of the mentality that your next fight will be against Kovalev?
The reality is they can exercise whatever they want (but) the ball is in my court right now and I don't really have to fight anymore. Every fight from here on out has to make sense. My lawyer, my manager, and my promotional team over the next month or so will put things in place and if situation is right we'll do it again. I think the fans want to see it, obviously the media wants to see it, especially if [Kovalev] feels he got a raw deal.
Did it bother you that Kovalev felt he got a raw deal from three American judges?
It's not disappointing, I'm just used to it. I know guys are disappointed in the moment—if I took an L I would be disappointed—but guys need to gather themselves and really think before they speak. Kovalev is the same guy who moved his family here. He's the same guy that's been making a living here. He's the same guy who talked about wanting to be an American star so all of the sudden when something doesn't go your way now people are cheating? It's not a good look for him and his team.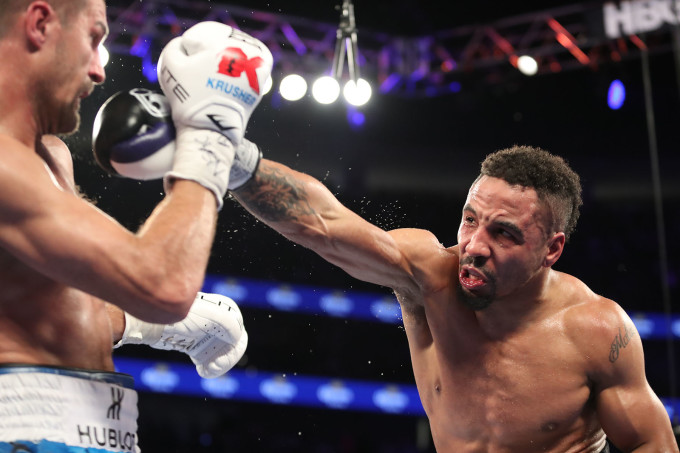 Did you gain a new appreciation for him as a boxer?
To be honest, I expected more.
What more did you expect?
He has somewhat of a bully mentality and he was given the name "Krusher" and he has to live up to that and I didn't see that individual through the course of the fight. Fighters can feel each other and he's a champ so it's going to be hard to make a guy like that quit, but he slowly gave in round after round after round. I felt it, I knew it, and I was fortunate to step on the gas and rack up rounds. He fought and he fought back but I didn't see the "Krusher" or the guy I've been hearing about all these years.
After experiencing 12 rounds with him, how would much will your strategy change for the rematch?
As simply as I can put it, we're going to pick up where we left off. He's a good fighter, you have to respect his credentials. Once a guy's a champion he's a champion so I don't look at him any less in that respect. We'll adjust things and speak about things at the right time, but at the end of the day why should we do anything different? He didn't have any answers in the second half of the fight and that's the best shape he can be at at his age and he still got tired. We'll have an even faster pace early on.
It's kind of weird going about your day and you get a text signed "M.J."
How many text messages did you have after the fight?
Too many. It was probably like several hundred. They just continued to come in throughout the night and next couple of days. Damian Lillard reached out to me after, but he really encouraged me before the fight. Obviously K.D. is a friend of mine. He reached out before and after. Steph [Curry] reached out. Several people, bunch of family and bunch of friends.
You're a Jordan guy. There have been a ton of Jordan releases this year. Which one has been your favorite?
My two favorites are the 11s and the 9s.
And that's what you're mostly rocking these days?
Especially now because they just came out and I got a boatload of that stuff before the fight to make sure I had it. Those are two of the most comfortable pair of shoes that I have. They look amazing. The Space Jams and the new 9s that just came out, what makes them special is I couldn't afford those shoes when I was a kid. And it's really cool to have them now. It's symbolic of making it. But at one time I couldn't get a pair to save my life. It's surreal to have pretty much any type of sneaker that I want from the best brand of sneakers in the world.
Do you remember your first pair of Jordans?
I do. They were 13s. I didn't have my first pair until probably eighth grade.
How big of a boxing fan is Michael Jordan?
Mike is a huge fan and another that reached out to me. It's kind of weird going about your day and you get a text signed "M.J." He couldn't make it, but he let me know, go out there, represent the brand, do what you gotta do, and I appreciated that.