Every UFC fan has an opinion about Conor McGregor. In three years, McGregor has gone from just another name signed to the UFC roster to the company's biggest star. Along the way, he's built a loyal legion of fans, and a dedicated group of haters. Regardless of how people feel about "The Notorious" McGregor, one thing is certain: They want to see him in the Octagon. It's the reason why a number of his previous fights—at UFC 194, UFC 196, and UFC 202—account for three of the company's six biggest events, according to Forbes. His upcoming match against Eddie Alvarez at UFC 205 in Madison Square Garden will certainly be another huge draw, if not the biggest in the sport's history.
As a teenager growing up in the Dublin suburb of Crumlin, McGregor decided to leave his blue-collar job as an apprentice plumber to train full-time to become a mixed martial arts fighter. Coming from little to nothing and working hard to attain world fame is a well-worn narrative, but one that never loses its luster. That experience of "making it big" is something many of us strive to achieve while chasing our dreams.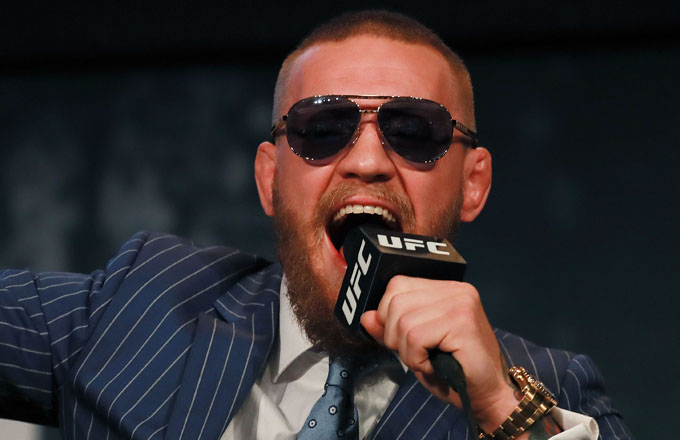 "I'm just happy I won $60K," Conor said at the post-fight press conference after his UFC debut in 2013. "I'm just thinking on what I'm going to spend it on... Just last week I was collecting social welfare, you know what I mean?"
When McGregor brags about wealth, his remarks are often seen as arrogant, but it's easy to understand why he values his money so much. It's like when rappers spit bars about starting from the bottom and finally finding financial success. It's that lavish lifestyle we all aspire to one day enjoy.
Still, there are those individuals who simply do not respect McGregor because of his brashness in and out of the cage. In every press conference leading up to a fight, he verbally abuses his opponent. He plays bully, and in that role, people can't wait to see him get punched in the face. They want to watch him get knocked out, and be immersed in all the social media, crying Jordan meme hailstorms afterwards. Simply, fans of the sport crave a moment where they can relish in McGregor's failure, and earlier this year, they got their wish.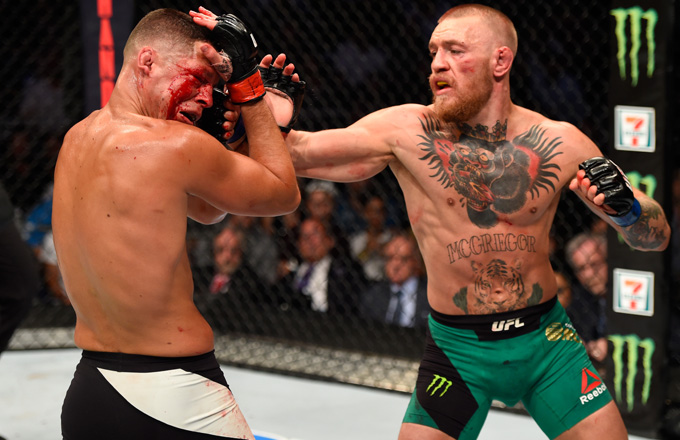 At UFC 196, Nate Diaz tapped Conor via a rear-naked choke. While the loss made a lot of haters happy, McGregor was unfazed. Just six months later, at UFC 202, he got revenge on Diaz, defeating him (by decision) in a slugfest that has already been deemed as one of the best fights in UFC history. 
Everyone has an opinion on McGregor—they either love him or hate him. And this dichotomy is what makes him not just the most polarizing figure in MMA, but the most polarizing figure in sports. On Saturday, McGregor will be the Joker to Eddie Alvarez's Batman when these two fighters square off in real-life Gotham (New York City), marking the first time a UFC event will take place in the Big Apple. This, thanks to the bill that passed back in April legalizing MMA competitions in New York.
After defeating two of the top three fighters in the featherweight division—José Aldo and Max Holloway—McGregor has set his sights on the lightweight class and its champion, Alvarez. With a victory, Conor would become the first UFC fighter in history to hold two belts at the same time.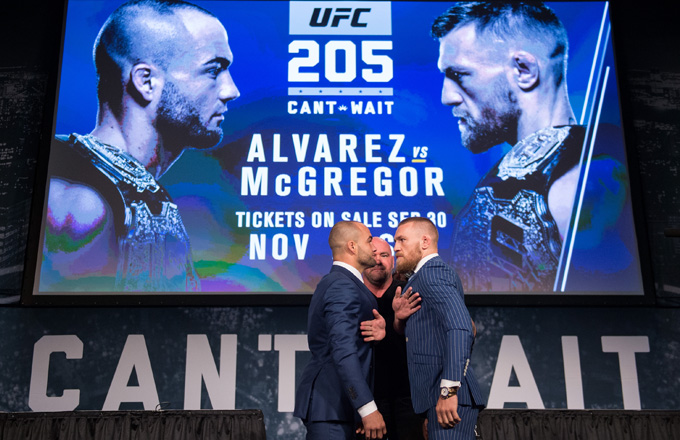 When determining an athlete's legacy—where he or she stacks up against the greatest of all time—titles and championships tend to be the all-important deciding factor. Multiple championships will surely grant them a place in the conversation. For UFC fighters, the ultimate goal is to capture belts. Say what you will about Conor, but he's on the verge of entering uncharted territory. A win over Alvarez not only puts him in the conversation, it warrants respect from the crowd rooting for his downfall. After all, we already know you'll be watching.