The Oral History of Baseball on 'Seinfeld'
Jerry Seinfeld, Larry David, Keith Hernandez, Derek Jeter, and more offer up behind-the-scenes memories from filming the iconic '90s sitcom.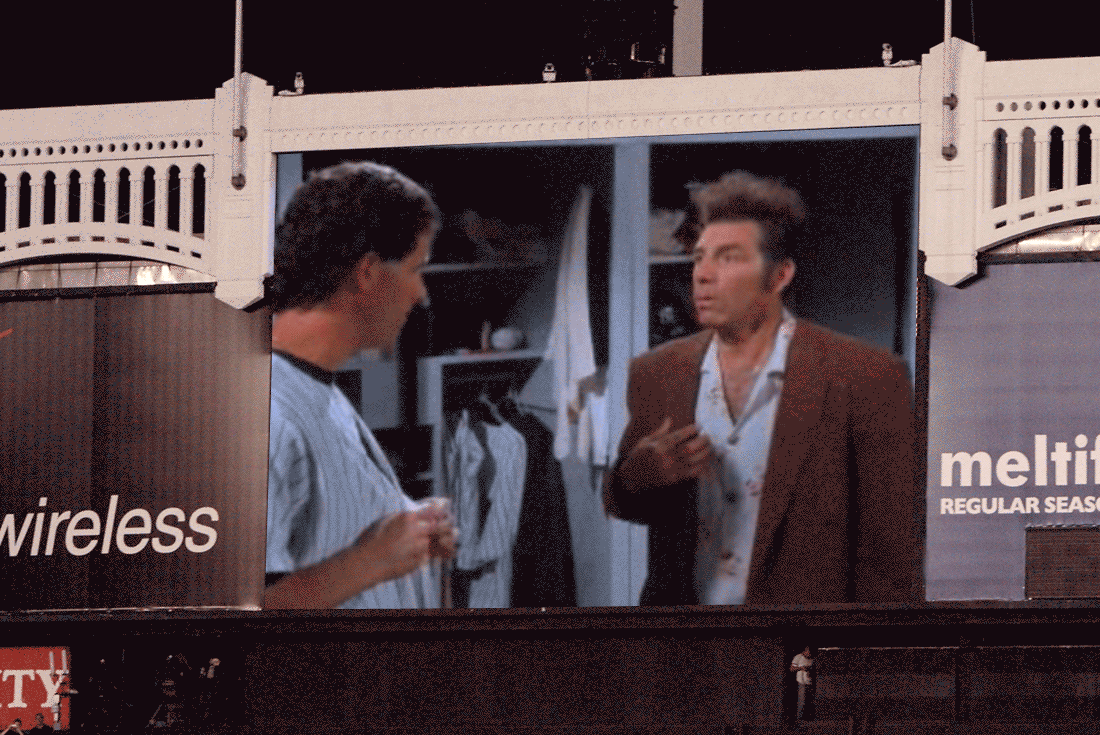 When you think of Seinfeld, what's the first thing that comes to mind?
Right: abject misanthropy. Or maybe, just maybe, Superman. But somewhere pretty high on the list, there's gotta be baseball. There was baseball in the little-seen pilot, there was baseball in the universally viewed finale, and there was lots and lots of baseball in between.
In the pilot—at that point, in the summer of 1989, the show was called The Seinfeld Chronicles—Jerry's apartment was packed with baseball: a catcher's mask hanging from the coat rack next to the door; nearby, a couple of wood bats, a batting helmet, a fielder's glove; a large Mets poster on the wall behind Jerry's couch, with a baseball in a plastic cube just below. Before we meet Kramer for the first time, it's 1 in the morning and Jerry's just sitting down to watch the Mets game he taped. Of course, Kramer tells him what happened in the game: the Mets stunk.
So they redressed the set for the show's first season (of only four episodes), but there were still tons of baseball Easter eggs: a Yankees jacket next to the door; a Mets cap atop Jerry's computer; above the computer, what looks like an old baseball glove encased in Lucite; and on top of the refrigerator, a whole box of Donruss baseball cards! (Jerry's bats are still in the apartment; they've just been moved to a little-seen corner of the set.)
Larry David and Jerry Seinfeld famously wanted to make a show about nothing. But it would also be a show with a lot of baseball, thanks to its co-creators. "Jerry and Larry are both big baseball fans," says Jennifer Armstrong, author of the bestselling book Seinfeldia: How a Show About Nothing Changed Everything. Seinfeld and David both grew up in New York; Seinfeld loved the Mets, David the Yankees. "When they were young comedians," Armstrong continues, "they talked all the time about baseball. And there are stories about Larry and Kenny Kramer—who became 'Kramer' on the show—bonding over baseball, how they'd have the game on TV, and wandering into each other's apartment when something happened."
Yes, the Knicks would come up a few times in the course of Seinfeld's nine seasons. David Puddy, Elaine's on-again, off-again boyfriend, would paint his face for a New Jersey Devils game; Elaine and Kramer show up at a New York Giants game. But from the very beginning, baseball would be the sport of choice in what would become perhaps the greatest, most influential sitcom in television history. We talked to a number of former baseball players, Seinfeld actors, writers, directors, and a few choice observers to offer up their memories from filming the sitcom's most memorable scenes involving the national pastime. Pulling from the cast and crew's memories found on "Seinfeld: The Complete Series" DVDs, a memorable spring training visit to the broadcast booth, and exclusive interviews with Derek Jeter, Paul O'Neill, Ron Darling, Roger McDowell, Buck Showalter, and many more, we present The Oral History of Baseball on Seinfeld. 
The Mets Years
In Seinfeld's first few seasons, the Mets were the natural choice as New York's team. For one thing, the show was called Seinfeld and the real-life Seinfeld had been a die-hard Mets fan for a long time. For another, the early '90s Yankees weren't real interesting, having missed the playoffs every year since 1981 and actually finished last in 1990. The Mets, on the other hand, were the toast of the town in the mid-'80s, winning the franchise's second World Series with a charismatic cast of characters in 1986. The Mets would go on to enjoy seven straight winning season through 1990, a franchise record. Cue the third-season episode, "The Boyfriend"...
Larry David, co-creator of Seinfeld, from Seinfeld: The Complete Series: We did a show, how to get rid of a guy who's your friend. How do you break up with the guy? But this show was, how do you make a new friend with a guy, who you've just met, who you kinda wanna be friends with? It's a little awkward; do you call him up? I mean, how does that work? I thought that was a really funny idea…So who was this guy?
Who was this guy? It would have to be a baseball player, of course; more specifically, a New York baseball player, someone Jerry might have idolized for years. Cue Keith Hernandez...
Jerry Seinfeld, co-creator/star of Seinfeld, from Seinfeld: The Complete Series: At that point, I had met quite a few celebrities. After a while, you're not that excited because you realize they're just people, most of them. But sports stars, and certainly the Mets were my favorite team, and Keith Hernandez was my favorite player, and I remember the morning that he was going to be on the show, standing in my closet, looking at my shirts and going, "What should I wear? I'm going to meet Keith Hernandez; what should I wear?" And I actually even remember feeling sweaty as I was driving to work. That I was going to meet Keith Hernandez and how exciting this was going to be.
Julia Louis-Dreyfus, star of Seinfeld, from Seinfeld: The Complete Series: I was aware of who he was, and the lore, and the hugeness of what a fabulous baseball player he was. Not to mention the fact that I'm surrounded by these boys on the set, and my husband at home, and they're all flipping out that it's Keith Hernandez. So I was aware of what a god he was at that time.
Keith Hernandez, former Mets first baseman, from Seinfeld: The Complete Series: The scenes that were added to make it an hour[-long] show for sweeps was the development of Elaine and I going out, and I'm smoking and she blew me off.
Louis-Dreyfus: Such fun to play that with him, such fun. I think the guys on the set were more in love with him than I was. They just love that guy.
Hernandez: It was very interesting because of all the principal actors, Jerry was speechless around me for two to three days.
Seinfeld: It was great fun, and we became friends after that.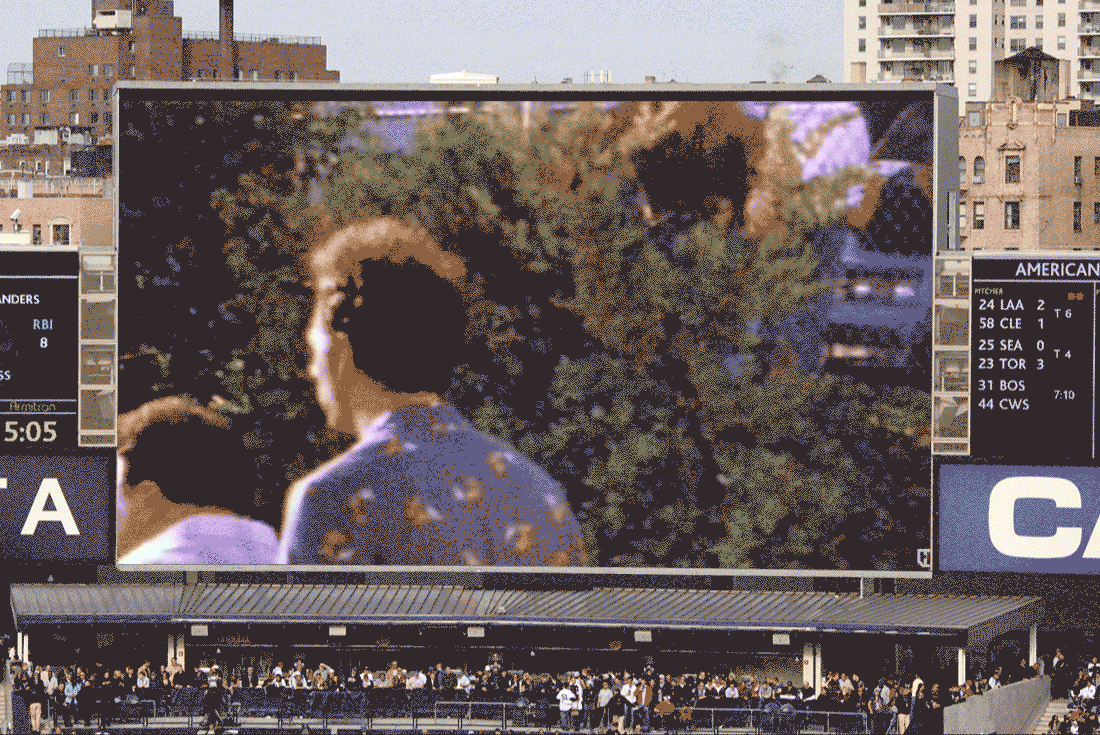 One of "The Boyfriend's" story lines involves a long-held grudge against Hernandez by Kramer and Jerry's portly Postman neighbor Newman, whom they believed spat upon them after a Mets game in 1987. In a brilliant recreation—precisely mirroring Kevin Costner's "magic bullet" monologue in JFK—Jerry demonstrates that only a "magic loogie" could have done what Kramer and Newman claim. In the absence of such a beast, "there had to have been a second spitter, behind the bushes on the gravelly road." 
Hernandez: When I saw the original script and who the second spitter was going to be, they originally wanted to use Darryl Strawberry. But Darryl had some series of bad publicity. I said, "Are you sure you wanna have Darryl do this?" You know, Darryl's a good friend. I said, "I don't think it's the right time for Darryl to be someone spitting on fans."
Roger McDowell, former Mets reliever: I remember sitting at home, and I get a call from Keith Hernandez. He was friends with Jerry Seinfeld and Larry David, and they want me to be part of the show. Keith explains it's a spoof of the JFK shooting, and they wanted me in a role. ...I said yes, and they flew me to Los Angeles.
Tom Cherones, director of "The Boyfriend," from Seinfeld: The Complete Series: Keith Hernandez called Roger McDowell, who was with the Dodgers at that point, to come and do this part in the film where he spits on our hero, Kramer. In order to make it look like the exit at the stadium, we built a wire fence and put some shrubs in.
McDowell: We went outside to film my thing, and I know it took more than 20 takes. I was acting, because we did so many takes that I ran out of spit, and had to act like I was spitting.
I don't know why they asked me, except in their conversations with Keith, he probably just said, "This would be the right guy." I could spit good, but I don't have a face for TV so being hidden behind a bush was probably a good thing.
Steve Somers, WFAN Radio (and Seinfeld's favorite radio host): Well, we're not talking Laurence Olivier, but Keith Hernandez was very, very good because he was basically very comfortable in his own skin. Very comfortable being himself, and he knew he was beloved by Seinfeld and he also knew that being himself was what they wanted.
Ron Darling, former Mets pitcher: If he wasn't a baseball player he could easily be an actor. He's an actor every night on the broadcast. He's the guy that can pull it off. He has such confidence in himself that he knows it's going to come off. I wish there was some [ball-busting], but there couldn't be, because he was so good in it. We couldn't wait to watch it. To have the great Jerry Seinfeld groveling at Keith's feet. To kiss Elaine. We were like,  "Keith is doing well post-baseball." It was like anything Keith touches turns to gold.  
Just a few weeks after "The Boyfriend" featured Hernandez, with a cameo for McDowell and a shout-out for Mookie Wilson, the show adopted the Yankees as its symbolic baseball franchise, with the Mets hardly ever mentioned again.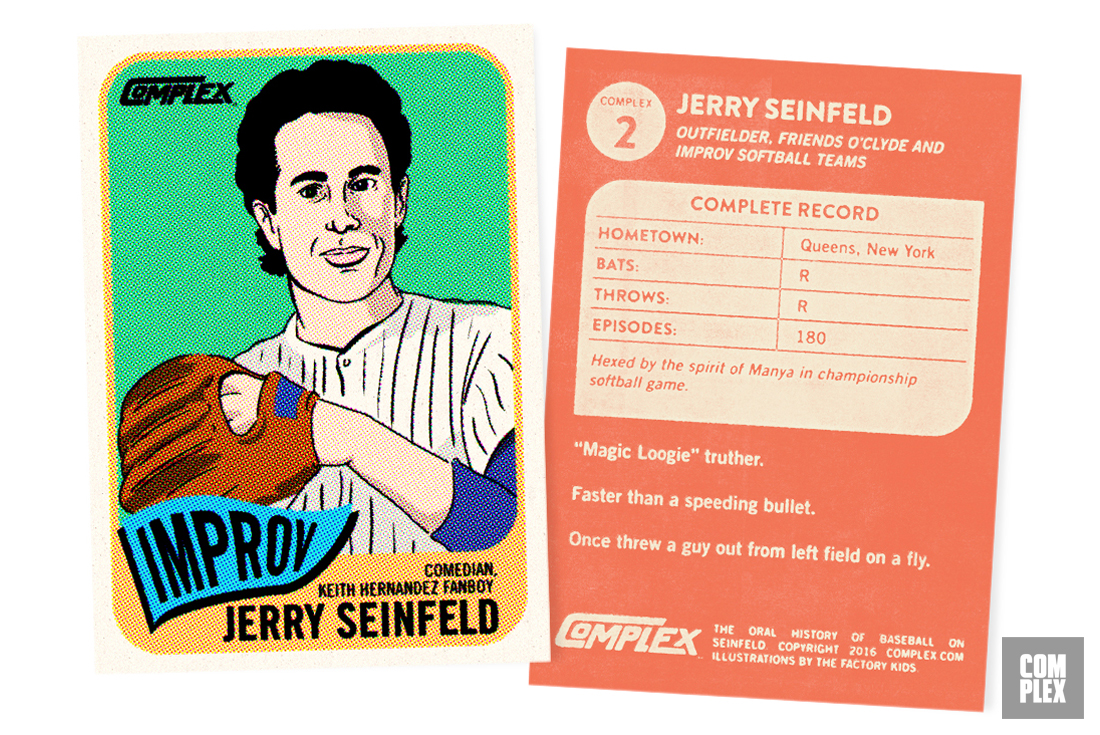 The Two Georges
In "The Letter," the 21st episode of Season 3, Elaine gets in trouble (twice!) for wearing her Baltimore Orioles cap while sitting in the owner's box at Yankee Stadium; Phil Rizzuto contributed a voice-over for the episode's final scene. In the middle of Season 4, Kramer returns from Yankees fantasy camp, having been sent home early after accidentally punching Mickey Mantle.
So, after "The Boyfriend," the Yankees played a minor, largely off-screen role in Seinfeldia for a while. But it wasn't until the beloved last episode of Season 5, "The Opposite" that the Bronx Bombers became an intrinsic part of the show. When George begins doing the opposite of everything his instincts suggest, he meets and begins dating a beautiful woman, whose uncle just happens to work for the Yankees and gets George a job interview. On his way out, George runs into George Steinbrenner, voiced by Larry David…
David: One of the great things about doing these shows is that you can act out a lot of these stupid little fantasies that you may have had at some point in your youth, or your life, whatever. And certainly working for the Yankees in some capacity was a fantasy of mine when I was a teenager: "Oh, wouldn't it be great if I could work for the Yankees?"
Seinfeld: I remember we tried to get the real George Steinbrenner. We failed.
David: In order to do Steinbrenner, we actually first have to get Steinbrenner's permission, and that was not forthcoming until Jerry called him up and—he thought we were making fun of him, because George [Costanza] is called George. So he didn't really interpret it the right way. So Jerry had to tell him, "No, no, no, no, this has nothing to do with you." So he gave us permission to do it.
Lee Bear, actor who played the body of Steinbrenner, from Seinfeld: The Complete Series: It was a very up-tempo, hyper place, and I just put actions to match the voice. It just came natural for me, when the voice started doing it. Because if I'd been doing the voice, I'd have been doing the same thing.
David: So we were talking about, well, who's gonna do this voice? And Jerry and I were talking and he said, "Well, what do you think it sounds like?" and I said, Well you know I think the character he kinda talks like that he should like that and hey George pass the calzone here--"
And Jerry said, "Why don't you just do it?"
Seinfeld: Larry was so hilarious doing the voice, and he really created this very caricature, this very mercurial personality who's just completely all over the place and neurotic.
George Steinbrenner, late owner of the New York Yankees, from Seinfeld: The Complete Series: I guess they did a pretty accurate job. Though no one likes to admit they're quite like that, I guess I was.
The first episode of Season 6, "The Chaperone," is the first in which Costanza is actually working for the Yankees. He's talks to Yankees outfielder Danny Tartabull and comes up with an intriguing—and, of course, ultimately disastrous—idea for manager Buck Showalter: cotton uniforms for the players.
Buck Showalter, former Yankees manager: I didn't know a whole lot about Seinfeld. I came home and mentioned it in passing, and my wife and kids said, "Oh, that's a popular show. You gotta do it."
I found out later they were sort of making fun of Steinbrenner. You noticed there wasn't a return engagement. I wish they'd told me about that; I might not have done it.
Andy Ackerman, director of "The Chaperone," from Seinfeld: The Complete Series: We did a location scene out at Anaheim Stadium in the Angels' locker room with the Yankees. And it was a scene that involved Jason where he was giving batting tips to Danny Tartabull, I think it was? And Buck Showalter was there. And it was very exciting, not only because I'm a huge baseball fan, but also because what a great way to start my foray into Seinfeld.
Showalter: We filmed early in the morning. That's why I look like I was half-asleep. There really wasn't much acting involved.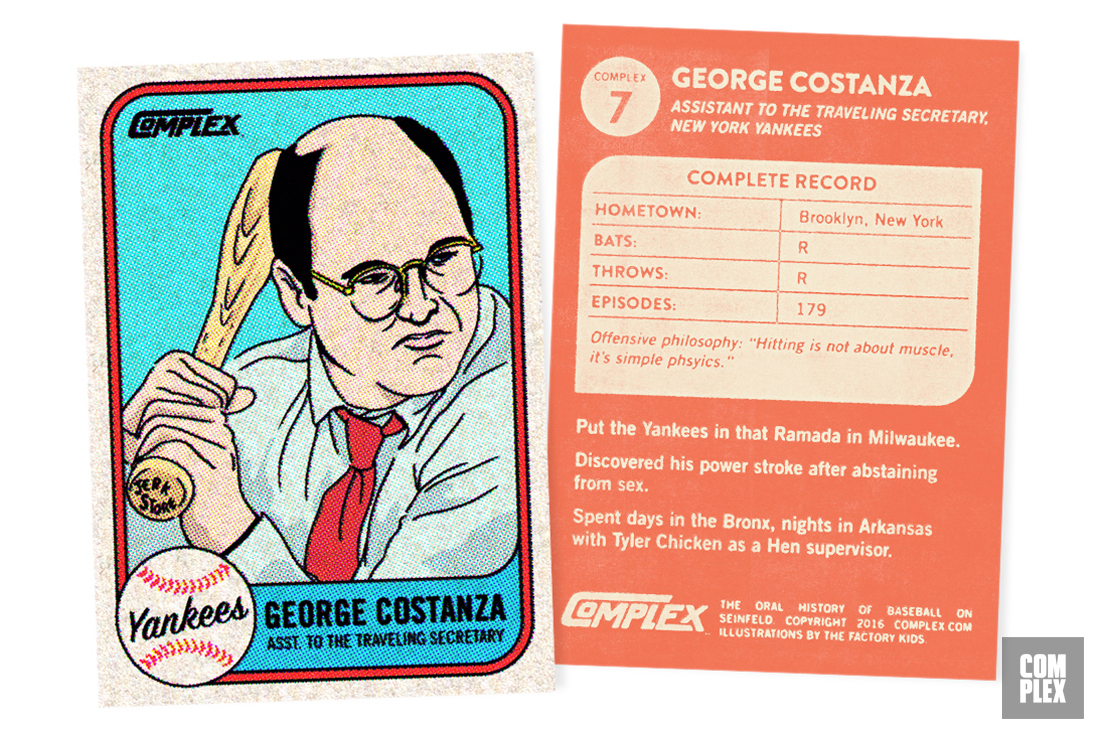 Tartabull would return to Seinfeld just two episodes later in "The Pledge Drive." Tartabull gets stuck in a car with George, who's supposed to be escorting the Yankees high-priced DH/outfielder to an appearance on a PBS telethon but gets sidetracked when he thinks someone flipped him off. Tartabull would be the only Yankee to appear in more than one episode, and his 14 lines were the most spoken on the series by a non-actor.
No. 2 on that list is Yankees outfielder Paul O'Neill, with 10 lines in "The Wink," an early Season 7 episode in which Kramer has promised a boy in the hospital that the Yankees right fielder will hit two home runs in the Bronx Bombers' next game. To which O'Neill responds, "Yeah. That's no good. It's terrible. You don't hit home runs like that. It's hard to hit home runs...ridiculous. I'm not a home-run hitter."
Paul O'Neill, former Yankees right fielder: Before then I hadn't known that much about the show. The first time they asked me was during the strike [during the 1994-95 baseball seasons], and I would have had to fly to Los Angeles to do it, and I didn't know much about the show. So I didn't do it. But the next time they asked, I had become a huge fan. We shot in the summer, probably no more than two takes. I was in makeup, and Michael Richards came in and started talking to me, and I'm wondering if he's already in character, or what. They showed me some specific lines, and then I just went out and sort of winged it.
In 1988, the Yankees traded a young, struggling outfielder named Jay Buhner to the Seattle Mariners for veteran slugger Ken Phelps. Eight years later, when the Season 7 episode "The Caddy" aired, Phelps had been retired for years and Buhner was coming off a 40-homer season. In "The Caddy," George plays hooky from work. Steinbrenner comes to think something terrible must have happened, and visits George's parents with the bad news. Which leads to one of Frank Costanza's greatest rants: "What the hell did you trade Jay Buhner for?!? He had 30 home runs, over 100 RBIs last year, he's got a rocket for an arm, you don't know what the hell you're doin'!"
To which Steinbrenner responds, "Well, Buhner was a good prospect, no question about it.
But my baseball people loved Ken Phelps' bat. They kept saying 'Ken Phelps, Ken Phelps.'"
Jay Buhner, former Mariners outfielder, from MLB.com: At the time, [the Yankees] were known for taking all their young talent and using it to make trades, still sticking with the veteran players. So for me, I thought it was a great opportunity to come over and get a name for myself and get a chance to step into the lineup, play every day. As a young kid, that's all you could ever ask for. I was a little apprehensive, though, at first, because let's face it, I didn't know, Washington state, everybody thinks Washington, D.C., Washington state, they still get mixed up.
It was great for me. Like I said, I got a chance to make a name for myself, so that's all you could ask.
Ken Phelps, former Yankees DH/ first baseman: I wasn't a big Seinfeld fan then. Somebody called me from back east, probably somebody I'd played ball with, and he just said I should watch Seinfeld that night. It hadn't been on here yet, with the time difference. My kids were still real young, but my wife and I watched it together and we both had a good laugh. We could personally relate to that episode. There was a thing about the Johnnie Cochran character and a bra that doesn't fit. Well, my wife and some friends had visited California, and wanted to drive by O.J.'s house. So the gate happens to open, and there he is. They all posed for photos with him.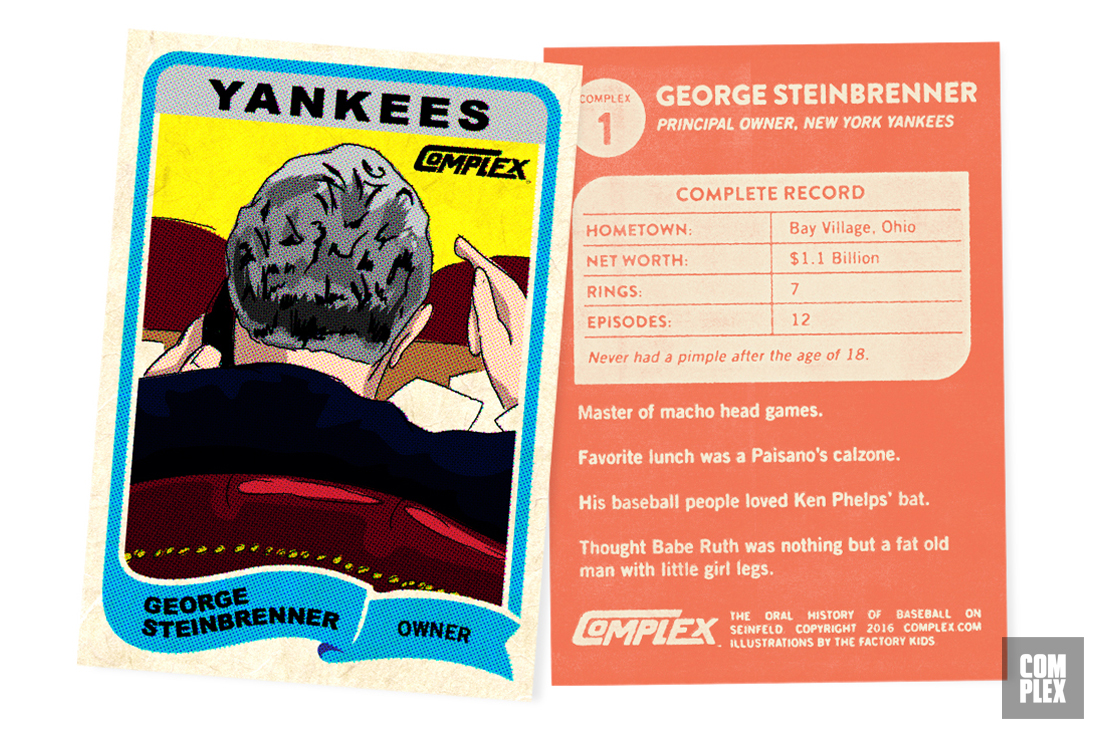 At the end of Season 7, the real George Steinbrenner finally agreed to play "himself," filming two scenes for "The Invitations," the episode in which George's fiancée Susan dies after licking envelope glue that's far past its expiration date.
Steinbrenner: I was going to L.A. on other business, and they asked me if I would do the show when I'm out there.
Seinfeld: I think I talked him into it. And I remember when he came out there, and someone said he's in his dressing room, and I think I gave him my dressing room—because I had the big dressing room—and we gave him mine, you know, to make sure he was comfortable and happy.
Jason Alexander, star of Seinfeld, from Seinfeld: The Complete Series: We needed him for one line, [but] he insisted that if he was going to come all this way and do this, that he had to finally play himself in the show. We had never seen the face of Steinbrenner, prior to that.
Ackerman, director of "The Invitations," from Seinfeld: The Complete Series: Larry was so enamored with having George Steinbrenner there. I personally thought it was a huge mistake, to have done that. Because I thought that the device that we had going, with Larry's voice, was now dead forever. We couldn't do it any more, now that we'd seen the real guy. We were fortunate that the show was horrendously long. I think we needed to take six or seven minutes out of that show.
Seinfeld: I think Larry called Steinbrenner and told him that he didn't make the cut, that he wasn't in the show, because the scene just didn't quite make it.
Steinbrenner: I had trouble with the script, because I didn't appreciate the fact that he had this girl licking the stamps and dying from the glue. I thought it was a sad, sad line.
In October 1996, just a few days after the real-world Yankees beat the real-world Braves to clinch their first World's Championship since 1978, Bernie Williams and Derek Jeter were in Los Angeles to film "The Abstinence," in which Costanza—way smarter than usual, because he's temporarily celibate—gives scientific batting tips to both players. When Seinfeldia-Jeter protests that the Yankees just won the World Series, George snorts, "In six games."
Derek Jeter, former Yankees shortstop: I was usually playing when Seinfeld aired, so I had not watched much of it before filming. But I was fully aware it was one of the most popular shows on TV.
I was playing myself, so there was not a lot of preparing to do, luckily. I didn't have a huge role, just a few lines. So to be honest, I kind of just showed up and we knocked it out. I was used to performing under pressure.
Costanza's tenure with the Yankees lasted for 70 episodes, 13 of which included Steinbrenner (played by Larry David and Lee Bear). He would eventually be promoted to assistant general manager, and earn a championship ring in 1996, although a ring is never mentioned or seen. In the next-to-last episode of Season 8, "The Muffin Tops," he finally loses the job."While walking around Manhattan looking like a tourist, George runs into a beautiful employee of the New York Visitors Center, who takes pity on him. To keep the relationship going, George claims to be a "hen supervisor" with Tyler Chicken in Arkansas. When Steinbrenner finds out, he "trades" George to Tyler Chicken.
Season 8's last episode opens with George reading a letter and exclaiming, "The Yankees are giving me three months of full [severance] pay for doing nothing."
Jerry responds, "They did it for three years. What's another three months?"
Alexander: Losing the job with the Yankees was a bit of a loss, I think. It connected me to the real world, in a way that was kind of fun. It also meant that was the end of playing with Larry [David, as the voice of Steinbrenner] in that scenario, too, and I always looked forward to Larry coming and doing those stints. At the time it was a little daunting because I thought, "Well, now what, you know?"
Season 9, the show's last, would be largely devoid of baseball. Toward the end, the infamous "Puerto Rican Day" episode begins with the gang leaving a Mets game early to beat the traffic. And in the hour-long series finale, Keith Hernandez and "George Steinbrenner" both appear briefly.
The Legacy
Seinfeld just keeps chugging along. According to CNBC, "more people have watched Seinfeld as a re-run than watched it when it was the most popular show on television." And that was before 2015, when Hulu acquired streaming rights to all nine seasons of the series, reportedly for a figure between $130 million and $180 million. But of course Seinfeld wasn't (and isn't) merely popular; it's also great. Few programs, however popular in their time, can stand the test of time. But just last month, Rolling Stone ranked Seinfeld as the fifth-greatest show in television history...and THE greatest sitcom.
The show's catch-phrases live on, and actors like John O'Hurley (J. Peterman) and Larry Thomas (the Soup Nazi) continue to draw crowds and sign autographs. And for all the Yankees and Mets who appeared in the series, Seinfeld is the gift that just keeps on giving; granted, to some more than others.
Showalter: The problem with [with appearing on Seinfeld] is you have to join the Actors Guild. I actually lose money every time they show it. But I'm kinda glad I did it, if only for our kids.
McDowell: I still get the residual checks: $13 and some change, which doesn't cover my SAG membership.
O'Neill: If I'm flipping the channels and Seinfeld's on, I'll watch any episode. But I thought that episode ["The Wink"] was one of the really good ones. Every time, it makes me laugh.
Jennifer Armstrong, author of "Seinfeldia": I wonder if there are people, maybe people in the Midwest, who don't realize that Steinbrenner was a real person.
Buhner: I still get family members who call me and say the rerun was on last night. And any time [Ken Phelps and I] see each other, we still talk about it, to this day.
Phelps: When the first thing people wanna talk about is Seinfeld, that's fine. It's just great to be remembered. I bump into Jay Buhner every so often, usually at spring training, since he does some work for the Mariners and I do some fill-in broadcasting for them. I always tell him, "Yeah, it worked out pretty well for the Mariners, but I was better before the trade."
McDowell: During the season, there's probably three or four times a week that somebody brings it up. We just played a series in San Francisco, and the cameraman in the well next to the dugout said his friend told him to ask me about it. Sometimes when I'm signing an autograph, somebody will ask me to add "The Second Spitter." It's great, being a part of what might be the greatest television comedy ever. And every time it's on, I have to watch it; I don't care how many times I've seen it before.
Billy Harner, Brooklyn Cyclones Director of Communications: We just had our third Seinfeld night. In terms of national exposure, the first one in 2014, when we gave out the Magic Loogie bobblehead with Keith Hernandez, was the biggest by far. According to TV-Eyes, the media coverage was the equivalent of four Super Bowl commercials, and we were featured on at least one newscast in all 50 states. Last year it was the Little Jerry bobblehead, with a limited-edition Martin Van Buren bobblehead for the Van Buren Boys episode. And this year it was Roger McDowell and "The Second Spitter"; the limited edition was J. Peterman. We wanted to stop doing it after this year, but our fans are so passionate about it; they just really love it. The show's been off the air for like 20 years, but people are still as crazy about it as ever. When you do things like this, people tend to lose interest. But that's just not the case with Seinfeld Night.
Darling:Seinfeld is one of the great shows of TV history and Keith's episode is one of the best three or four. When I'm with Keith, people will always say, "Hey, Keith, what's up? Let's go Mets! Seinfeld!" It's always included. That's just part of his moniker.
Hernandez: As the years have gone by, the generations that didn't see me play? They don't relate to me as Keith Hernandez, the baseball player. They relate to me as Keith Hernandez from the Seinfeld show. I have kids come up to me to this day…they'll come behind me and go..."What was it like kissing Elaine?" Which I always say was awful. Eight takes. Brutal. That was the hardest part.