Six young footballers were given the chance to live life just like Alex Hunter thanks to adidas.
adidas brought the worlds of on-pitch football and on-screen gaming closer together than ever before by offering aspiring ballers from across Europe the chance to emulate their FIFA 17 experience in real life.
In FIFA 17's 'The Journey', players take charge of Alex Hunter's first season as a Premier League footballer. Amongst his rise and rise is the opportunity to earn Hunter a sponsorship deal with adidas complete with new boots and a photoshoot – which is exactly what teenage players from London, Paris, Berlin, Madrid, Vienna and Prague got to experience for themselves at adidas HQ in Germany.
These players took the same steps as Paul Pogba and Luis Suarez at adidas HQ.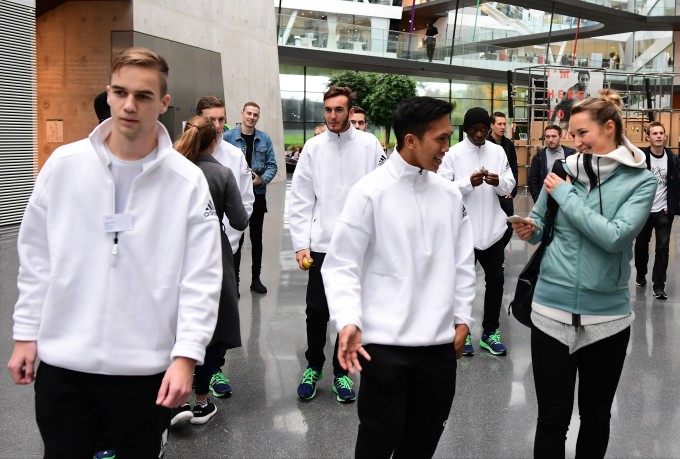 To find their winners, adidas put out a call-to-action to teenagers around the globe earlier this month inviting them to send a selfie of themselves and their screen the moment when Hunter receives his adidas boots. Just as Alex Hunter receives a sponsorship deal in the game, the first players to send their selfie within each city have been offered a real adidas contract experience and welcomed to the brand.
As official ambassadors of the adidas brand, the young players will receive new product drops at the same time as professional players.
Having been flown to Germany, the winners were treated to a unique adidasexperience, training with the FC Bayern Munich Academy and a chance to be scouted by one of Europe's biggest clubs. On Wednesday evening, they were VIP guests at the Allianz Arena for the UEFA Champions League tie between FC Bayern Munich and PSV Eindhoven.
After that, they were then given a guided tour of the entire 346 acre adidas campus, home to playing fields, Adi Dassler stadium, the adidas Brand Centre, an award-winning cafeteria "Stripes" facing an on-campus lake and an entirely new state-of- the art "Laces" building, before taking part in a professional photo-shoot of their own. In addition, they were gifted a personalised pair of either X or ACE Stellar Pack boots, representative of the choice they made in-game when Hunter receives his boot deal in FIFA17.
To round the day off in style and officially mark their partnership with adidas, they were met by Claus-Peter Mayer, Vice President of Sports Marketing for Football at adidas to welcome them to the brand.
We knew we should have spent more time on 'The Journey'.