With the Olympics only about a week away, international focus has been less on the games themselves and more on widespread concern over 2016's hottest disease: the Zika virus.
If you don't know what the Zika virus is, there's zero chance you're reading this, as you clearly do not have access to things like the Internet, or other living human beings to engage in conversation with. Zika is 2016's Ebola, SARS, swine flu, EEE, West Nile and bird flu. It's a disease that's mostly spread by asshole mosquitos, but can also be transmitted sexually between men and women. What's especially brutal about Zika is there really aren't any symptoms that are exhibited by someone carrying it, yet the disease can affect a fetus, causing major birth defects such as microcephaly.
While horrific diseases are a constant in all corners of this planet, it's not every year we see the entire world gather in one city. Unless it's a year there's a World Cup. Or the Winter Olympics. Alright, so basically every year the entire world descends upon one city, and there are usually a shit ton of problems leading up to that event. The 2016 Rio Olympics are no exception to this rule, with the Zika virus currently edging out the raw sewage-laden waters, potential terrorism, and flooded, short-circuiting athlete apartments currently found in Rio. With Zika looming as a dangerous reality over the games, we are forced to ask ourselves one very important question about the 2016 Rio Olympics:
Are people gonna be fuckin' or nah?
You may have never even seen a female condom in your life but Rio has 10 of them on deck for every male and female athlete in attendance.
The Olympics have always been about fucking. You've got the best athletes in the world all jacked up on patriotism and adrenaline competing in events they've been training for all of their lives. Those who win will be inspired to spread their seed in ceremonious victory. Those who lose will be emotionally crushed and looking for an artificial pick-me-up. Some will choose booze, others cocaine, but the cool ones will do both and then end the night with some Olympic-level coitus.
Does the International Olympic Committee (IOC) straight-up endorse sex? No. But ever since the 1988 Seoul Olympics they have been providing hundreds of thousands of condoms for their athletes. Hundreds of thousands of condoms for around 10,000 athletes. In 2016, with Zika being such an ominous threat, the IOC put in an order for a staggering 450,000 condoms to be shipped to Rio — including, for the first time, 100,000 female condoms. You may have never even seen a female condom in your life, but Rio has 10 of them on deck for every male and female athlete in attendance. The IOC is also supplying 175,000 packets of lube. In other words, Rio is more ready for fucking than a freshman-only dorm in September.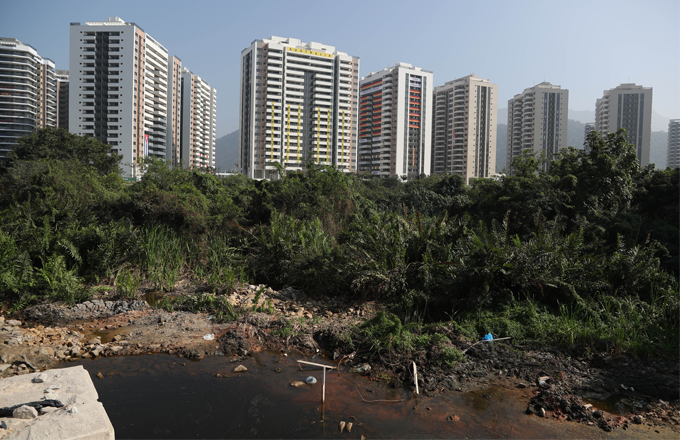 While half a million condoms for an Olympic village crowd that'll max out at 18,000 people seems all well and good, that's one mighty large assumption that people actually use condoms. People for sure do not use female condoms unless they've run out of trash bags and need to line their barrel. From what commercials have taught us, the vast majority of medical advancements in recent history have been in boners and preventing pregnancy without the use of condoms. Your girl's got an alarm on her phone and it's not for waking up.
Quam added that, at most, 16 out of the 500,000 Rio visitors will contract the Zika virus. SIXTEEN!
People were afraid of STDs for like the month after Magic Johnson's retirement press conference and pretty much never again. But when every major news outlet keeps pushing headlines on diseases like Zika, West Nile, Swine Flu, etc., it drums up a tangible fear among the masses. While we've already looked at how Zika can be transmitted through sex, it's important to remember the real enemy here: asshole mosquitos. For reasons I can't understand, there's an angle seemingly nobody else is talking about right now: Mosquitos don't fuck with winter.
Brazil is in the southern hemisphere, which means it's going to be the dead of winter in August. As a lifelong Boston resident, I can promise you that in nearly 27 years of breathing I have never not once encountered a mosquito in February. Now, I'm not an idiot, I realize Rio and Boston aren't exactly the same. They're not going to be playing beach volleyball in the snow—although that would be fire and they should consider it for future Olympic games.
The IOC agrees. Not about the snow beach volleyball, but about winter playing a role in the amount of mosquitos expected during the games. In a statement made to Complex, Emmanuelle Moreau and Sandrine Tonge of the IOC Media Relations Team spoke about the timing:
"We take note of the (World Health Organization's) statement, which reaffirms its previous advice that 'there should be no general restrictions on travel and trade with countries, areas and/or territories with Zika virus transmission, including the cities in Brazil that will be hosting the Olympic and Paralympic Games.' Our partners in Rio continue to work on minimizing the risk of visitors coming into contact with the mosquitos that spread the virus. It is also important to note that the Rio 2016 Games will take place during the winter months of August and September, when the drier, cooler climate significantly reduces the presence of mosquitos and therefore the risk of infection."
In an interview with NPR, Swedish biologist Mikkel Quam agreed with this sentiment and projected "very little mosquito activity during the Olympics." Quam added that, at most, 16 out of the 500,000 Rio visitors will contract the Zika virus. SIXTEEN! Obviously that's not a stone cold fact, merely a projection. Maybe one mosquito bites Tiger Woods and the disease spreads much more rapidly than if it bit some virgin nerd and stayed dormant. But 16 people is a preposterously low number for the amount of coverage Zika has received leading up to Rio. I'm not saying it's unimportant to take proper precautions when dealing with a large mass of people and a relatively new disease. However, during the same three week span, at least 16 white people in Rio will break their necks white people-ing / trying to face-swap with the Christ the Redeemer statue. Where are the World Health Organization's statements about that?
Despite the projected low-risk of actually catching Zika, some athletes love sex so much they've already pulled out of the games so that they won't have to pull out in the future. U.S. cyclist Tejay van Garderen said he withdrew to protect his currently-pregnant wife. Pau Gasol is the only NBA player currently on record as saying that Zika may cause him to skip the games, but the number of other stars who withdrew for "other" reasons makes me skeptical that Zika wasn't their biggest concern.
James Harden gave virtually no reason as to why he isn't playing in Rio. In a statement released on Harden's behalf by the Houston Rockets, he said, "I have been extremely blessed to wear the 'red, white, and blue' and to compete at the highest international level with the greatest players representing the greatest country in the world. I sincerely hope I'll earn an opportunity to represent Team USA again in the future." Look, James Harden is an immensely talented player but let's look at the facts: He got his girl taken by a dead guy, he's cursed by Lil B, and in the 2012 Olympics he got his ankles absolutely shattered in a game against Nigeria. Harden simply cannot afford catching another L by catching Zika from some strange in a Rio favela.
Two years ago, a product of Olympian Sex was taken first overall in the NBA Draft. Andrew Wiggins, the son of former Olympic track and field sprinter Marita Payne-Wiggins, said he wants to remain in Minnesota to prepare for his first season under Tom Thibodeau—despite the fact that Thibs will be in Rio as an assistant to U.S. Men's head coach Mike Krzyzewski. That makes Wiggins the first person in the history of humans and decision-making to choose being in Minnesota over being in Brazil. Again, few people know the power of Olympic sex like Wiggins, so it's a bit upsetting to think someone of his talents isn't looking to follow in his father's footsteps and create the most athletic human being of all time. Luckily he's still young. Hopefully, by 2020 he's a bit more mature and ready to start making life decisions with the betterment of mankind (and Canadian basketball) in mind.
On the other end of the spectrum there's DeMarcus Cousins, who was the first of the 12 members of this summer's U.S. Men's Basketball Team to accept his invitation to play. A bastion of level-headed decision making, Cousins' actions prove he ain't afraid of no Zika virus. I was unable to get in contact with him, but we can only imagine he would've repurposed an old Charles Barkley quote about Angola by saying something like, "Iono anything about mosquitos, but mosquitos are in trouble." Which is precisely the kind of dominant attitude we'd like to see from all of our American athletes.
So the answer is yes: Considering the impressive number of condoms,  the fact that it's winter in Brazil, and the sexual electricity of the Olympic spirit, Boogie, along with 499,999 other visitors from all over the globe, will most likely be fucking at the Rio Olympics.