LeBron James' role as GM has been a disaster so far. Some people at Complex may disagree, but after orchestrating his return to Cleveland, James suggested the Cavs trade Kevin Love in exchange for No. 1 pick and future All-Star Andrew Wiggins, and insisted they give Tristan Thompson a massive contract. Now they find themselves down 3-1 in the finals to the best regular season team in NBA history—the same team a depleted Cavs unit lost to last year. Things were supposed to be different this time around; Love and Kyrie Irving were healthy and ready to help the King reclaim his throne. Instead, James finds himself in the familiar position of doing everything by himself.
Through four games, James is putting up 24.8 points, 11 rebounds, 8.3 assists, 2.3 steals, and 1.8 blocks. Hard to wrap your brain around, right? Because even with that astonishing stat line, it feels as if LeBron should be doing more. He's too unselfish at times. I would much rather see James averaging more points and less assists at this point of the season. To put things in perspective, he's only shooting four free throws a game this series, as compared to seven free throw attempts in the previous series versus the Raptors. During last year's Finals, he was getting to the line 11 times per game.
How can a player who already does it all do more? Hard to say, but if LeBron James ever wants another ring, he'll have to figure that out.
So why is LeBron settling for jumpshots? His explosiveness is still there, so it's not that. Maybe it's Golden State's elite defense or maybe he doesn't trust himself at the stripe in big moments. I feel like it's more of the latter. In the regular season, James shot 73 percent from the charity stripe compared to 64 percent in the playoffs; a nine percent dip spells choke job to me. On the flip, whenever he tries to drive to the basket against an active Warriors five, he turns the ball over at a clip of six per game. Is asking him to score more and facilitate less really that unreasonable?
Maybe it's because LeBron isn't a killer, or as my brother proclaimed during the Cavs' Game 4 loss: "El no eres un matatan" (he isn't a killer in Spanish slang.) This distinction has followed him for the bulk of his career. Kyrie has more killer in him than LeBron, as do Klay and Steph. LeBron needs to let his nostrils flare more and complain about being called a bitch less. Phil Jackson feels the same way.
How much of the blame can actually fall on his shoulders, though? LeBron instantly turns whatever team he's on into a contender. He's played in one losing season in his 13-year career and that was when he was a 19-year-old rookie fresh out of high school. Since then LeBron has not only lived up to the hype, but surpassed it. In just his fourth year, he took Ira Newble and company to the Finals and he's been contending for the NBA title ever since. The Cavs aren't as deep as Golden State but they're still one of the most stacked teams in the league. Kyrie and Love aren't cutting it. Neither has a defensive bone in their body and are liabilities on the floor together when playing against a team as versatile as the Warriors. And even with Kyrie averaging 25 per game this series, it just isn't enough.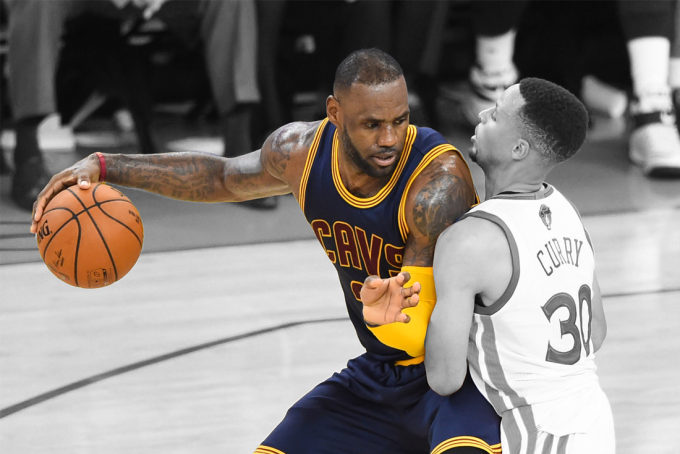 This offseason, GM LeBron James needs to watch some film, crunch some numbers, and wheel and deal. GM LeBron should look into somehow trading Kevin Love for Andrew Wiggins Paul Millsap, moving Kyrie to the two, and snatching up a point guard in the mold of Patrick Beverley, a guy who can hit open shots, and play pestering defense. This team will not win a championship as currently constructed. LeBron will be lucky to end his run in Cleveland with just one title, even if for those fans one would be plenty. They've been starving for a major sports championship for 50 years; he would be able to run for mayor if he were to bring them a title. Tyronn Lue seems to be getting through to his players, so no change there. He'll have more experience next year which will be helpful should James carry them to the Finals once again. That is, unless, some Eastern Conference team comes out of nowhere (like the Celtics should they manage to sign Kevin Durant).
However, it's still difficult to feel sorry for LeBron James. He did put this pressure on himself, after all. James is the self-proclaimed King with the phrase "Chosen One" written across his back. He was the one who had a parade in Miami before ever putting on a Heat jersey and behaved as if acquiring not one, but two, but three rings was going to be a walk in the park. After he won two titles in four tries with his best buds Dwyane Wade and Chris Bosh in tow, an aging James looked north, back home, where cap space, Kyrie Irving, and Andrew Wiggins tricked him into making a triumphant return. But then the Warriors happened, shitting on his plans with the rage of diarrhea in Mexico. And to be fair, no one saw Golden State coming. It just so happened they drafted the best shooting backcourt the game has ever seen, and put athletic, all-around players around them to form one of the best defensive teams in the NBA. The Warriors are simply too hard to guard and too hard to score against; a deadly combination of range and speed on both sides of the ball.
LeBron James' NBA career is proof that things rarely go as planned. He wrote the story to his career before being able to play it out. In a perfect world, LeBron would have at least four rings right now. His tribulations remind us how important having a Hall of Fame coach, Hall of Fame teammates, and Hall of Fame chemistry factor into winning NBA titles year in and year out. Put the supporting casts Michael Jordan, Stephen Curry, Magic Johnson, and Larry Bird have had next LeBron's and you'll be able to think logically when it comes to his legacy. How can a player who already does it all do more? Hard to say, but if LeBron James ever wants another ring, he'll have to figure that out.