LeBron James announced he was re-joining the Cleveland Cavaliers on July 11, 2014 via a small announcement. Having hired a coach to oversee what was seemingly going to be a long rebuilding process just three weeks prior, the Cavaliers suddenly found themselves on a completely different timeline, with completely different goals. They needed, if not a completely different roster, a pretty different one.
The pre-LeBron Cavs of 2013-14 featured just three players who are still on the roster—Matthew Dellavedova, Kyrie Irving, and Tristan Thompson. They had three No. 1 overall picks including Irving. One, Andrew Wiggins, hadn't played a game yet. The other, Anthony Bennett, appeared to be a long-term project at best. The players with the most experience were forwards Luol Deng and Anderson Varejao, each with nine years of experience. Varejao, the only Cavalier over 30, was the one roster holdover from when James left following the 2010 playoffs. Deng, a free agent, wasn't re-signing.
It is true that James saw something in the Cavaliers roster that he thought he could work with. "I'm excited to lead some of these talented young guys," he wrote in Sports Illustrated. "I think I can help Kyrie Irving become one of the best point guards in our league. I think I can help elevate Tristan Thompson and Dion Waiters. And I can't wait to reunite with Anderson Varejao, one of my favorite teammates." But that wasn't why he came home. How do we know this? The very next sentence: "But this is not about the roster or the organization."
The Cavaliers are actually built well enough to compete with 28 other teams, it's just that the 29th is an extinction level event. This is not LeBron's fault.
On Aug. 5, the Cavaliers signed two of James's former Heat teammates, sharpshooters Mike Miller and James Jones. And on Aug. 23 they dealt Wiggins and Bennett to the Minnesota Timberwolves for All-Star forward Kevin Love, a deal that also peripherally included the Philadelphia 76ers (the Cavs gave them their 2015 first-rounder for the inconvenience). Love was just 25, coming off a 26-point, 12-rebound All-Star season. Wiggins was an untested rookie, Bennett was coming off a horrid first season and, with luck, that 2015 first-rounder would be a low one (it wound up being 24th). Worst-case scenario? Wiggins turned into an All-Star and the Cavs had to watch him play elsewhere. Obviously they had considered this possibility, having drafted him first overall. They knew he'd be good, and they made the deal anyway. Having LeBron means you're not rebuilding anymore.
There were two more deals that season that would shape what the Cavaliers eventually became: a three-team deal in January with the Thunder and the Knicks that sent out second-year combo guard Dion Waiters, journeyman big Lou Amundson, and seven-foot salary placeholder Alex Kirk and brought back mercurial guard J.R. Smith (himself basically a time-machined Dion) and elite wing defender iman Shumpert; and a second two days later where they acquired huge young center Timofey Mozgov from the Denver Nuggets for a pair of first-round picks they had picked up in other deals. Like in the Love deal, they were giving up could-bes for guys able to contribute immediately. Which, they did.
The Cavaliers went 53-29 and made it to the NBA Finals in James' first season—his fifth straight trip—despite his warning that "[i]t will be a long process, much longer than it was in 2010." They lost to the Warriors in six hard-fought games, and GM David Griffin finished second in Executive of the Year voting to his Warriors counterpart, Bob Myers.
There were few changes headed into LeBron: Year 2, and why would there have been? Irving injured his knee in the first game of the finals and missed the rest of the series, Love missed everything after the first round when Celtics center Kelly Olynyk mistook him for a Thanksgiving turkey. With everyone healthy, much was expected. And despite a mid-season coaching change, the Cavaliers delivered, winning four more games in the regular season and bludgeoning their way back to the finals. Griffin received 10 points in the Executive of the Year voting despite the fact that he probably only picked up his phone to see whether it still worked.
Then the Warriors happened again, only moreso. Irving and Love looked lost (sometimes literally), and the Cavaliers followed up a 15-point Game 1 loss with a 33-point embarrassment in Game 2. "LeBron needs help," some pointed out. Others indicated that, seeing that he had a hand in assembling the current roster—like assuring Tristan Thompson got a huge new contract—that this was his fault anyway and he shouldn't complain, even though it's not entirely clear whether he was complaining to begin with.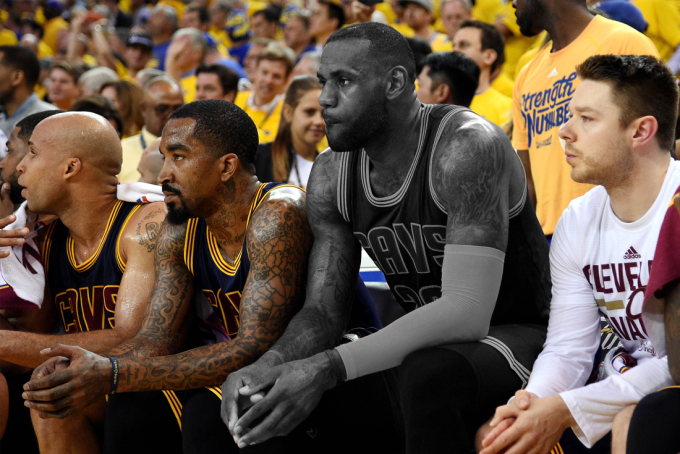 First off, one does not merely "get more help" to beat these Warriors. You get more help to move, or to finish a project for work. To beat these Warriors you blow it all up and start over. The Cavaliers were built to contend in a different NBA—like the East, where they are certainly more than good enough. Or even the rest of the West. The Cavaliers are actually built well enough to compete with 28 other teams, it's just that the 29th is an extinction level event. This is not LeBron's fault.
Other than the Love deal, which was a calculated risk that—for the most part—has paid off, what's even worth revisiting? Smith has had a rough go of it in the finals, but played a key role in getting there, a role that Waiters doesn't seem ready for quite yet. Mozgov played well back when he actually played. Better yet, who exactly were the Cavs supposed to trade FOR? A Waiters deal was never going to bring back Kevin Durant, even if KD is going to be a free agent.
All of this can change tonight, of course, with Game 3 at the Q where the Cavs went 33-8 during the regular season and have yet to lose a game during the playoffs. It won't matter, though. The eventual outcome will be the same either way—the Warriors WILL win their second straight title. The Cavaliers aren't winning four out of five against this team, not this year.
If there's any consolation for LeBron, it's that this was inevitable. Not that the Warriors themselves were, but once they emerged, once they discovered what they could do, it was over. Staying in Miami wouldn't have helped. Somehow magically making different deals in Cleveland wouldn't have, either. As of right now the NBA belongs to the Warriors, and there's nothing anyone can do about it. The Thunder came close, but ask Dominic Toretto about "close."
July will come, and the rest of the NBA will re-tool again. The Cavaliers will make changes—maybe Love gets dealt, maybe others from the core group as well. They won't be able to copy the way the Warriors play, or perform the same time-dependent roster alchemy, but as long as they have LeBron they'll at least have a better chance than most to get back to the finals and try again. Twenty-nine other teams wish they could fail like that.