It doesn't matter if you're on a team pursuing one common goal or a fan sitting amongst a crowd in a stadium cheering for the same team, sports have the ability to bring everyone together. Being the great unifier that it is, sports doesn't get caught up in differences between religious affiliations, culture, and/or ethnicity.    
In the South where sports, especially football, are like a religion, the unifications go much deeper. Before the start of a game, fans and athletes alike can find themselves engaging in unique routines for a variety of reasons. Why do they do this? Because either these pregame rituals are believed to eventually lead to a positive outcome or have grown into long-standing traditions.
For the fans, one of the greatest customs that brings them together happens a day or two before the actual game. Huddled alongside one another in sleeping bags or tents, fans develop a sense of solidarity as they survive the heat or brave any inclement weather just to watch their favorite team play. It's a practice that separates the casual fans from the die-hard ones. However, those casual fans shouldn't feel left out. There are plenty of other important rituals to partake in. 
In many ways, a sporting event can be viewed as a battle. The stadium is the modern-day coliseum, the athletes are the combatants, and the crowd is, well, the spectators cheering them on. And, as was the custom many years ago, there are some rituals that have managed to stay with us till this day. The night before a game, a pep rally brings athletes and their fans together as they pump themselves up for the upcoming contest. 
While athletes portion their meals out to fit their own individual specifications, the fans are a different story. Much like warriors headed into battle, fans join together for an epic feast, otherwise known as tailgating. Typically, the food consists of traditional American staples, like hamburgers, hot dogs, and any cuisine that is specific to the region.
Prior to making their way to the stadium or arena, fans will sometimes put on clothing with a specific color. The look not only shows a strong allegiance, it exemplifies how the people in the stands and the athletes on the field are united as one against a common foe.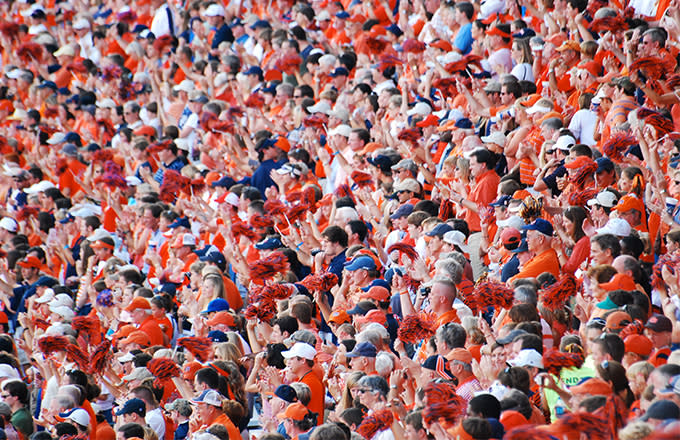 Just outside the arena, fans will group together to create a procession line for their heroes, cheering them on and offering words of encouragement. During these moments, the crowd could also shout a certain battle cry or chant, or perform a fight song specifically meant for their favorite team. It's a custom which has stood the test of time, sometimes gets passed down from generation to generation, and becomes ingrained in one's memory over the years. 
As for the athletes, their route to the field can include touching a statue or sign with a phrase synonymous with the team. The sculpture could have a distinct connection to the organization and its history, or simply exist out of happenstance. While the sign's slogan could have come from a former coach or player and now serves as a reminder to athletes and coaches, present and future, of what playing for their team should mean to them. 
Pregame rituals go beyond just being a simple set of actions—they offer the fan and the athlete a bigger sense of purpose. These individuals aren't just playing or rooting for a team, they're part of a family that, over the years, has become steeped in tradition, pride, and even love.
This post is a sponsored collaboration between Jack Daniel's Tennessee Honey and Complex Media.