The only thought crossing my mind during the beginning of  Raw was that we've had too many of "these" recently. "These," of course, refers to heartfelt and emotional tribute videos to the dearly departed wrestlers of our nostalgic pasts. Last night's episode of Raw opened with a ten-bell salute and a memorial for Rowdy Roddy Piper, one of the most influential and talented wrestlers of all time, as well as (arguably) the greatest heel of the modern era. Piper was the archetype for the modern heel, all brash and confrontational, and he rarely relied on cheap heat to make it work. Instead, he was one of the best talkers to ever grace the business, and one needed only watch the tribute video to see how on top of his game he always was (personal favorite: "Just when they think they've got the answers, I change the questions!"). This is a big loss for the WWE community.
Of course, there was a show to get to, and so we went from arguably the greatest heel ever to the undisputed best heel of the moment, as Seth Rollins opened the show with one of his trademark way-too-long promos. He challenged John Cena to a title-for-title match at SummerSlam, with the implication being that Cena won't be able to show up due to his (legit) broken nose. Seth then stole Cena's gimmick and issued an open challenge for his World Heavyweight Championship...under two conditions: the challenger must be under 6 feet tall, and under 200 pounds. While he expected El Torito, Seth instead got the one and only Neville, and business picked up.
Their match was actually quite similar to the one they had around the time Neville got called up: Rollins played the power heel (a role he rarely gets to play), while Neville hit all the big spots. While those spots were great (and it's awesome that a Raw audience got to see his brutal spike hurricanrana), it was the two false finishes that stole show. First, on a roll-up, Rollins got his shoulder up at 2.99999 seconds, and it fooled everyone, including JBL, who thought the ref had gone into business for himself. The second, and more memorable, false finish, however, was breathtaking:

For a split second, I thought the crazy bastards pulled the trigger on Neville winning, but it was not meant to be, as Rollins countered a Red Arrow into a Pedigree for the win. Great start, but unfortunately, that was one of the few high points of the evening.
After that barnburner, the match quality dropped significantly on Raw; hell, we even got a King Barrett vs. Zack Ryder snoozefest. Going to blame it on John Cena's absence; like him or hate him, Cena's U.S. Open Challenge guaranteed at least one good match per show. At least there weren't any disqualification or distraction finishes tonight.
Hell, even the women didn't deliver, for the first time in this #DivaRevolution Era. While a fanboy might attribute this to the lack of Sasha Banks in the ring, it's more that the initial invasion and pairing up storyline has run its course. There are a few more combinations of these 9 women that we could see, but it feels like it's time to start building to the next step: challenging for Nikki Bella's Divas championship.
It wasn't all bad for the Divas, however, as the team of Charlotte, Becky Lynch, and Paige got a cool (and not-Googleable) nickname: the Submission Sorority. The SS (oh, crap, this is going to be a problem, isn't it?) went 2-0 for the night, as Charlotte made Nikki Bella tap out in a tag match, while Paige looked strong heading into her post-show appearance on the Stone Cold podcast by putting Naomi in the PTO submission: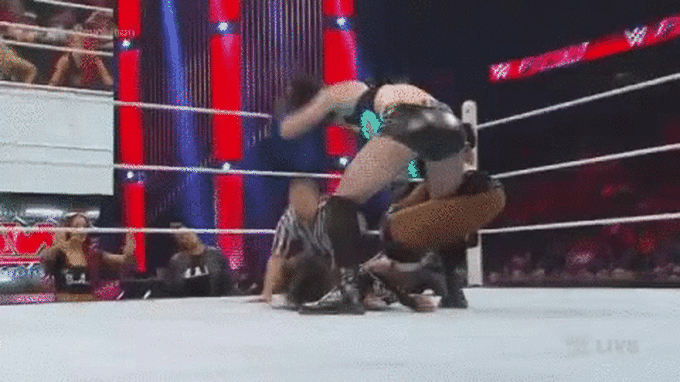 All things considered, though, the true highlight of the night (and most nights) was Paul Heyman's scorching promo addressing the Undertaker. Aside from calling him a "submissive little bitch" and saying that he would never beat Brock Lesnar, Heyman also went full catanoic, shouting out Latin phrases and holding a pre-emptive wake for the Dead Man. All the while, Lesnar stood on top of the ring steps like it was a steel medal podium, doing little more than his go-to scowl and bounce:
Suplex City went bilingual this week, and glory was delivered to its vice-president and advocate. And so, despite a lackluster show, the road to SummerSlam continues through hell and back for its main event, 18 months in the making.
Results
Seth Rollins defeated Neville by pinfall (WWE WHC Open Challenge)
The New Day & The Ascension defeated Los Matadores & The Lucha Dragons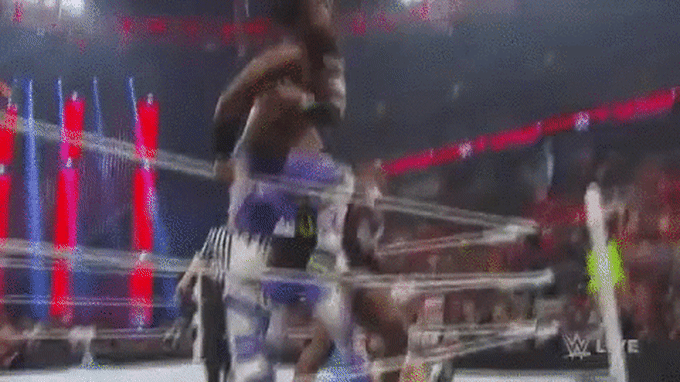 Charlotte & Becky Lynch defeated The Bella Twins by submission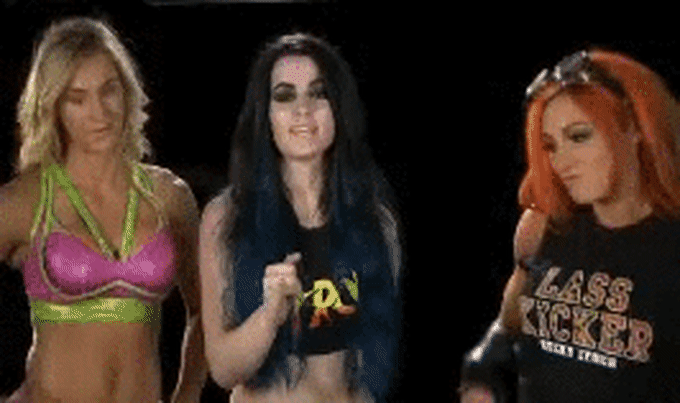 Miz TV with Kevin Owens and Cesaro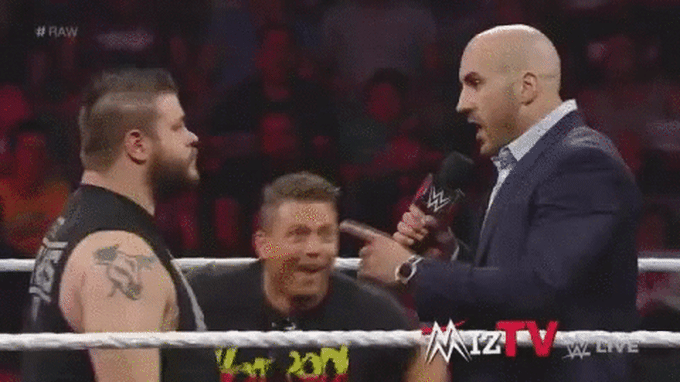 Rusev defeated Mark Henry by pinfall
King Barrett defeated Zack Ryder by pinfall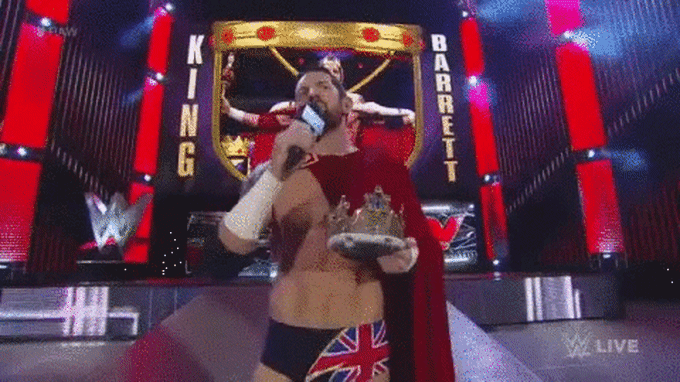 Paul Heyman & Brock Lesnar Address The Undertaker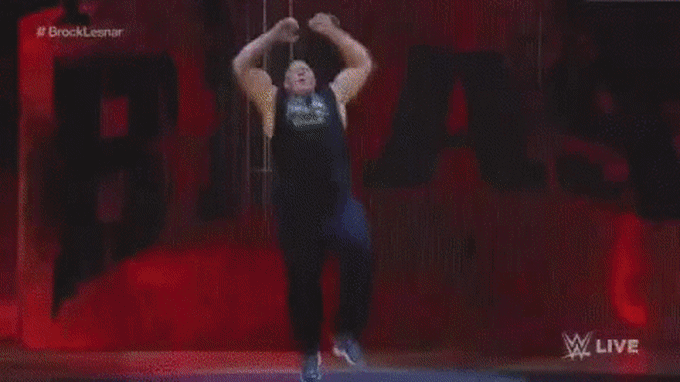 Paige defeated Naomi by submission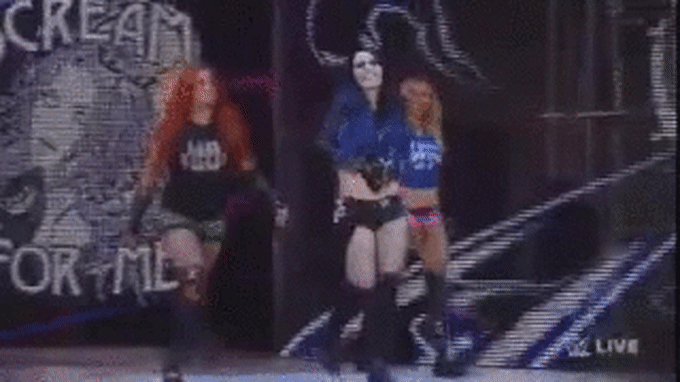 Stardust Promo Addressing Neville & The Green Arrow
Dean Ambrose, Roman Reigns, & Randy Orton defeated The Wyatt Family & Sheamus by pinfall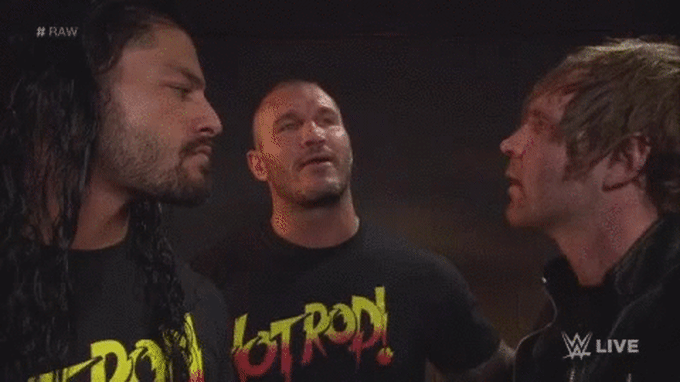 Send all complaints, compliments, and tips to sportstips@complex.com.