The first round of the NBA Draft has been pretty irrelevant for the Knicks over the last few years. The team has traded away a lot of its picks and, therefore, they've been mostly idle during the first round. But this year, they finally have a top-five selection, which means Knicks fans should be stoked, right?
Uh, yeah, about that. Back in May, a short time after the NBA Draft Lottery ended, Knicks fans took to Twitter to complain about getting the No. 4 pick in the draft. And now, one Knicks fan is apparently so hopeless about the Knicks' plans for the draft (is there actually a plan in place, Phil Jackson?!) that he or she took to Craigslist this afternoon to offer up the pick in exchange for…well, let's just say expectations are low: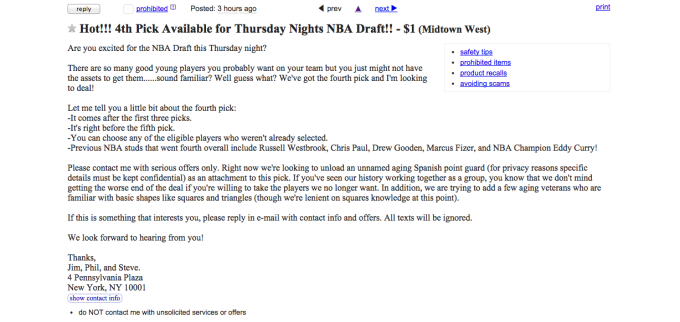 C'mon, Knicks fans! How 'bout a little enthusiasm? It's not every year you actually get to participate in the draft! So let's make the most of…oh, who are we kidding? The Knicks are going to find some way to mess this up, aren't they? Sigh.
Send all complaints, compliments, and tips to sportstips@complex.com.
[via Craigslist]