Former NFL player Fred Smoot is currently holding an "Ask Me Anything" session on Reddit to help promote his podcast. He's fielding all sorts of super intelligent questions such as, "Did you ever consider adding an H to the end of your last name?" (we see what you guys did there!) and responding to them with equally intelligent answers (a simple "Yes" was his response to the question above). But one of those answers is going to have Smoot's name trending on social media any second now.
Reddit user "LdZppln" asked the former Redskins and Vikings player what the "best little known perk available at pro facilities" is and probably expected him to say something PC like "the excellent trainers!" But instead, after someone else chimed in and said that "Its gotta be the blowjob girl," Smoot agreed: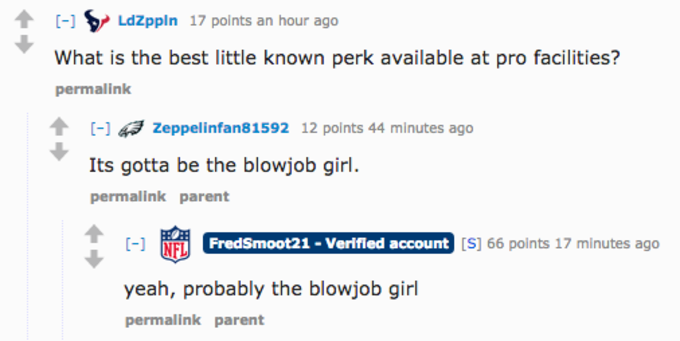 The entire AMA is worth reading. Smoot also discussed trash talking with other NFL players (he said Plaxico Burress hated him), gave his thoughts on #DeflateGate, and also answered a question about the infamous Vikings' love boat scandal. Back in 2013, he had this to say about it during a different AMA:

And he responded to an "okra patch" question today with this:

O_O!
Wow. Who doesn't want to tune into Smoot's podcast after this wild AMA?!?
Send all complaints, compliments, and tips to sportstips@complex.com.
[via Reddit]