As this fan video captures so eloquently, all three signs of spring are in full bloom right now. 1) Major League Baseball is back, which you're probably upset about, because that means that SportsCenter is inundated with baseball highlights until NFL comes back. Whatever. Onto sign No. 2: White guys are dressing in cargo shorts and running sneakers again. And lastly, No. 3: Now that the weather's turned, fans are out here running onto baseball fields again!
In the above Instagram video, check out this Cardinals fan evade security (having his knees freed by the tight cut of his cargo shorts certainly helped), shrug off a poor attempt at a diving tackle from a security guard, and SOMERSAULT right into home plate.
As cool as a fellow fan thinks the whole sprint is, Cardinals pitcher Carlos Villanueva (No. 33) was hardly impressed.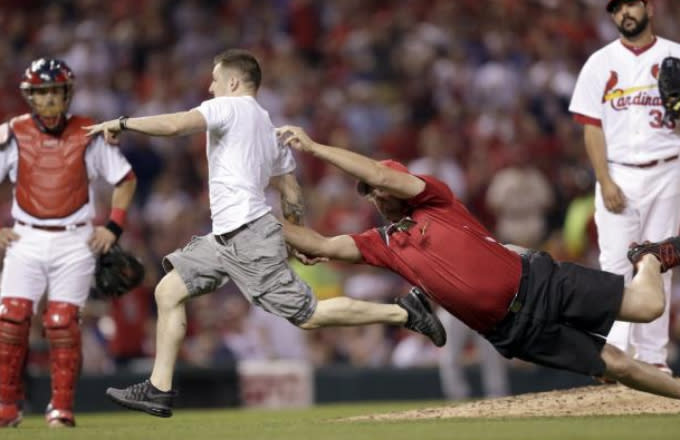 He's giving that look you give your modem and router after your Internet goes down, because, well, you have crappy Time Warner cable and this has happened a million times before but you just want to get on with your life. Can't knock the somersault form though. As a former day camp counselor for small children, I have to give that a 10/10.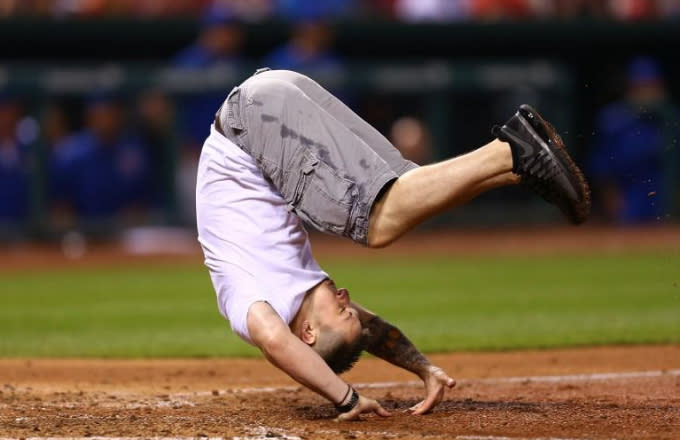 Here's another angle of the fan's mad dash:
Send all complaints, compliments, and tips to sportstips@complex.com.
[via Barstool Sports]