ComplexCon returns to Long Beach Nov. 6 - 7 with hosts J. Balvin and Kristen Noel Crawley, performances by A$AP Rocky and Turnstile, and more shopping and drops.
Secure your spot while tickets last!
Drake has never tried to keep his basketball fandom a secret. Whether he's staying cozy under Lebron's wing, or pawing at Bruno Caboclo from his courtside seats, Aubrey wears his fanaticism for the sport on the sleeves of an overly wooly sweater. Even though he's moved into a professional role with the team, Drake remains the over-enthusiastic parent at his kid's soccer game.
Enlisting Drake as Global Ambassador was undoubtedly a smart move for the Raptors, with the team's International cool factor surging to levels we haven't seen since the age of Vinsanity. Drake is good for the Raptors' brand, but how does his presence influence the team's effectiveness on the court?
When Drake makes use of his courtside seats, he could easily be a good luck charm for the Raptors. Seeing his beaming smile must be good for morale, right? Or, is it possible that all the lint-rolling, grandstanding, and backseat coaching is distracting for Lowry and company?
Armed only with Twitter's search function (heavily aided by National Post basketball reporter Eric Koreen's #DrakeOrNoDrake hashtag) and a copy of Excel, we were able to place Drake at no fewer than 10 out of 50 regular season games so far this season, and 2 out of 8 pre-season games.
In the 12 games that we know Drake has witnessed this season, the Raptors have done pretty well: they've won 8 out of 12, for a 66.7% success rate. With Drake in the building, they do win more often than not.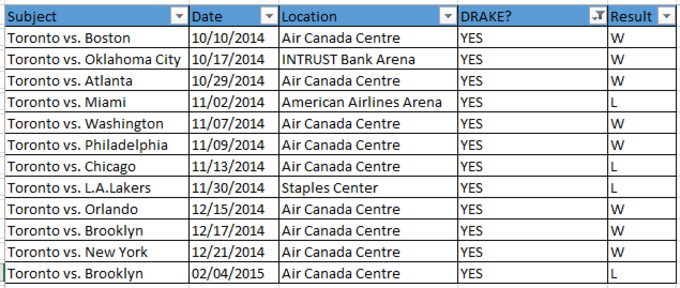 But, not so fast. We already know the Raptors are a winning team. They're 33-17 on the season, and went 7-8 during pre-season. That means the Raps have won almost 70% of their games this year, regardless of Drake's presence.
We need to go deeper. Without Drake courtside, Toronto has a record of 27-13 in the regular season, and 5-1 in the pre-season, for a percentage of 69.6%, trumping their success rate with Drake by almost 3%. Forgive the questionable math, but based on this we're able to conclude (very) generally that the Toronto Raptors are 3% less likely to win when Drake is in the building.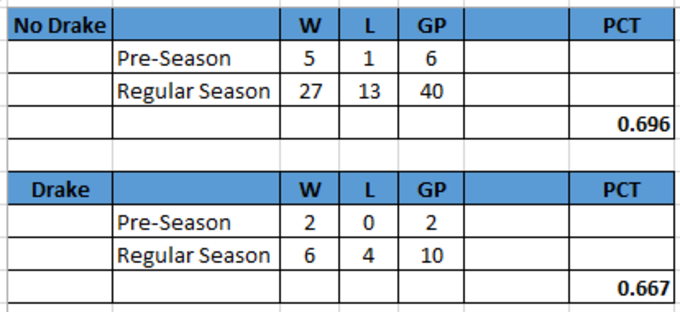 Even though the margin is slim, this news would break Drake's poor little heart. So please, no one tell him. But do heed this, Raptors fans: if you don't see Drizzy sitting courtside, know that at least for now, it's probably for the best.