Richard Sherman and the Seahawks' vaunted "Legion of Boom" defense appear on the cover of the latest issue of Sports Illustrated: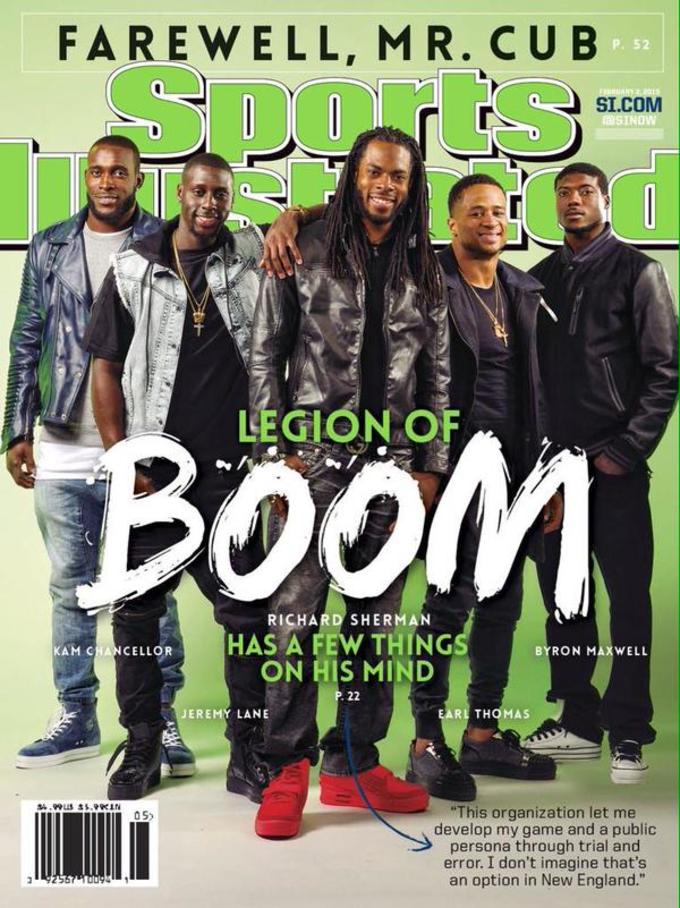 And while they're being mocked on Twitter right now for the way that they look on the cover—they do look kind of like an R&B boy band—Sherman is also making headlines for some of the things that he wrote in a piece that he penned for the magazine.
In the article, which is called "It's About More Than Me," Sherman credits his "LOB" teammates with helping him transform into the player that he's become over the last couple years. But towards the end of the piece, Sherman also takes aim at Roger Goodell, the NFL as a whole, and the media. He writes about how he's "as disappointed as ever" with the NFL league office, criticizes former NFL player Troy Vincent for not doing a better job in his role as the league's executive vice president of football operations, and reveals that the Seahawks aren't happy with the way Marshawn Lynch has been treated by reporters this season.
"Under Goodell, the league continues to put players like Marshawn Lynch in a position to be mocked by the media, which seems to get a kick out of seeing people struggle on camera," Sherman writes. "As teammates, we're angry because we know what certain people do well and we know what they struggle with. Marshawn's talking to the press is the equivalent of putting a reporter on a football field and telling him to tackle Adrian Peterson."
You can read Sherman's entire piece here. Today is Super Bowl Media Day, so you can probably expect Sherman to be asked about the things that he wrote for SI early and often this afternoon.
[via Sports Illustrated]
Send all complaints, compliments, and tips to sportstips@complex.com.