For as incredible and unexpected as Ohio State's run to the College Football Playoff Championships has been, Braxton Miller can only be enjoying so much of it. Standing on the sideline watching the Buckeyes' third string quarterback dismantle Alabama, Miller had to be thinking, "That should be me out there." And who would blame him? If J.T. Barrett and Cardale Jones could propel OSU to where they are now, who knows what a healthy Miller, with two years of experience playing in Urban Myers' system, could have done.
It's been speculated for months now that 2014 would be the last year we'd see Miller in scarlet and gray, with how well Barrett and Jones have played. All of the sudden, the quarterback position is a crowded one, and Miller is anything but guaranteed the starting gig. Transferring to another school almost makes too much sense, but there hasn't been a peep out of Miller's camp as to his mindset on the matter.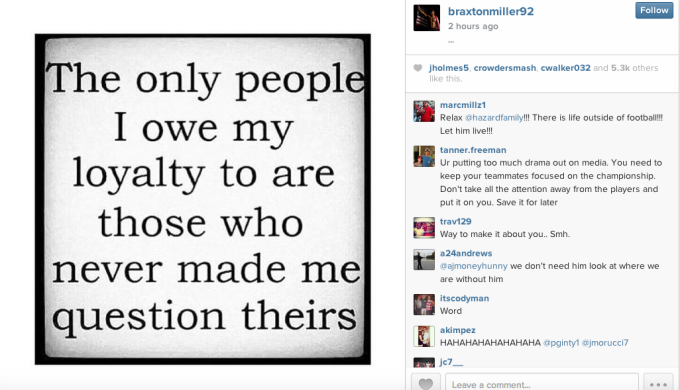 Then, on Thursday night, Miller favorited CFB Nation's tweet asking fans to "retweet" if they thought Ohio State would win, and "favorite" for Oregon. This probably means absolutely nothing, or that Miller doesn't know how to use Twitter, but it happened nonetheless. Then today, Miller put up this cryptic Instagram post about loyalty. Who knows if these recent transgressions mean anything about Miller's future, but it does seem like more than a coincidence.
[Via Instagram]
Send all complaints, compliments, and tips to sportstips@complex.com