The Arizona Cardinals sit at 10-3 on the season, tied for the best record in the NFL, and their defense is only allowing 18.3 points per game. Yet, the Vegas odds have them at just 25/1 to win the Super Bowl. The suits and statisticians think seven teams have a better chance to go all the way. Cards stud cornerback and fourth-year leader Patrick Peterson couldn't care less. He believes his team can beat anybody, regardless of not having a flashy quarterback like Aaron Rodgers, Peyton Manning, or Andrew Luck. We had the pleasure of speaking with him about the Cardinals' upstart year, trash-talking, Drew Stanton, and the College Football Playoff. Read his honest words below: 
You're involved with a social media program with Tide that highlights pre-game rituals. What exactly are you guys doing and what are some of the pre-game rituals that you have?
Well, some of my pregame rituals are to post pictures up of today's uniform and the cleats I like to wear. I love rocking out to my music. My favorite song right now is that DJ Glamour "Right Back." Those are just some of the things I do to get myself ready for the game. I'm a photojournalist for Tide, so I'm one of thirty-two color captains. 
What do you think about how a lot of people in this day and age consider themselves photojournalists with Instagram and social media?
Honestly, I think it's pretty cool. Not only to see what people are doing around the world, but how creative they are with some of their ideas and some of the things that they do on Instagram and Twitter. I think it's very humorous, some of them, but it also gives sports fans a little bit of insight of what some athletes go through outside of their profession. 
The Cardinals got off to a 9-1 for the first time since 1948 and are now 10-3 with the best record in the NFC. How are you guys and the team feeling? Are you putting middle fingers up to the doubters right now?
[laughs] Nah, not really. I mean we just, we're feeling really good about ourselves. First of all, it's tough to win in this league and to be 9-1 is more special because I was a part of the opposite end of the stick being 1-9 before and losing seven to nine games in a row. So it's definitely a pleasure to be on the winning side for once rather than the losing side. But not necessarily middle fingers to the haters. We just want to keep doing what we've been doing from last year leading into this year and that's preparing hard each and every week throughout practice and making sure we know what it's going to take to win a ball game on Sunday.
What was that like for you, going from the winning program with LSU and then kind of having the dip before with the Cardinals and now you're back up. What's that roller coaster been like?
It was different. I wasn't used to it. I can't recall one time where I was 1-5 or 1-9 before, you know? That was something that was just totally different and new to me. But at the same time, it was something that I couldn't worry about because it was bigger than me. It's a team sport and at the end of the day we just weren't good enough to win ball games in this league in my first two seasons. We had all the talent in the world, but we just weren't a mentally tough football team and that's what got us in trouble and into those losing ways. 
Do you think that the talent has matured and settled into place or is there something that you think changed?
It all starts with the head coach. Coach always says, "this is not my football team, this is your football team," and this, that, and the other, but I beg to differ. I believe that everything starts with the head man because he is the identity of our football team. If you think of any football team, nine times out of 10 you think of the head coach, and that's the resemblance of their football team. That's the way we are right now with our head coach. He's a tough, loving guy, but he loves to be physical and aggressive, and that's the way our team is. We're very tough and aggressive, but at the same time behind the scenes while we're in practice, we're a very loving football team, you know? So, we know what it takes to win ball games and our head coach knows what it takes to get to the playoffs and get to the Super Bowl. The team just has to follow his lead and see where it takes us.
<span></span>
You guys are also now following Drew Stanton, who beore this year hadn't played since 2010. What's his demeanor been like stepping into that role?
Drew's been the same as he was last year and he didn't play a snap last year. Drew's always been a very calm, cool, and collected guy. As you guys can see while he's under center, you can't even tell that he hasn't played since 2010, you know? Coach has that belief in him as if he was Carson Palmer. He knows what it takes to win ball games. He understands that if he protects the ball and doesn't turn it over that his defense is good enough to go out there and keep the ball away from opposing offenses and putting them in good field position. So Drew understands the situation that he's in. He's not out there trying to be something that he's not. He's playing within his game, and that's the thing we like about him. 
Yeah, he seems like a pretty good game manager. Who else has stepped up since Carson's injury? 
We had a lot of guys step up. You got Larry [Fitzgerald] making a big push in the back half of the season, you got John Brown having a phenomenal season, you got John Carlson coming along well, you got Rob Houser that's having a good season, the offensive line is playing phenomenal. A lot of guys are stepping up in those key moments of the game, and like coach said, the beauty of it is that it's a different guy every week making those plays for us. It's not the same guy constantly every week making those same plays. It's a different guy each and every week and that's the thing that we pride ourselves off of. When your number's called, we know that you're ready for it. 
What's the thing you analyze the most when studying film on a wide receiver?
Well, first and foremost their favorite formations, what they like to come out in. Like Detroit, they're a heavy schemes team. So, I want to see every passing combination that they have out of schemes, what they like to do on first and second down, and especially how they want to attack teams in certain situations, like third down and long, third down and short, third down and medium, and also moving down into the redzone. Also, if I have an assignment, such as guarding the team's No. 1 receiver, I want to see the releases they like to use and how they run their routes.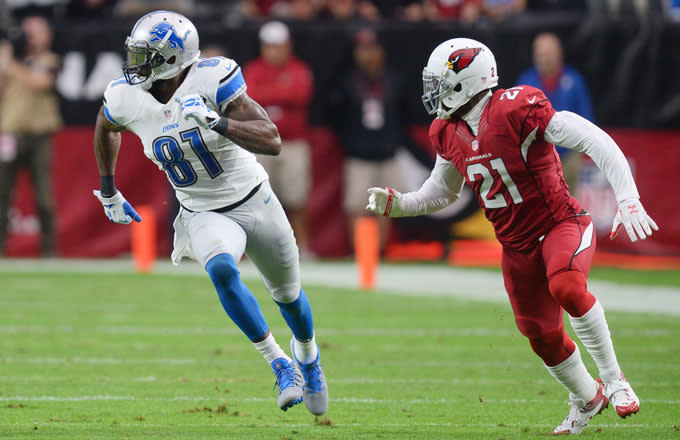 What is the worst thing a wide receiver has said to you while trash-talking? 
Honestly, I haven't really been trash talked to since I've been in the league. 
No?
Nah. The only guy, and it was during my rookie year, was Steve Smith. But I can't remember what he was saying, because I was a rookie and felt like a deer in the headlights [laughs]. But he was probably the biggest trash-talker out of all of the receivers I've played against. 
What about you?
I'm not big on trash-talking. I don't have time to waste. I'm a thick-skinned guy, so no matter what you say, it's not gonna get to me. I feel like some other guys are like that too. No matter what I say, it's not gonna make them play worse or make that big of a difference. So I don't waste my time doing that.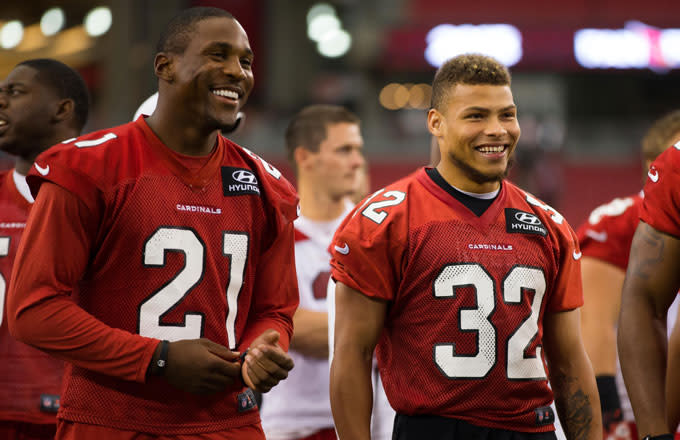 Your relationship with Tyrann Mathieu has been pretty decently documented. What have you been working with him on this season and how have you been guiding him?
Just making sure that he came back from his injury mentally prepared coming off of that phenomenal rookie season and taking a step back trying to get that knee back to 100%. He's definitely coming along well. The thing we love about Tyrann is that he's a competitor no matter what. No matter what happens, no matter what goes on, he wants to be the best player on the field at all times and he's definitely taken great steps and strides in that direction. Not only by coming back from his injury but being a young professional due to his past and what everybody had to say about him coming into the league.
It definitely seems like he's adapted to the league pretty well. On the topic of college, what do you think about the college football playoff and how do you think that's going to play out at the end of the season? Do you think it's a real solution? 
I think they need to just change it to the NFL playoff system, but would that ever happen? I don't know. I think that would make it much easier versus people saying, "oh, we feel like we got snubbed." Just make it the top eight teams, from each conference or however they do the playoffs, and go from there. One through eight. Have a wildcard, have a divisional, then a conference, then a Super Bowl. I think that's how they should do it. 
I have to agree, because even when you have four, it leaves out two of the big conferences at the least.
Exactly.
So it's kind of unfair no matter what. Especially when one conference has so many great teams. How do you think LSU has played this year?
We're young. I mean, we were going to struggle, especially with our quarterback play. If you want to build a good team, a championship team, it's all predicated on the quarterback play. We can't do some of the things that we are accustomed to doing, driving the ball down the field and hitting receivers and things like that. It's gonna take time. No matter what happens, I bleed purple and gold and I will continue to watch those guys on Saturday, whether it's in Death Valley or wherever those guys are playing, I am always tuned in no matter what the situation is. 
Switching back to the NFL, how do you think the NFL has handled the Ray Rice and Adrian Peterson situations?
It's a very very unfortunate situation for both of those guys. My heart goes out not only to them but to the victims as well. It's a very strong, sensitive subject and what happened is definitely something that I wish could get cleaned up, because at the end of the day, those guys are still one of us, they're still one of our brothers. They made a mistake and hopefully they get a second chance to prove that they're not the person that they've been portrayed to be.
Yell at Tony Markovich, the interviewer, on Twitter @T_Marko. 
Send all complaints, compliments, and tips to sportstips@complex.com.