Miles Jacobson might be the most powerful man in digital football, but his office hardly suggests as much. An erratic and irregular collection of worn couches and chairs adorn one end of the rectangular room, flanked by shelves filled with bric-a-brac of an indiscernible nature. On the other side is the desk, cripplingly overloaded with paper, discs, stationary and computer peripherals.
And yet, the product of this intangible web is a game of laser precision and exhaustive depth. Football Manager: more revered by football nerds than Erik Lamela's rebona or Marcelo Bielsa's idealism. As director of developer Sports Interactive, Miles has the last word on what is and isn't included in each of the game's annual releases. His chatty, informal nature makes him the perfect person to talk to in order to get a clear and honest picture of what the game really is and what it's trying to do.
We met with Miles to talk real football. Specifically, how Football Manager is being used by professional clubs and how Sports Interactive is becoming more deeply involved in the real sport that it simulates. 
Interview: John Robertson
When did you first hear of Football Manager being used by people in the real football world?
The first time we heard of someone actually using the database - above and beyond the usual gossip - was Andre Villas-Boas when he was Jose Mourinho's chief scout. He did an interview with either the Evening Standard or the Metro, I forget which one, where he said that he used our database as a reference tool.
We'd heard gossip that it had been used by the Italian head coach during the era when Peter Taylor was manager of England. Supposedly Albertini had passed him his laptop with a copy of the game on it so that he could look through the players on there. Those kinds of rumours where quite common and had been going around for a long time. There was also that great moment with Alan Shearer saying that he'd never even heard of Hatem Ben Arfa after he'd signed for Newcastle. Then the BBC got bombarded on Twitter by people saying that they'd been signing Ben Arfa for years on Football Manager. 
You share the player database you've built with Everton FC. How did that relationship start?
The Everton thing was actually an approach from our PR company to the club. They were asked if we could do anything together because the two founding members of Sports Interactive are big Everton fans. Everton then came back to us and said that they would love a copy of the database.
So, we said 'okay' and we gave them the full copy. Lots of clubs have been using the data for a while, it's just that they haven't been using the entire database - which has far more information than the one you see in the game. 
Prozone, the sports analysis agency, also uses the database. How did that come about?
We'd been using their systems for a while. There used to be two companies, Prozone and Amisco. We'd been using Amisco's match system in the same way that data analysts at professional football clubs do. We would watch entire matches in both 2D and 3D so that we could see, for example, where the left back was standing when the ball was at the halfway line and things like that in order to make our match engine better and more realistic.
They knew that we had this rich database of players and they had people from inside football telling them that they should be using it in their own systems. When Prozone and Amisco merged they decided to include our database in their system and they went from having 80,000 to 250,000 players and they were able to provide a lot more information to clubs.
It was kind of an obvious move for us really. A few years ago there were some changes at Sega, our parent company, that meant that our communications team was going to be based in our office and not at Sega's. The people we were looking to fill those jobs were people that didn't see us as a computer game, we wanted people that saw us as a football product. We wanted people from the football industry and had that experience.
So you do see Football Manager as more of a football product than a video game...
Yeah. I read an article about Football Manager on a game-focused website recently that pointed out that we don't have the same patterns that other games tend to have, which is fine. Articles about Football Manager on game websites don't get much readership, articles on newspaper and sports websites get massive readership.
I think we're more part of football than we are part of games. We get nominated for a bunch of games industry awards, but we don't win any of them. We don't advertise in traditional gaming media, we advertise on Sky Sports - just last month we got third place in the Media Week Awards for our sponsorship of 'Transfer Deadline Day' on Sky Sports.
Our primary audience is football fans, they're not 'gamers'. When you talk to most of our players you will find that they play our game and that's about it. Some of them will play our game, plus Grand Theft Auto and FIFA... and that's it. 
Our primary audience is football fans, they're not 'gamers'. Some of them will play our game, plus Grand Theft Auto and FIFA... and that's it.
Does having your own niche make your job easier or more difficult?
It hasn't really changed anything for us. We've never really looked at what other people have done and we've never had much interest in what they're doing. The game we make was originally made by two school children who had their own idea about creating a football world and letting you manage one of the teams within that.
All of the people on the team, including me, are of that same mindset: we want to create a football world to allow football fans to be a manager and prove that they can do it.  Can you get the next young star from Chile playing well on a wet Tuesday night in Sunderland? Prove it. To give that to players the artificial intelligence we've got in the game is phenomenal. I doubt there's another game that comes close to it. That might sound arrogant, but if anyone can name me another game that has over 500,000 non-playable characters... I'd love to see it.
Has the 'cult' of Football Manager fans searching for the next 15-year old wonderkid taken you by surprise?
We want people to discover the players that our scouting network around the world thinks are going to turn into great players. Our strike right in that area is pretty good, although we have gotten a few wrong...
Yeah... Kevin Pilkington was phenomenal in the game as a youngster, but in real life...
Yeah, he didn't make it. The Manchester United youngsters are particularly difficult to get right, actually. They wouldn't be at United if they weren't talented, but not many of them break it through to the top level.
Some people do say that there is a cult around the game, but I'm not sure. That's pretty damn big cult, it's like calling The Smiths a 'cult band' or The Shawshank Redemption a 'cult film'. We had 31 weeks at the top of the UK PC game charts last year, so a lot of people are playing the game.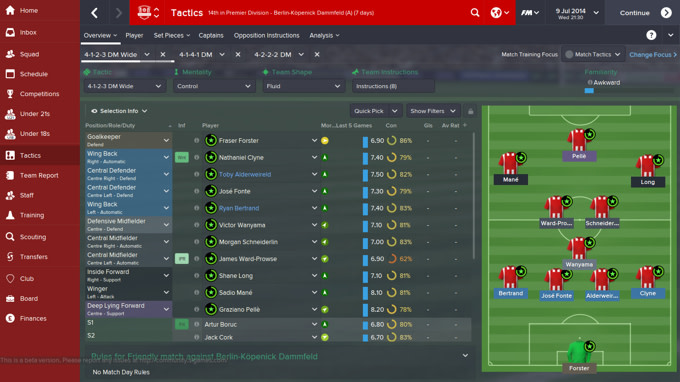 Do you ever see yourself as a 'chief scout', as opposed to the director of a game studio?
A long time ago that's what I was as I helped to set up the UK research team here. Now we've got a five-man team that are the 'head scouts' in charge of that now, and then we have 51 actual 'head scouts' - which is their job title - throughout countries and regions across the world. Then there are 1,300 people that report to them. 
Has anyone from the Football Manager moved into the world of real life football?
A lot of our head researchers now work for a particular betting company and put their odds together, they started with us and then went to them as a full-time job. There's someone that now works at UEFA, someone at FIFA, two chiefs scouts currently employed by professional clubs - one of them is at a Champions League club, the other is Europa League.
A lot of our assistant researchers have ended up being football analysts or scouts in the professional game. Working on the game is a pretty good thing to have on your CV, it's taken seriously by the football world. There are very few clubs that don't take our game seriously.
Sam allardyce is effectively playing real-life football manager at West Ham.
Is that serious perception something you've seen become more common recently?
The last four or five years has seen it become more common, but in particular it has been the past two. It sounds ridiculous, but we were at the LMA and PFA awards this year. No one bats an eye that we're there. I had Will Hughes of Derby Country come up to me and ask for a selfie. I couldn't believe it, I thought it was ridiculous.  
We also have 600 footballers that help us beta test the game and that network is growing all the time. A lot of the players think that it's an easy way to get a free game, so I have to point out that they do actually have to give us feedback on it. Having so many people from the football world test the game really helps our credibility.
There are still some of the more old-school managers that don't get very heavily involved in the data analysis side of things. But then you wonder how someone like Sam Allardyce can pull off a result like he did against Man City... it's because he's looking at these things and he's coaching the tactics to such incredible details that he's effectively playing real-life Football Manager at West Ham.
How did the deal with AFC Wimbledon come about? It's my understanding that Sports Interactive were involved in financing the club from the very start?
It was day two of their life that we were involved. Day 'minus one' for Wimbledon FC was when the FA decided that the club's supporters were going to have their club stolen from them and moved to Milton Keynes - and Milton Keynes City were going to fold because of it. It was terrible.
I was listening to Ivor Heller [now commercial director at AFC Wimbledon] talk about it on the radio, and it turned out that Nick Robinson, our marketing guy at Eidos [Sports Interactive's publishers at the time], was also listening. I can't remember who called who but we decided that the two of us should do something about it. So then I got Ivor's number from a producer at Radio Five Live, called him and explained who we were and what we wanted to do in terms of sponsorship for a new Wimbledon club. He said that loads of other people had called to offer help, which I wasn't surprised about. I told him what we were prepared to do and left it with him.
The next day he phoned back to say he wanted to work with us and the day after that we signed a contract. It's a one-page contract, a very simple agreement and it's the same one that's in place now. If someone comes along and offers more money then we walk away.
Has the part you played in building AFC Wimbledon helped enhance your reputation across English football?
Yeah, that helped a lot. Then we started working with Watford and that's helped, too. The summer before last we had 36 approaches from clubs across the UK regarding sponsorship and we eventually chose to go with Sheffield United. We've now switched from them to Enfield Town for this season.
That relationship is pretty good across a lot of clubs and the access I get because of that is unparalleled. I can turn up to training, go to team meetings and tactics meetings and they know that nothing is going to leak. I'm there to listen and learn and then put it into the game. Before now I've been sent Premier League player contracts with only the names redacted out. That's happened a couple of times - once with a particular agent and once with a particular chief executive. They wanted us to be getting our contracts and contract clauses right inside the game, so they sent that information over. 
Sega is very much a traditional video game company, but you've said that Football Manager is less of a game than it is a football product. Does Sega fully understand what you're doing here?
I don't think it matters if they understand, really. Sega find out about the new features in the game the day before the public does. They find out about them then because the press release needs to be translated into different languages. We really do have full creative freedom with Sega. Yes, they will ask me questions throughout the year about what's going on... sometimes I'll answer them and sometimes I won't.
Sega is a massive conglomerate. They own golf courses, gyms, a theme park or two... they're not just about games, they are in other areas. They understand that the best thing to do is to leave us along and let us get on with making this game. We originally signed with Sega for a couple of reasons. One, they were hungry for success following the Dreamcast phase. Two, they were the first ones to agree to having a charity donation coupled with every copy of the game we sold.
When we eventually sold to Sega and became part of them it was because they said 'you guys get on with what it is that you do', they wanted to buy the company because they didn't want us going anywhere else but also because they wanted us to stay. Nine years on from that the three of us that were directors at the time are all still here, and of the 35 people that were employed then 32 are still here. One is leaving at the end of this week... the traitor. 
Football Manager 2015 is available now.