ComplexCon returns to Long Beach Nov. 6 - 7 with hosts J. Balvin and Kristen Noel Crawley, performances by A$AP Rocky and Turnstile, and more shopping and drops.
Secure your spot while tickets last!
Peyton "The Sherriff" Manning is a man amongst boys in the NFL. Well, at least during the regular season. During the course of his 16-year regular-season career, Manning has roped more than 65,000 yards and 497 touchdowns (compared to 219 interceptions) while maintaining an incredible 65 percent completion percentage. Along the way, he picked up five MVP awards and a Super Bowl Championship. Oh, and he came back from a life-and career-threatening neck injury that required four surgeries to get him back to form—a form that put up an NFL record 55 pass TDs in the second successive season back.
But the present is the only reality, and at 38 years old and nearing the end of his career, we're left to wonder if Peyton still has enough in the tank to fend off the younger hungry QBs. More specifically, the young, hungry QB in Green Bay who's dating Olivia Munn and already has an MVP and Super Bowl title under his (Discount Doublecheck) belt. Watch Complex Sports writers Maurice Peebles and Tony Markovich duke it out as they argue Who Will Win MVP: Peyton Manning or Aaron Rodgers?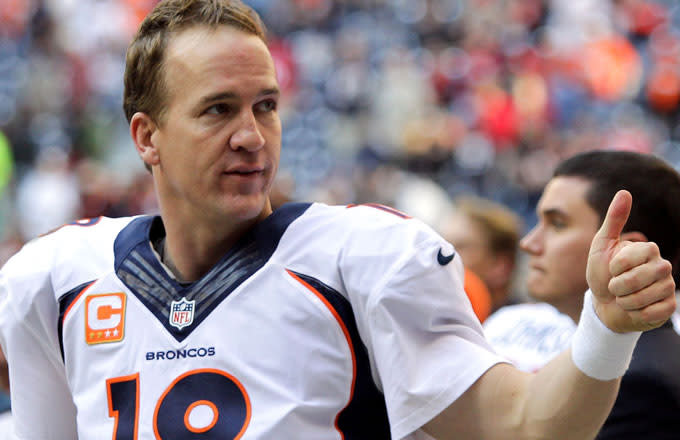 Peyton Manning Will Win MVP
As sad as it is to admit, nobody else has a chance at dethroning Peyton Manning as MVP this season. Not a legitimate one, anyway. Last season everyone's favorite frowny-faced five-headed signal caller earned his fifth Most Valuable Player award of his career, two more than anyone else in league history. Papa John's business bro also broke Tom Brady's single-season touchdown record by tossing 55(!) TDs, Drew Brees' single-season passing record by tossing more than 5,400 yards, and earned a 115.1 QB Rating, the best of his career. At this point the statistics tell the story for us: Peyton Manning is the greatest regular season quarterback who has ever lived.
Oh, and he accomplished much of this after several of his vertebrae were SURGICALLY FUSED TOGETHER. That's right, the man had his neck bones welded by doctors in procedures so devastating that the then four-time MVP at one point couldn't even manage to throw a dart hard enough to stick into a dart board. Four-plus neck surgeries, random European stem cell injections, and countless doubts about his arm strength later, the man is still out-performing everyone on earth at his position in one of the most physical games known to man. 
Sure, sometimes Peyton can look like a frustrated thumb on the field, and, sure, he has a history of coming up short in the postseason, but MVP awards aren't given for postseason play or good looks. They're given for cooking in the regular season. And nobody can barbecue an opposing defense like #18. Aaron Rodgers might look like an MVP, LeSean McCoy might run past defenses all year, and Drew Brees could challenge for the crown statistically, but at the end of the day, no NFL player is going to have the same combination of team and personal success as Peyton Manning. Besides, if his numbers and W's alone don't put him in the front of voters' minds, his relentless commercial appearances surely will. 
So far in 2014 he's already atop the NFL in Passer Rating (126.5), Touchdowns (6), and Inceptions (0), and when coupled with his team's undefeated record it's entirely possible the Denver Pizza Baron never relents his position as the league's most valuable player. And that's ignoring the fact that Peyton also has the responsibility of being the Broncos' co-offensive coordinator without the benefit of a title. 
Disrespectful NFL fans may clown him because of his past Super Bowl failures, but in the end they're only mocking greatness. Peyton Manning not only has the chance to break Brett Favre's all-time touchdown record (508), but could add his fourth Super Bowl appearance, his second Super Bowl title, and an unprecedented SIXTH MVP trophy to his legacy by the end of this season. It might seem like other players are close, but it only seems that way. Peyton left the mortals of the sport behind a long time ago. The future six-time MVP is now in a class of his own. Salute the Gawd. — @tallmaurice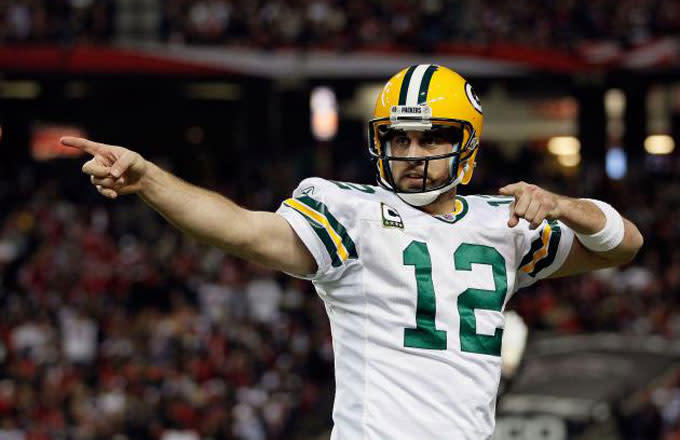 Aaron Rodgers Will Win MVP
Salute the Gawd? He might want to TIE his own brother to get into the elite club of two-time Super Bowl winners before we start throwing silly Big Sean ad-libs around. That's cute that you think you can already lock up Peyton, after two games, as the MVP. Let's begin with this little gem from your Peyton slobbering: "Aaron Rodgers might look like an MVP." 
He only looks like one, huh? You must be forgetting that he actually is an MVP, you know, from when he won the award in 2011, when he made NFL defenders look like school children with 45 touchdowns to just 6 interceptions. That was good for a pretty solid 122.5 passer rating (you were saying 115.1 is Peyton's best, right?). In fact, as a starting quarterback, Rodgers has only dipped below a 100 rating once, and that was in his first full season, when he posted a measly 93.8. And speaking of 2011, that was the year that Rodgers won his first Super Bowl, correct? Yeah, I think that's right. He held that trophy in just his third season as a starter, something it took Peyton nine seasons to accomplish. It also took Papa P six seasons to win his first MVP, excuse me, Co-MVP with Steve McNair (R.I.P.), which was adorable. Sharing is caring. 
Also, let's be clear about one thing: Manning obviously has earned and deserved his MVPs, especially this past year's. However, Rodgers was essentially out for eight games in 2013 (he threw two passes before the Bears broke his collarbone). In the eight full games he started, the Packers were 6-2. In the other eight, the Packers went 2-5-1. In those eight full games he played, the Packers averaged 30.6 points per game and outscored opponents 245-186 (winning with that defense is an entirely different point). In the eight games he missed, the Packers averaged 21.5 points per game and were outscored by opponents 172-242. The most jarring example of Rodgers in/Rodgers out is the comparison of the two Lions games. With Rodgers, the Packers won 22-9. Without him, they lost 10-40. So yeah, he seems pretty valuable to me. 
As for this season, yes, P-Man (is it cool to call him that?) is off to a slightly better start so far with only four TDs to his one INT. However, he did lead his team to a W against the Jets this week, after falling behind 18 points. Regardless, it's been two games. Are we really going to judge the season off of that sample size? At this stage in his career, Rodgers is better than Peyton was at the same career point in just about every important facet. Which only leads to the logical conclusion that he's just going to continue to get better and better every single year.
Likely having the best offense he's ever worked with, weapons wise, and a legitimate running threat to back him up, Rodgers is only going to widen his range and expand his abilities. Not to mention, have you seen that magnificent mustache he can grow? That thing warrants votes all on its own. Expect him to have another passing title, and another MVP at the end of the 2014 season. — @T_Marko
Who do you think is more likely to walk away with the MVP? Let us know below.