By now, you've probably heard about what Johnny Manziel did during the Browns/Redskins NFL preseason game last night. And unfortunately for Manziel, it had absolutely nothing to do with football.
During the game, which was nationally televised on ESPN, Manziel got caught giving the finger to the Redskins sideline. Someone on the sideline said something to Manziel, words were briefly exchanged, and then, as Manziel made his way back out onto the field, he flipped the Redskins the bird. As Manziel explained after the game, it was a momentary "lapse of judgment" on his part.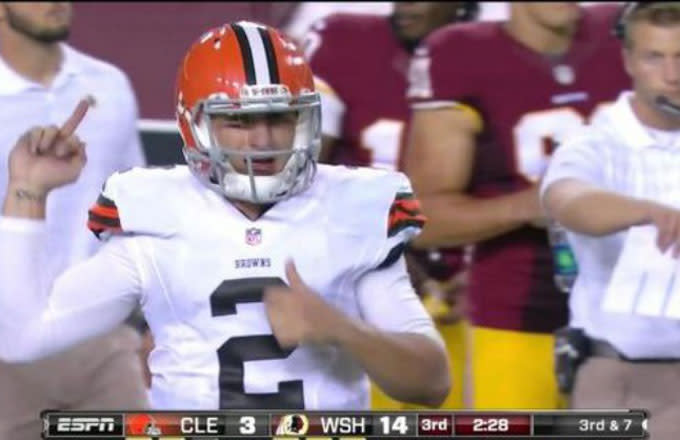 "I felt like I did a good job of holding my composure throughout the night, and you have a lapse of judgment and slip up," he said.
Now, we have a Vine that shows exactly what Manziel looked like when he was told by one of the Browns PR guys that ESPN had caught him giving the finger to the Redskins—and that he was going to be all over social media for the rest of the night. Here was Manziel's reaction to that bit of information:
Ha. Manziel wasn't the only one who reacted that way, either. We don't have Vines of them, but we imagine that Browns head coach Mike Pettine, Browns owner Jimmy Haslam, and everyone associated with the Browns made the same exact face after finding out about what Manziel had done. It's getting blown way out of proportion (he's not the first and won't be the last NFL player to flip the bird on the football field) but his "lapse of judgment" is going to become a huge distraction for the Browns for at least the next day or two. And all anyone within the Cleveland organization can do is sigh like Manziel in the Vine above.
[via @BrianMFloyd]