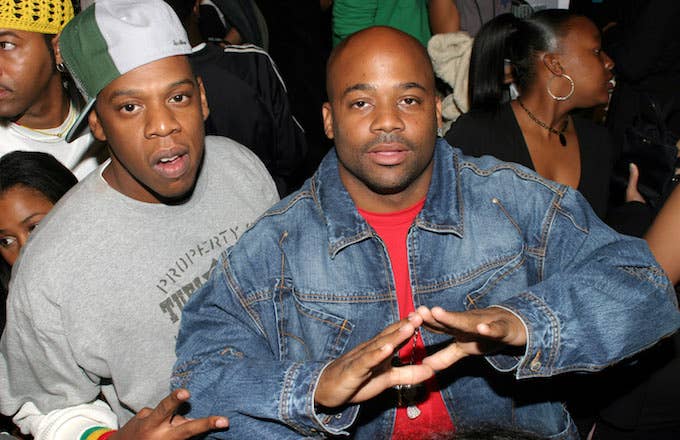 Roc-A-Fella Records co-founder Damon Dash appeared on the latest episode of Shannon Sharpe's Club Shay Shay podcast and spoke about a very specific detail from a meeting with Jay-Z that led him to believing in doing business with the future legend. 
In the episode that came out on Monday, February 28, Dash recalled that he was introduced to Jay-Z by DJ Clark Kent. "What made you think a 26-year-old rapper could be big in the industry?" the three-time Super Bowl champion asked.
"Cause he had on Nike Airs," Dash replied, explaining that while he was from Harlem, Jay-Z was from Brooklyn. The Nike Air Force 1 sneaker was then a staple in Harlem but not as widely worn in Jay's home borough. "Back in those days, Brooklyn dudes didn't wear Nike Airs. So, that was a flag for me." Dash had previously mentioned being drawn to Jay-Z because of his sneakers in a 2006 New York Magazine profile.
"Everybody thought he was too old; they didn't like the way he dressed," Dash said then.
Along with Kareem "Biggs" Burke, the trio founded the seminal record label in 1995 and went on to release multiple platinum albums from Jay-Z. 2004 saw Jay-Z leave the label and take over as president and CEO of Def Jam. 
This revelation gives even more meaning to the special "Roc-a-Fella Records" Air Force 1 it made for the label in 1999, which was limited to just 100 pairs. The shoe was later released to the public in 2017, including an early release at ComplexCon.