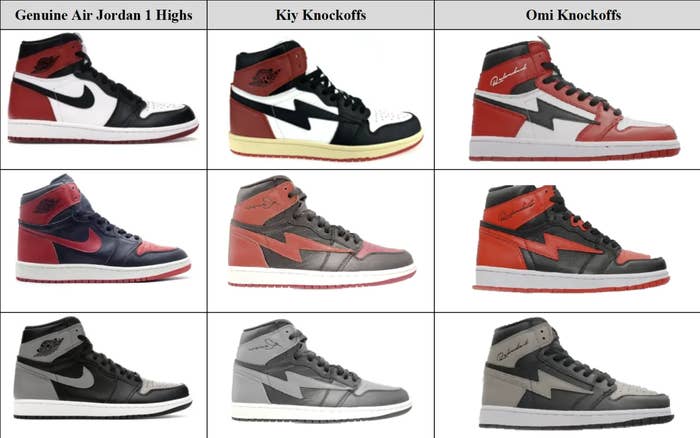 UPDATED 8/25, 10:40 a.m.: According to the lawyer formerly representing David Weeks and Nickwon Arvinger, Zak Kurtz (aka @SneakerLegal), Nike's case against By Kiy LLC and Arvinger is still ongoing. This week's settlement and court order pertains only to By Kiy partner Weeks, owner of the Reves Paris brand, and does not affect Arvinger or the By Kiy brand. Arvinger has retained a new lawyer due to a conflict of interest, but Kurtz indicates that Nike's case against the Kool Kiy designer is still ongoing.
See original story below.
Nike's nearly year-long lawsuit against By Kiy LLC (aka Kool Kiy) has been put to rest.
In a filing this week in the southern district of New York, the Oregon-based sportswear brand and the design company agreed to a confidential settlement calling for a resolution of the dispute in the Swoosh's favor.
By Kiy, which is owned by David Weeks and Nickwon Arvinger, is ordered to admit that its Air Kiy '85 sneaker designs infringe on the Air Jordan 1 and Nike Dunk trademarks and cannot sell shoes in the future that infringe on the aforementioned marks.
The lawsuit was originally filed by Nike in December 2022, alleging that By Kiy and Bill Omar Carrasquillo of Reloaded Merch LLC (Omi aka "Omi in a Hellcat") have been "promoting, copying, and selling" Nike's trademarked sneaker designs as their own.
Two months later, the By Kiy brand filed a counterclaim against the Swoosh that broke down how it believed it had not infringed on Nike's designs. In March, Nike argued that Kool Kiy's claim "fails to state facts sufficient to constitute a claim" and asked the court to dismiss the claim completely. As a result of this week's filing, Kool Kiy's counterclaims have been dismissed.
Despite settling the lawsuit, Kool Kiy announced on Instagram that it's dropping a collaborative Air Kiy '85 sneaker this Friday. This is reminiscent of how previous bootleggers entangled in legal battles and eventual settlements with Nike resumed selling their sneakers albeit with minor alterations.
Representatives for Kool Kiy did not immediately respond to a request for comment.