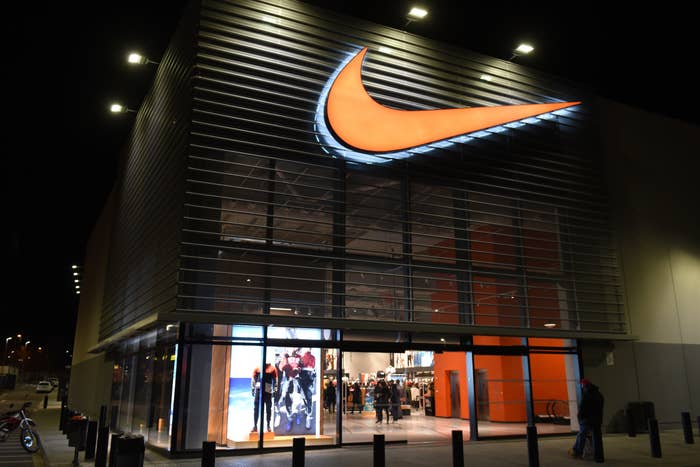 Recently unsealed exhibits from a gender discrimination lawsuit brought against Nike in 2018 give new detail into allegations of how women suffered within the company's "boys club" culture. Back in 2018, female Nike employees conducted an anonymous survey following allegations of gender discrimination, inappropriate workplace conduct, and pay disparity within the company. This prompted former female Swoosh employees Sara Johnston and Kelly Cahill to file a lawsuit against the sportswear giant regarding the allegations.
Last month, 10 of the anonymous surveys that were included in more than 5,000 pages of records were unsealed after a legal challenge from Business Insider,the Oregonian, and the Portland Business Journal. The documents reveal disturbing allegations about the workplace environment at Nike.
One respondent mentions encountering a male executive receiving oral sex from a lower-ranking female in the campus gym. Another says they were asked by male coworkers to "dress sexier." In another survey, a respondent described a male manager as saying, "No one gives a fuck about female empowerment." According to Insider, there were close to 100 surveys collected, with 10 now in the court record attached to motions.
Nike's then-CEO, Mark Parker, who is now brand's executive chairman, gained knowledge of the surveys in March 2018 and called upon an outside firm to conduct an investigation into the matter. He addressed the allegations in a company-wide email, saying "Over the past few weeks, we've become aware of reports of behavior occurring within our organization that do not reflect our core values of inclusivity, respect, and empowerment at a time when we are accelerating our transition to the next stage of growth and advancing our culture."
As the allegations began to pile up, over 14 senior-level employees parted ways with the company.
In January, the plaintiffs filed a motion to convert the gender discrimination case into a class action lawsuit, which would have proceeded on behalf of roughly 5,000 current and former female workers at the company and now it proceeds on behalf of 14 plaintiffs who voluntarily joined the case.
In a motion filed earlier this year, the plaintiffs allege Nike underpaid female workers $11,000 on average from 2015 to 2019. The brand's attorneys argued that there were no merits to the claims and the motion was denied by a federal judge. The plaintiffs intend to appeal the ruling, claiming that the problems at Nike were widespread and not limited to a few high-level executives.
"It wasn't limited to one vertical or one department," Laura Salerno Owens, the lead attorney for the plaintiff, told Insider. "And it wasn't limited to one manager. This was a common experience throughout the company."