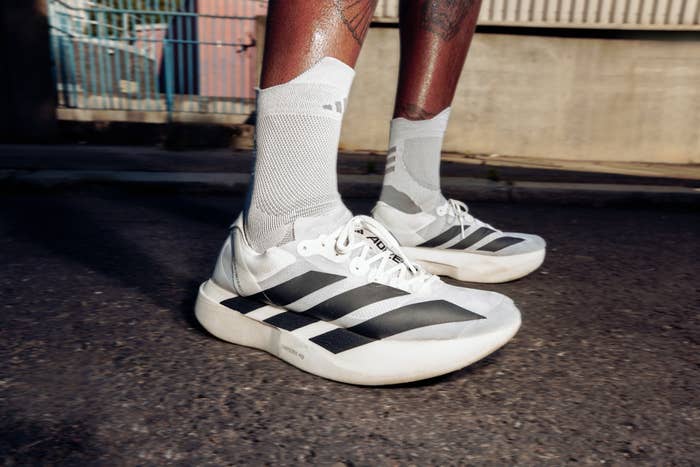 Ahead of this year's marathon season, Adidas is gearing up to release a new high-tech running shoe that comes with a hefty price tag.
Pictured here is the Adidas Adizero Adios Pro Evo 1 running sneaker that's launching in limited quantities today. The sneaker retails for a whopping $500, but the brand has laid out all of the model's design elements that may help runners who are interested in the shoe justify the price.
According to Adidas, the Adizero Adios Pro Evo 1 is the lightest running super shoe it has ever created, weighing in at just 138 grams. The new model is equipped with a new lightweight mesh upper that's similar in design to the brand's record-breaking Adizero Adios Pro 3 shoe. The standout element of this shoe is the updated Lightstrike Pro foam midsole that's not only lighter than its predecessor, but is designed to provide even better energy return.
"We set ourselves the goal to create a racing shoe that is packed with the technology ambitious runners have come to love in the Adizero franchise, but at a weight we've never seen before at Adidas," Patrick Nava, Adidas VP of product, running and credibility Sports, said.
Readers who are interested in purchasing a pair will have the opportunity to do so starting today, with sign ups opening at adidas.com for $500. This first launch will be limited to just 521 pairs, but a wider release will follow in November.
UPDATE (09/19): Originally scheduled to release last week, Adidas now has the $500 Adizero Adios Pro Evo 1 listed for a Tuesday, Sept. 26 launch at 11 a.m. ET exclusively on the Adidas app.