1.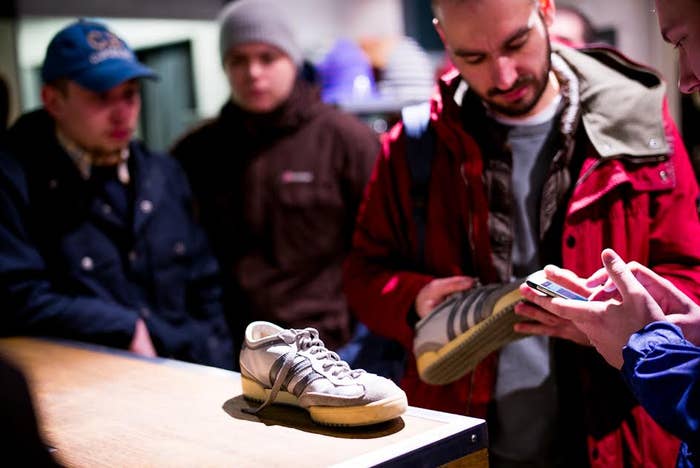 Sneakerheads are typically lumped into a singular narrative. The origins are urban, connected to basketball, hip-hop, and the occasional nefarious corner boy. Shoes become legendary within these intertwined contexts, and our contemporary interests are spurred by a certain vaguery about what's cool, why it's cool, and related preconceptions about the cultural currency of celebrated silhouettes.
These ideas often take hold globally. China's nascent sneaker culture, for example, has firm connections to the spread and overall popularity of basketball. Contemporary classics in cities like Amsterdam and Paris are easily connected to and defined by hip-hop. Sometimes, however, there's an alternative trajectory.
What happens when sneaker fanaticism is spurred not by rap stars, but by something else? What does the culture look like? What are the prevalent sounds?
In Moscow, Russia, a group of collectors who gravitate around the city's premier menswear shop, FOTT, provide a case study. They dress not to mimic hype blogs, but in ode to Europe's tradition of sporting high-end leisure and sportswear to soccer stadiums (precipitating "Terrace Culture").
America, dare we say, isn't the driving force. Instead, this subset of sneaker buyers looks to England for inspiration—specifically to the North (Liverpool, Manchester, etc.) and the region's football-focused stylistic legacy.
"Moscow is the derby match capital in Russia — the city's got few of the most famous and popular football teams," explains Kirill Astrakhantsev, FOTT's PR Manager, referring to the rivalry between Spartak Moskva and CSKA Moskva. "Back in the day, fans of the clubs were influencers on a terrace casual scene—they traveled around Europe, bought clothing from notable brands like Stone Island and CP. Years ago these brands were very rare in Moscow. Russian guys still like all the classic terrace casual style."
FOTT started in 2000, not as a physical space but as an Internet forum. It became Russia's standout digital hub for discussion of sneakers, sport, and style. The brands favored—old favorites such as CP Company and Stone Island, emerging brands like designer Kenneth MacKenzie's 6876—status symbols across Northern European football firms. There is, of course, a clear environmental benefit to the products these labels produce—hard-wearing garments built to withstand cold, rain, snow, and wind. But, above all, there's an aesthetic sensibility that balances functionality with immediate brand-conscious recognition. This idea extends to footwear too.
"Some adidas sneakers are the symbols of the terrace culture. It is like when a subculture steals your brand and makes it popular in the streets," says Astrakhantsev. "It is like Ralph Lauren and the Lo-Lifes, Jordans and skaters, Nike Air Max and graffiti writers, Dr. Martens and skinheads."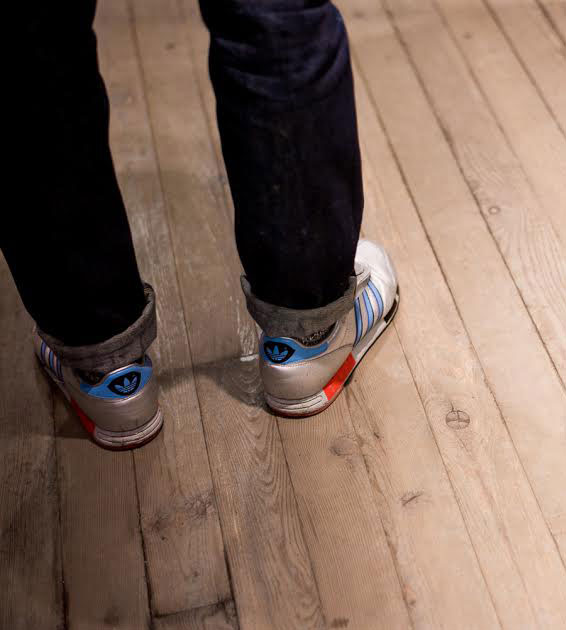 While City Series shoes, like 1982's Hamburg, and the ZX runner series are held in high esteem by Russian casuals, they've also adopted a few models that typically sit outside the established casual canon. For example, 1984's computer-driven adidas Micropacer is prized for its weather-trumping robustness, says Moscow-based collector Marc Aske, who also notes that exclusivity doesn't hurt.
He began collecting nine years ago. "I try to see the history behind the shoe," he says. He buys to "look good on the terraces," and believes that he represents a group that are not sneakerheads, per se, but one that connects shoes to a certain mythology surrounding fandom and sports. Though relatively small, the community represented by Aske and Astrakhantsev has begun to attract international recognition.
Most notably, the scene supported the launch of the second season of the adidas Spezial collection and its related showcase of vintage shoes last month. Designed and curated by Gary Aspden, an industry veteran, longtime adidas consultant, and collector in his own right (in some respects, he is to casual culture what DJ Clark Kent means to the Nike AF1, Rev Run symbolizes with the Shell Toe, or Clyde Frazier represents in Puma Suedes), Spezial celebrates Three Stripes classics. The silhouettes are modernized, but pay homage to an era in which celebrity marketing took a back seat to pure emotional brand attachment.
2.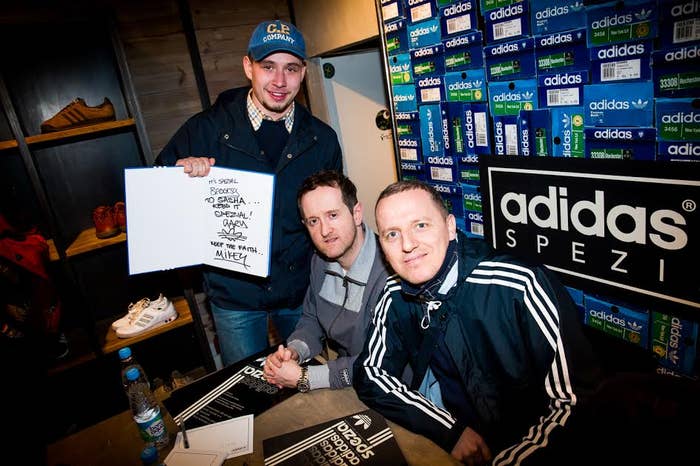 His exhibition, which first launched in London before mounting in Manchester, Paris, and Moscow, includes an associated book and tells the adidas story from a fan's perspective.
On the morning of February 28, four dozen people jam into FOTT to pay their respects to Aspden. The scene is surreal. Aspden enters, alongside business partner Mike Checuti and London-based collector Robert Brooks, to a flash of cameras. It takes the trio roughly ten minutes to navigate the 20 feet from the store's entrance to a table set up for them to sign autographs; so strong is the desire for photographs with the guys. You might mistake the crew for a band. A similar scene, expanded to a larger group of spectators, ensues later at the opening of Spezial Moscow, which ran through March 9.
"We have always tried to be contrarian with the adidas Originals x SPEZIAL range," Aspden said. "We wanted to avoid falling into some of the formulas that seem to dominate the sportswear industry currently and come at things from a different angle." Moscow worked because some of its youth, along with FOTT, offer diehard support. For them, the North of England serves as a spiritual home. The cultural significance of Manchester in its sneaker milieu is undeniable—the sounds of New Order and Oasis through venue speakers cementing this fact.
"The youth in Moscow that I saw seem to be far more influenced by British style over American style," says Aspden. "They have really adopted the British 'casual' styling and are really into that whole football subculture and the brands that come with that which of course adidas plays a big role."
Of course, sneaker culture in Moscow isn't singular. Dmitry Egorov, Editor-in-Chief of K.E.D. (KICK) Magazine, Russia's leading footwear culture publication, notes that the burgeoning community is fragmented. There's a b-boy scene as well as a small smattering of Jordan faithful. In addition, global hype culture has its space too. FOTT, in addition to welcoming Aspden and co., also hosted Moscow's much-anticipated adidas Yeezy Boost 750 drop.
At the center of the broader Russian sneaker scene is the annual Faces & Laces summer festival. Unlike Spezial, the event cooks up a amalgamated youth culture smorgasbord.
FACES&LACES 2014 from FACES&LACES (official) on Vimeo.
DJs mingle with tattoo artists. Lowriders are exhibited alongside big-brand showcases—ranging from a massive ZX Flux installation to a history showcase of Nike's Air Max series. Graffiti walls surround the space, a cordoned-off area in the city's Gorky Park, and adds street art to the mix. Confirming the significance of Faces & Laces, the festival (which is connected to an eponymously named shop as well) was given its own collaborative sneaker in 2014. An adidas ZX Flux inspired by Berlin's Teufelsberg Hill spy station, the shoe was a first for co-branded footwear released specifically for the Russian market. Is there any more appropriate recognition in current sneaker culture than a collab?
In its infant state, Russia's sneaker scene remains on the fringes. Lines approaching what New York experiences every Saturday are (perhaps) years away. Still, the crowd that inhabited FOTT in late February reminds that hip-hop and hoops aren't the universal drivers in our scene. Across the globe, pockets of sneaker-loving folk exist that celebrate Manchester's Gallagher brothers with greater glee than they do Queens, N.Y.-bred Run-DMC.
The world, thanks to the Internet, may have a more homogenized youth culture than ever before. Unquestionably, certain sneaker silhouettes have global appeal. Yet, despite the web's omnipresence, subcultural appreciation of less-heralded footwear still exists. The terraces and streets of Moscow are just one example. Dig deep enough, and more will likely surface.