Another one of the world's leading sportswear and sneaker manufacturers is switching its focus to producing supplies to assist health care systems in the ongoing battle against the coronavirus pandemic.
Under Armour has announced that as of last week, it's begun manufacturing face masks, face shields and specially equipped fanny packs, and is also exploring fabricating hospital gowns, to support the University of Maryland Medical System's 28,000 health care providers and staff. Additionally, the brand is providing face masks to Baltimore-based health care organization LifeBridge and is in discussions with Johns Hopkins Medicine, MedStar and other local institutions about supply needs.
"When the call came in from our local medical providers for more masks, gowns and supply kits, we just went straight to work," said Randy Harward, SVP of Advanced Material and Manufacturing Innovation at Under Armour. "More than 50 Under Armour teammates from materials scientists to footwear and apparel designers from laboratories in Baltimore and Portland quickly came together in search of solutions."
The primary vision of the UA design team is creating a mask that can be produced quickly in high numbers. To achieve this, the team is eyeing a one-piece mask design that requires no sewing, with origami-style folds helping mold the moisture-resistant fabric into the shape of a mask.
A process currently taking place at UA's innovation hub Lighthouse in Baltimore, masks are being cut by the lab's efficient fabric cutting knife, which is capable of carving nearly 100 pieces at once. Cutouts are passed off to volunteers for folding and distribution. The brand estimates that it can generate as many as 100,000 masks weekly moving forward. It's already delivered 1,300 shield to UMMS and anticipates manufacturing and distributing more than 500,000 fabric masks and assembling 50,00 specially equipped fanny packs with much needed supplies for personal preparedness kits. 3-D printing N95 and N80 masks for medical professionals is also being explored.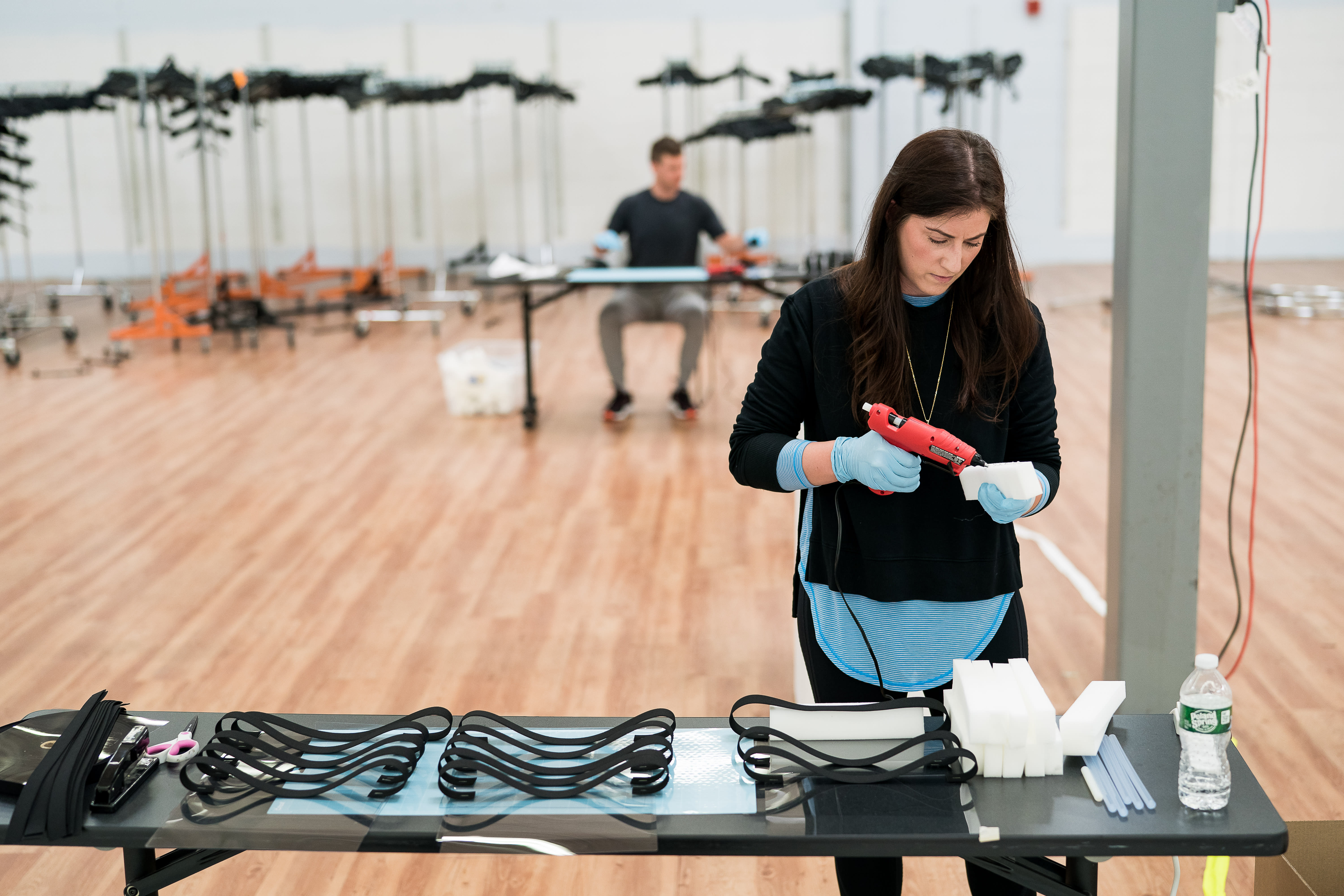 "At Under Armour, we know the value of being part of a team," said Under Armour CEO Patrik Frisk. "This mindset is important now more than ever as we come together to combat COVID-19. I'm incredibly proud of the quick thinking and hard work of all our Under Armour teammates as we work with health care professionals to strengthen our community — teamwork has proven to be key."
Previously, UA announced a $2 million donation in coronavirus relief efforts split between Feeding America and funding Good Sports' youth sports efforts.