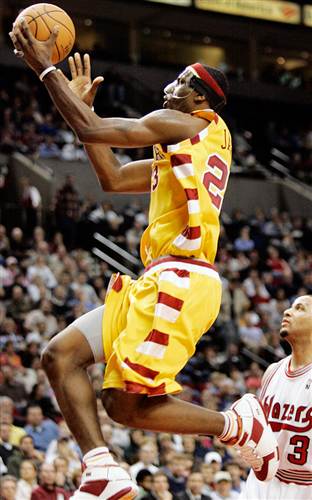 words & images // Nick DePaula
The last time LeBron James put together a triple double in an official game, he won an elusive NBA Championship.
The first time though?
The first time was back in 2005 -- January 19th to be exact -- and it just so happened to be right in front of his dear friends from Nike at the Rose Garden in Portland.
27 points. 11 rebounds. 10 assists. All in these custom just-delivered Zoom LeBron II player exclusives. (And some horrific Cavs Retro Nights unis.)
Along with a win that night, LeBron also became the youngest player ever to record a triple double, the first of many "youngest ever" honors he'd collect through the years.
"Winning this ballgame tonight, and plus getting the triple-double, it gets no better than this," LeBron said after the game. Well, it's safe to assume finally winning his first ring this season was a bit better.
Check out a pair of the "Triple Double" IIs ahead, featuring a white leather upper, crimson ballistic mesh insets and gold accents throughout. If you're trying to hunt down a pair yourself, it's worth noting that there are actually four different versions of them. You'll find that some pairs have his then-number "23" embossed along the heel while others don't, and there's also variations that may or may not have the gold bordering around the "NIKE" and Swoosh found on the shoe's straps.
Now that we're nearing a decade in on the LeBron signature series, hopefully the Nike Sportswear team takes a look at this colorway as a moment to celebrate along James' journey in the NBA.