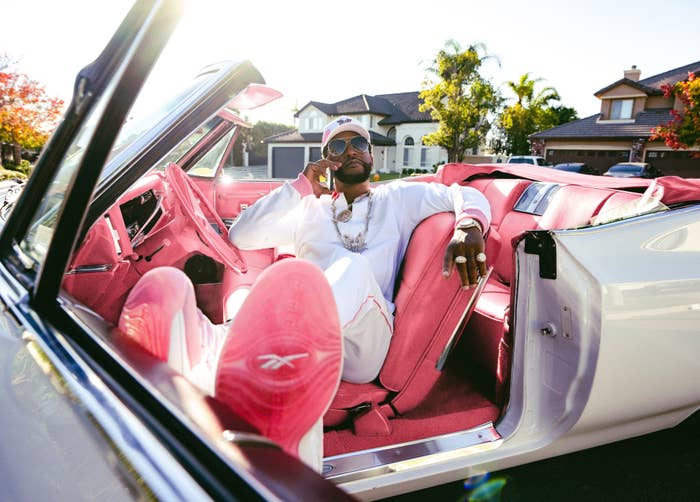 Since the early 2000s, Cam'ron has been an important figure in fashion and the music industry. From pushing boundaries by bringing the color pink to the forefront of pop culture with his iconic pink outfit from a 2002 Baby Phat show, to dropping Purple Haze, his fourth studio album considered a classic by many hip-hop fans, in 2004. Look no further than your Instagram feed on Halloween, where you're bound to see someone on the timeline in a pink mink coat with a matching flip phone.
Cam would go on to form legendary rap group, The Diplomats, which would take flashy, baggy clothes, bandanas, furs, and fitted caps to a new echelon. The group assisted in making True Religion jeans, B.B. Simon belts, and Ed Hardy T-shirts a trend in hip-hop culture (not to mention their Supreme photo tee from 2006 that resells today for hundreds of dollars on the secondary market). Their influence would pave the way for future artists and groups such as the ASAP Mob.
Around the same time, Virginia native and Philadelphia 76ers star, Allen Iverson, was also making waves in sports and fashion. He's often credited for playing a role in bridging the gap between basketball and hip-hop fashion. AI was ahead of the curve, swapping the standard suits and ties for loose-fitting clothes, jewelry, durags, and snapbacks. Despite the NBA enforcing a dress code in 2005 that limited the clothing choices players could make, Iverson's impact on hoops style had already been cemented. 
Throughout AI's career, he would sport his signature Reebok sneakers that were beloved by his fans and sneaker enthusiasts alike. Cam'ron would also collaborate with Reebok years later, having three official collaborations under his belt, including a Reebok Ventilator inspired by Purple Haze. His latest partnership with Reebok sees the Diplomats co-founder showcase AI's classic Reebok Question silhouette in a new "Pink Toe" colorway. Although it's not an official collaboration, Cam'ron participated in a promotional photo shoot for the sneakers.
We had the chance to talk with Cam'ron about his views on the legacy he and AI have left on the industry and current views in the sneaker landscape. Check out the conversation below.