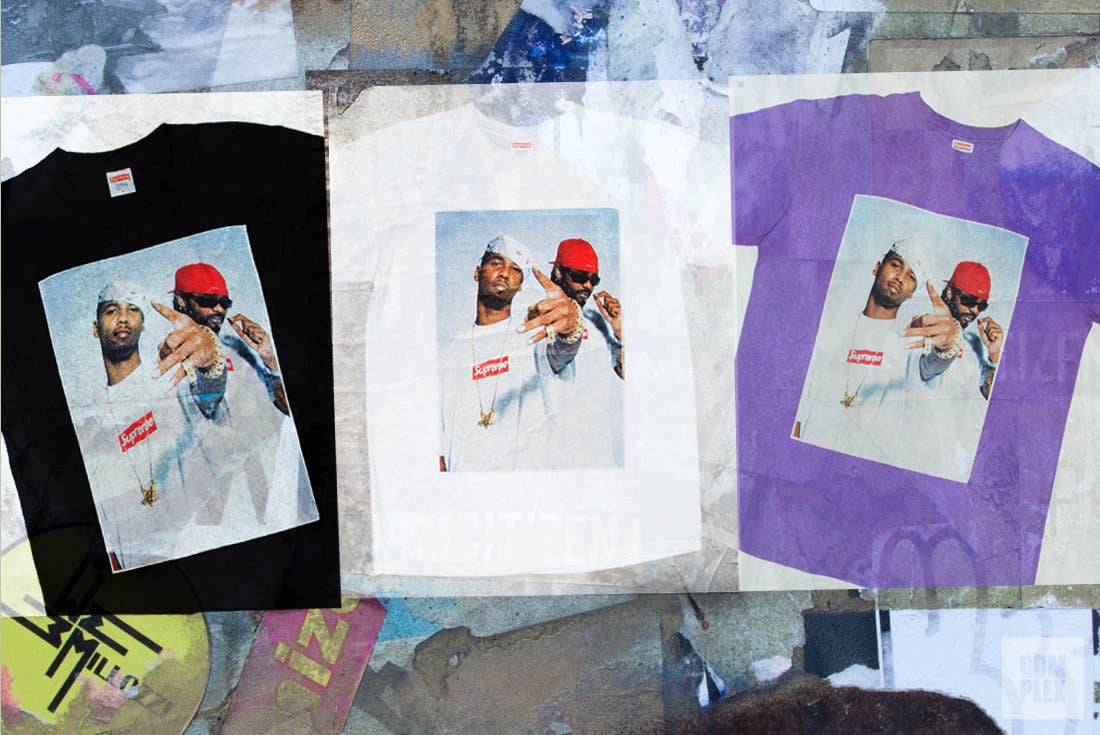 "Are you sure you got me?"
"Dude, I'm like, 10th in line. I got you."
I remember the conversation like it was yesterday. The online shop wouldn't open for another year, and I was halfway across the country, walking to my second class of the day. I wasn't able to wait in line for one of the only T-shirts I was ever truly willing to wait in line for. Supreme was at the height of their game, and many would argue they've only been looking down since, but nothing can touch what Dipset did for the culture Supreme was trying to reach with this particular collaboration.
Nobody does a T-shirt quite like Supreme. The brand is a constant hub for the next "grail" T-shirt. Their box logo T-shirt and its many variations, even in its simplicity, are excruciatingly difficult to get your hands on without putting a dent in your bank account. But, their photo series T-shirts, which launched in 2005 with the infamous photo of Raekwon, his bodyguard, and Tickle Me Elmo shot by Kenneth Cappello, is peak. One fateful day in 2006, one of the greatest, if not the greatest T-shirts in streetwear history released—and things done changed.
For the better part of the first half of the 2000s, Killa Cam, Juelz Santana, Jim Jones, et al., had such je ne sais quoi with their grassroots, New York hip-hop movement, that it shook the foundation hip-hop was born on, even in its birthplace. "Peaking" doesn't even explain what Jim, Juelz, and The Diplomats were doing in 2006. Killa Season dropped, with both Jim and Juelz featured on it. Jim dropped the single of the year with "We Fly High," getting everyone and their mother involved in remix after remix. For the better part of the 2000s, they created a culture unlike any at its time. Their work laid the groundwork for guys like A$AP Rocky and the rest of the Mob to be rebellious and, most of all, to not change the way they are because of what others expected. They changed hip-hop forever.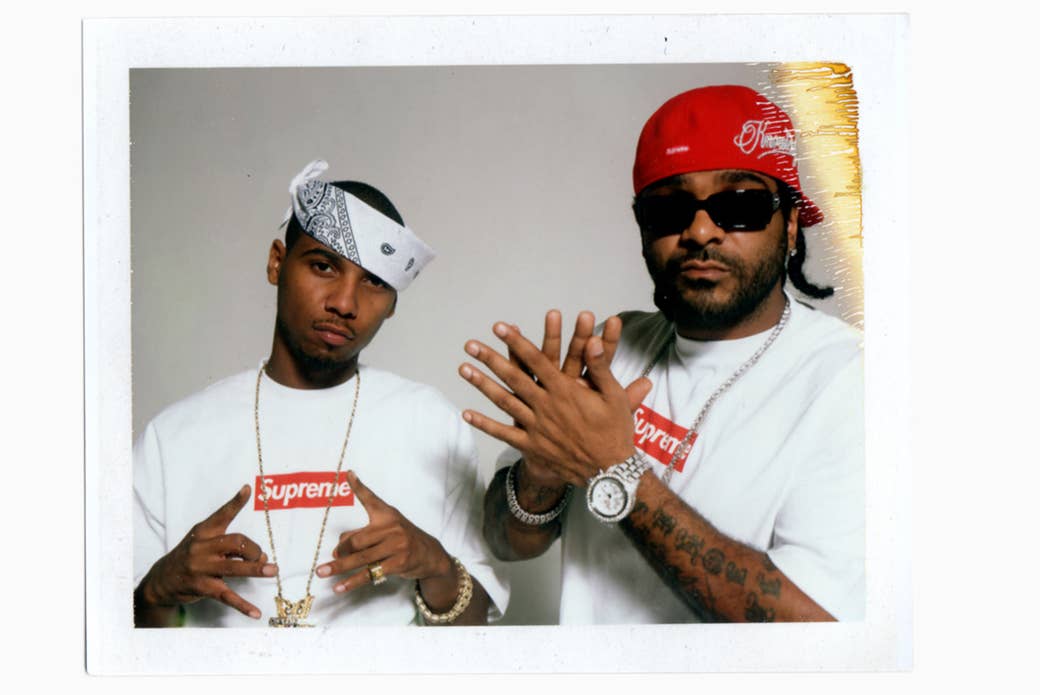 Supreme recognized this. While their focus had always been on early music pioneers across genres—jazz extraordinaire Miles Davis, British post-punk's Joy Division, hardcore punk's Bad Brains, even New York hip-hop's Wu-Tang—they took a contemporary turn by working with Dipset. The execution was perfect. Juelz's signature bandana. Jim Jones' signature smirk. The excessive jewelry. The essence of Dipset's "we don't care" attitude was captured and will live on immortally. The beauty of the tee is that it spoke to two very distinct groups at the time. On one hand, you had a generation of hip-hop enthusiasts who could rap along to every word on every Dipset mixtape, including the interludes. On the other, a generation of streetwear enthusiasts who prostrated at the glass door on Lafayette Street in SoHo, pining for the next exclusive T-shirt. While the two groups are not mutually exclusive by any means, the Supreme collaboration with Jim Jones and Juelz Santana brought them together in solidarity for an unprecedented collision of cultures.
A week after the drop, and after checking my tracking number every half hour on the hour, it arrived. My Supreme "Dipset" T-shirt in lilac. Not my first choice, but the color I grew to appreciate as it was definitely Dipset-approved.
To celebrate the 10-year anniversary of the amazing Supreme x Dipset collaboration, we spoke to the venerable Jim Jones about the day of the photo shoot, the Harlem movement his crew so very much pushed, and how he feels about Supreme today.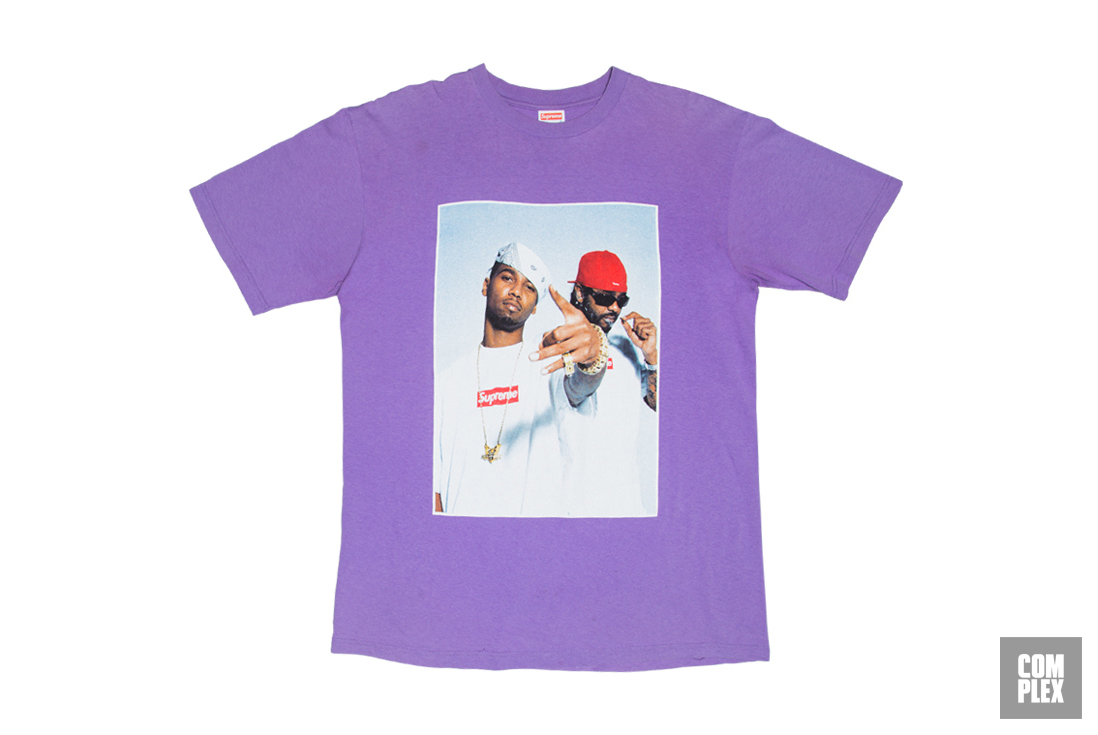 It's 2006, Dipset rules the New York hip-hop scene, and Supreme is doing the same with the New York streetwear scene. What was the immediate impact that the collaboration had on you, on Dipset, and on the Harlem movement?
I didn't know who Supreme was when we did the photo shoot. A white boy called up, said they wanted to do a T-shirt. They said they had did a T-shirt with Kate Moss and they wanted to get some pictures with the Dipset. They had a check. They had cash—and I like cash—I didn't know how impactful the T-shirt was and how impactful Supreme was at the time for the underworld market that they ruled over. They had kind of hyped me to the history of the movement when I was at the photo shoot. Since then, it seems like Supreme has taken off 100 times stronger than 10 years ago and I tip my hat to them 'cause they really a dope ass brand in the way they do their business.
I think from their point of view, they wanted to turn the tide and bring Dipset in because of how popular you guys were.
They were smart. They were smart and very strategic. They knew what would stick, you know what I mean? And Dipset was something that definitely was gonna stick.
"But to tell you the truth I didn't even like the T-shirt they gave us. The way it fitted was good, but they was a regular, $3 T-shirt."
At the time, it sounded like you agreed just because they had the check, right?
Oh for us—for me—it was definitely about the added check. I think it was the same for Juelz, as well. We weren't really into skate culture like that. We didn't know too much about the skate culture, you know what I mean? So, it didn't really hit us like that. We knew definitely the kids in the suburbs loved who the Dipset was and for that, for that fact alone, the T-shirt kinda hit.
Let's talk a little bit about the process. Do you remember what some of those initial conversations were like before the actual photo shoot?
"Um, somebody got like 14 thousand for you to take a picture." I said, "To take a picture?" They said, "Yeah." I said, "Cool. When is it?" That was the initial conversation. With artists of our significance, you don't really have too many points of conversation with people that's tryna do business with you. You also have people in the middle, such as managers, that set the deal up. We just landed in the spot, looked good, and got out of there. But, in the midst of all that, when we got there, we kinda learned about what Supreme was. So it was a good experience, but for us, it was just part of the game. Making more money and quick cash hustle.
How was it working with the photographer, Kenneth Cappello?
Nothing we ain't do before. I guess we not like the average person that rocks with Supreme at that point, we wasn't lobbying for a spot. We really didn't know about it so we really didn't care about doing a T-shirt or whatever with Supreme, you know what I mean? It was a great thing that kinda happened and I'm grateful for what happened.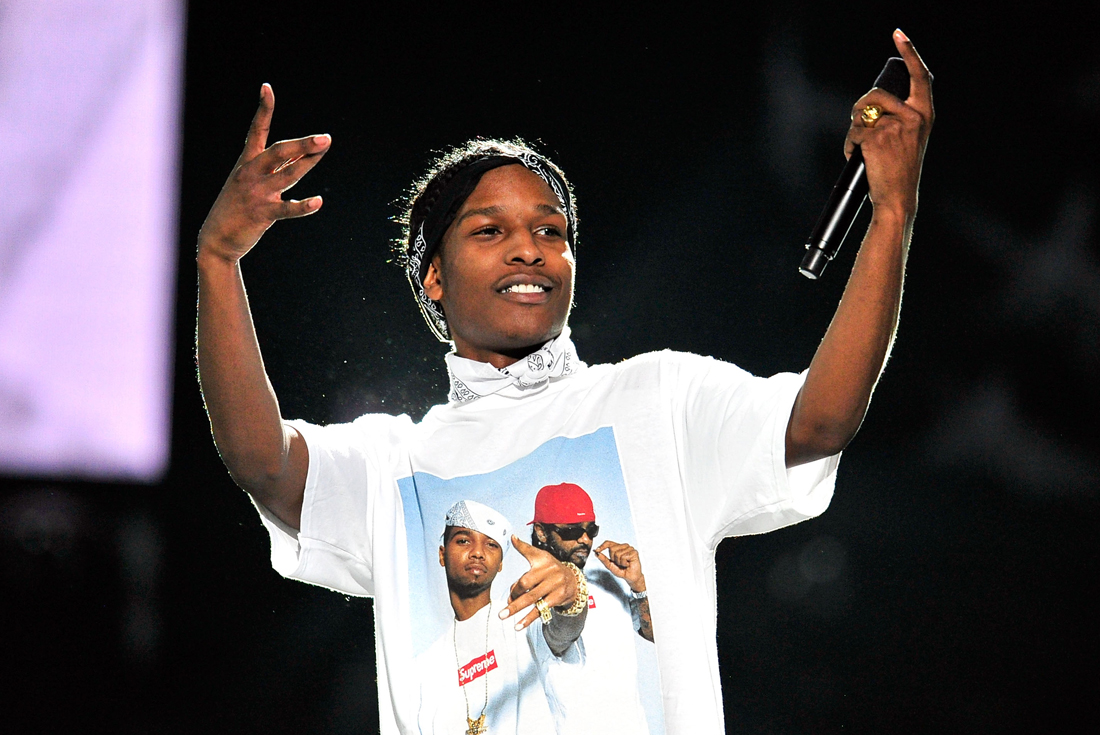 That's kind of what Supreme's mantra is: "We don't care about what anybody thinks, we just do our own thing." That definitely speaks to what you guys were doing for hip-hop. It meshed with their message.
Yeah, I guess. You know, Supreme is like any other company. They deal with who's hot and who they can make the most money off of, but they still charge me for sneakers every time I want some Supreme Jordans or if I want an item from Supreme, you know? They might give me a discount, but they ain't throwing nothing at me. So, it's the same difference. We might've had the hottest T-shirt they ever did, but they ain't paying homage. The way I take is that it was a business deal. It was great for the moment but I ain't get no residuals off of it. You know what I mean? They ain't paying me no money off of each shirt that they sold, so it is what it is.
How did you guys feel like the photo came out? Were you happy with it?
I mean it was just a regular photo shoot. Some young ass kids, with some big ass shirts that says "Supreme" on it. But to tell you the truth I didn't even like the T-shirt they gave us. The way it fitted was good but they was a regular, bulls**t $3 T-shirt with just some red and white print going across it that said "Supreme." Their fitted was actually dope, though. The New Era fitteds that they had, they was really hittin.' Our T-shirt was just dope because it was a dope visual of Dipset at that time. People love to see us jokin' and it kind of embodied Dipset at the time; a lot of jewelry, ignorant—you could tell the ignorance through the photo. Pretty much the same thing that we do now, but we a little more mature with it.
Did interaction with Supreme and what you learned from Supreme inspire your skate team, Dipskate, at all?
Nah. It was a whole different thing. I wasn't versed in the culture at all. I was versed with the making money off extreme sports 'cause I always was a fan of riding BMX. Everybody used to do that when I was younger, racing and freestyling, playing on skateboards. As we were doing Dipset and started to notice the different cultures that were embracing us, we knew extreme sports was definitely one of them 'cause a lot of the BMX kids tell us how influential our music is to them. I didn't have no "in" on skateboarding and I didn't have no "ins" on the BMX side. But one of our interns had a friend, and these guys were rollerblading at that time—rollerblading was kind of dope, or maybe not—but it was kind of popular for what it was doing. People would try and take it to different heights, so I took a stab at trying to grab onto something in the beginning of it. Dipset tried to give them a push, which it kind of did. If rollerblading would have got bigger, we might have been in the beginning of something dope. That was a stab at something. 
What else do you want to say about Supreme or about the experience?
It wasn't really no experience, but it was dope to be able to do something that kind of resonates in history. Especially for hip-hop culture and pop culture, period. People from all walks of the world appreciate that piece of art, that photo—not just on T-shirts—but the photo itself. And I'm grateful for the opportunity. I respect Supreme for what they're doing. I continue to congratulate them on their success and you know, we here. Maybe we do a 10th anniversary picture all over again. That would be dope.