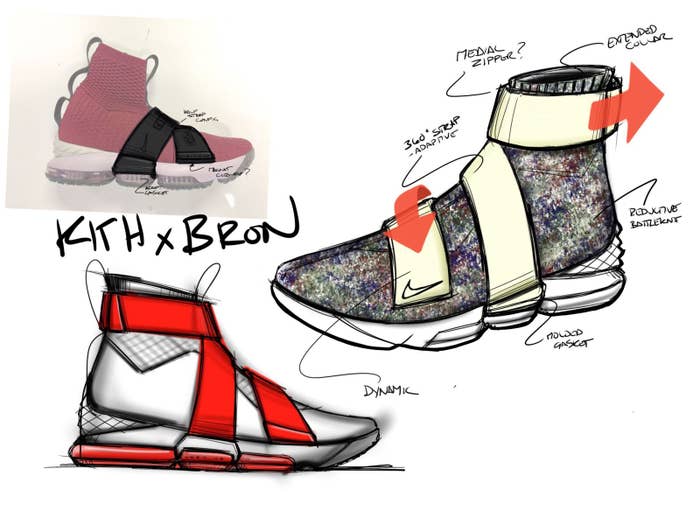 It started with a meeting. Well, it actually started long before that, with a phone call, but what really kicked off the KITH x Nike LeBron partnership, that drops this weekend,was a meeting, one that brought Team KITH, Team LeBron, and Nike Basketball together in one room in Nike's Beaverton headquarters for a day-long brainstorming session. No one can quite name everyone who was there, there were so many people—so many, LeBron designer Jason Petrie recalls, that they had to basically rush Nike's notoriously tight security turnstiles just to get everyone in. That 9-to-5 session was followed up later with three days of the same at KITH's offices in NYC. A LeBron boot camp, if you will.
The results speak for themselves. Three shoes release this weekend, a subtly tweaked rose gold 15 game shoe that James debuted on Christmas day, and two colorways of an off-court model built on the game shoe tooling, featuring a strap system that locks onto the center airbag and allows three different looks—full strap, half strap or no strap at all, taller and refined Flyknit upper pulled snug by a curved Riri zipper on the medial side.
Actually, what it really all started with was a story, one that Fieg came up with and—through Petrie—he was able to tell. "To me the most important part is the concept behind the project," Fieg says. "The concept was LeBron on- and off-court. We started thinking of the concept of LeBron winning on and off the court. LeBron is an idol to many millions, he's a great role model, he's an inspiration to many people. So on- and off-court we came up with this theme of a double-sided coin, where he has two faces, there's his face and the lion's face. That gave us the push to look at LeBron's product on and off court. That's really the concept behind the whole project."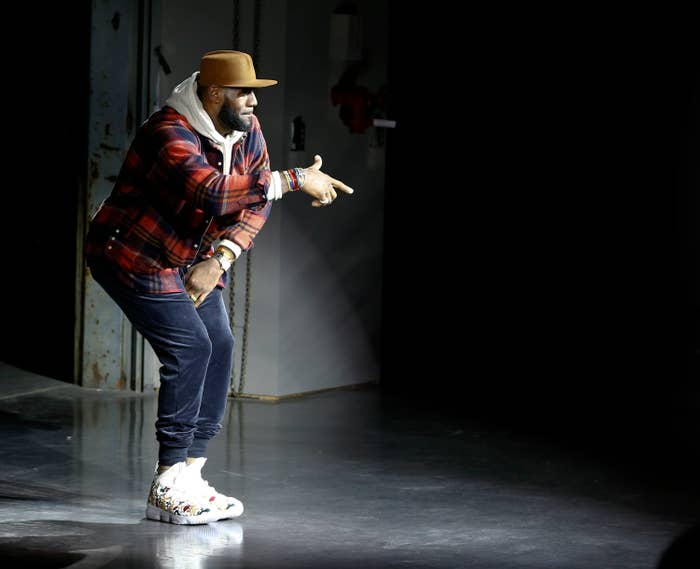 Beyond that, it was making sure that LeBron's accomplishments—he's currently having a career year in his 15th season—weren't taken for granted. This was a matter of giving him the flowers while he could still smell them.
Once the story was explained, the project expanded. "We weren't thinking of doing two shoes initially, at least from a Nike standpoint, and once Ronnie had that idea of a two-sided coin, we were like, well, we gotta do two shoes now," Petrie says. "That lifestyle shoe isn't just taking the tooling and putting some kind of bullshit foot covering over the rest of the shoe, that's engineered, that strap is a ton of thought and time to put that thing together. The idea is crazy. There's a whole new knit. They really challenged us to push ourselves too—it's basically a brand-new shoe in a lot of different ways. We actually had to take away a model from another category in order to build that shoe. The whole point of doing this was to fulfill the vision and let Ronnie and team go wild and show the world this story that he had and how could we help him tell this story."
The conversations between Team LeBron and Team KITH had actually begun long before that first meeting, but the product wasn't quite right. "We initially wanted to do something on an old version of the 14 that got scrapped along the way," Petrie says. "But that got the conversation started in a real way, and then the 15 came along."
"The first time I saw 15 was close to two years ago," Fieg says. "And when I first saw it I believed it was something very unique and different from anything I had seen from Nike Basketball. I wanted to work on a product that I believed would transcend the street and at the same time be cutting edge for the actual performance side on the basketball court. I believed the 15 was that shoe. The 15 quickly became my favorite LeBron shoe, I told LeBron that. I believe that it's the best LeBron shoe yet, the best shoe of 2017, the best silhouette to release in 2017."
In that first meeting, Petrie and his team laid out virtually all of the material he had on the 15, from his earliest sketches. That's where Fieg landed on the basis of what would become the lifestyle version of the 15.
"Going through all of the designs that Jason Petrie had for the 15, before he landed on the 15 itself, we found this upper that had the shape and the height that I thought was very interesting," Fieg says. "And that was the starting point. We re-imagined that upper completely, we changed it up. It was important for me to keep the DNA of what Jason had designed with the 15 and what his intentions were, because I liked it so much. The biggest decision we made was to keep the tooling of the 15 for the 15 lifestyle shoe, because that had never been done for LeBron."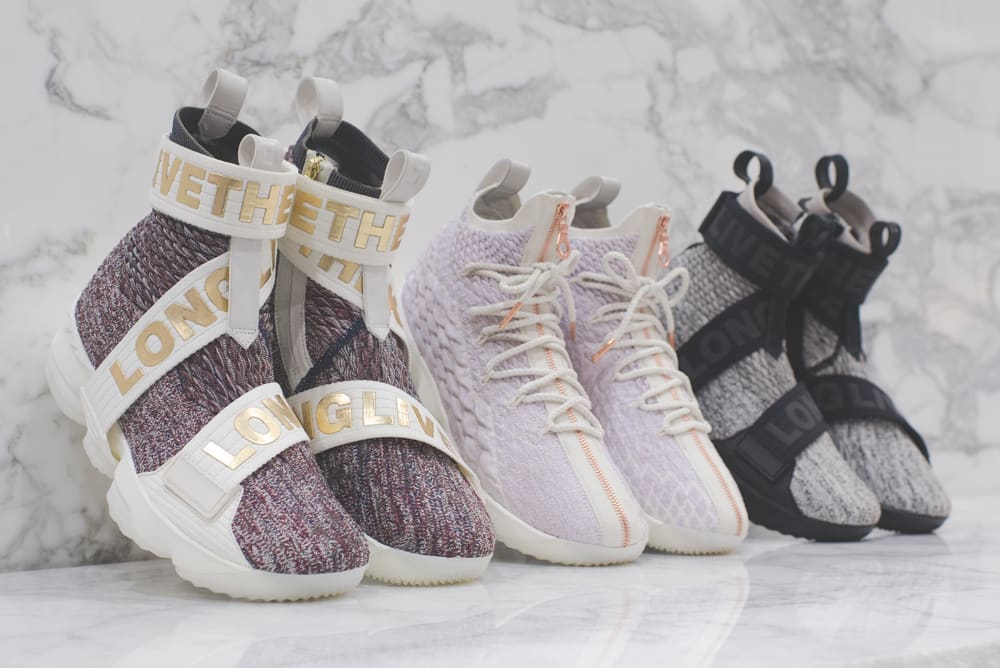 What has been done for LeBron previously is better left in the past—"lifestyle" shoes with no basis in his signature line. In fact, before the 15, Petrie and James had resigned themselves to LeBron's lifestyle being tied into retro. But this was something different. "With the early stages of the 15 it was something you could tell, if we did it right, if we finished it right, he was going to want to wear that thing outside of the NBA court situation," Petrie says. "It was new, it was different, it was pushing the boundaries."
With Fieg onboard, the realization was that they could push the boundaries even further. "The dream scenario was Jason telling me, 'Look, we want you guys to go to the edge with this one, and I want you to think of anything you can possibly imagine to do to the shoe, and we'll make it happen,'' Fieg says. "The strap wrapping around the airbag on the bottom of the shoe, I never thought that would be possible. We kind of went left with it, then Jason's brilliant mind made it come to life. I think the combination of both of us is really strong, we bring two different perspectives to the table."
Both Fieg and Petrie took things from the process, each taking from the other side of the table—Fieg in working on a performance shoe, Petrie in building something for the lifestyle side.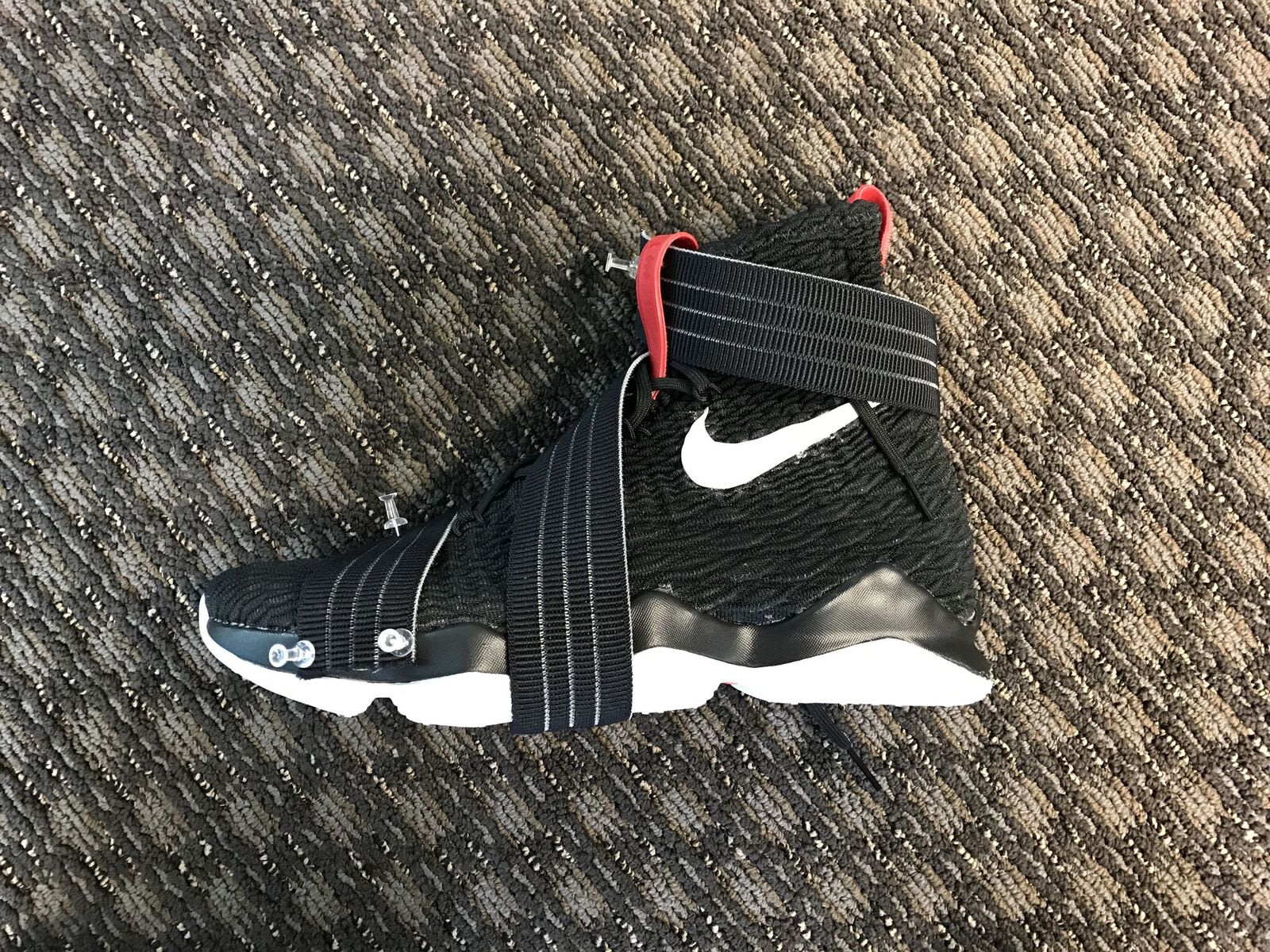 "It was challenging to us, because not only was this our first time working on Flyknit, but it was our first time working on a performance Nike shoe," Fieg says. "So there's a different type of approach. In terms of color—because you know how important color is to me—we sampled so many colors and variations of the upper, because I didn't know how it would execute, it's very different on screen. To me that was the difference maker. When you look at the shoe, it looks like an animal, to represent the beast LeBron is on the court."
"Coming from the 7, it almost feels like designing shoes in the 1800s compared to where it is now, both in consumer and how we build shoes," Petrie says. "I've never done that as a designer, a full-on, 'let's go, hand over the reins' collaboration where you really think different.  It really opened my aperture up, my team's aperture up to what we could do, and it showed LeBron we're capable of doing a lot more than we've done for you n the past, It's really going to change the game for us going forward."
Whether that means more KITH/LeBron collaborations is yet to be seen (although there is still more to come with the 15). But if the collaboration does continue, there is no lack of ideas.
"It was fun," Petrie says. "There were some times when I got scared from a standpoint of 'are we really gonna do that?' But with this sort of project and the leeway it gave us to swing for the fences, that's how we got to new knits, that's how we got to a strap that wrapped around the airbag. And I'll say this, we tried some stuff that was even crazier that we couldn't quite work out—maybe we'll get it in a future collaboration."
And if there isn't one for whatever reason, Fieg made sure his team didn't hold anything back this time around. "With this particular project, we just spent so much time making sure that the product was perfect," he says. "I feel like it's an evolution of the performance product to give the people what they want and how they want to wear it. That's what we tried to bring to the table, because you have to bring your best to work with the best."