The all-new LeBron 15, which released yesterday, is a technical marvel, even by Nike Basketball standards. It's not only the first Flyknit LeBron, it introduces a proprietary form of FlyKnit—dubbed Battleknit—developed exclusively for LeBron James. The sole unit? That was designed specifically for LeBron too, complete with an all-new articulated Max-Zoom hybrid airbag. But forget all that new stuff. Let's talk pulltabs.
Yes, pulltabs. There are two, one on the front (where the tongue would be, if it had one) one on the heel, making the shoe all the easier to slip on. The stretchy material that makes up the collar helps, too—apparently they learned from the difficulties some had with the KD9. But it's the pulltabs themselves that are interesting. Made from leather and embossed with LeBron-centric graphics, they're a rustic touch on an otherwise futuristic shoe. Oversight? No. Like everything else on the shoe, they serve a purpose. The leather may be heavier than some futuristic weave, but it adds a bit of handmade elegance. Plus, James doesn't have to worry about a few extra grams.
The shoe was designed by Jason Petrie, who has been entrusted with the Nike LeBron line since the VII, where a full-Max sole marked a decided shift in the LeBron design aesthetic. It evolved from there—the 8 with its "South Beach" launch colorway, the highly technical 9, the Zoom-Max bagged Hyperfuse 10. And then—then things got a little weird.
It's not that LeBrons 11 through 14 were bad exactly, but styles were changing, and high-tech basketball shoes were no longer in vogue. (Basketball shoes in general have been falling out of favor in recent years, which hasn't helped.) And designing shoes for LeBron James is hard. He's a huge person who moves in ways a huge person is not meant to move, which means "normal" basketball shoes were not going to work. Minimalist footwear? No chance.
That is, until now. Technology has finally caught up with the things LeBron is able to do—even now, entering his 15th NBA season. So Petrie got with the knit team and cooked up something new. Completely new. We caught up with him to find out how it all came together.
The following interview has been edited and condensed.
This represents a pretty big sea change in the LeBron line. How long have you wanted to use some sort of knit in a LeBron shoe?
Since before anybody knew what knit was, when Nike first started figuring it out and we saw samples here and there. It took me a minute to understand what was going on, but then as soon as you wore it and got the benefits, you were like, "Man, we gotta figure out how to make a basketball shoe out of this, first off." Obviously they worked on the Kobe line, started building a version that broke a lot of ground—but building a shoe for LeBron is kind of different from building for any other basketball player—his speed, his strength, that combination—force, mass, acceleration; LeBron does that differently than anybody. We wanted to do it forever, it just took a while for the technology and the technique to catch up to what we needed it to do.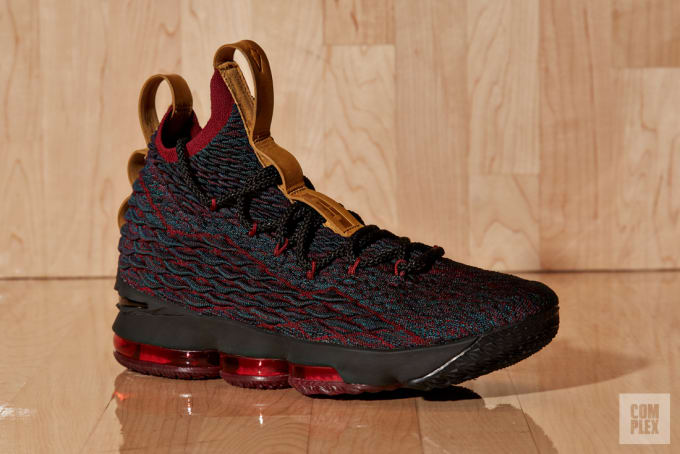 I can imagine LeBron wearing different samples and shoes literally exploding off of his feet.
Well, he gets everything [Nike makes], so if he sees something that he likes he's going to try it out. He certainly works out in Flyknit shoes, running shoes, training shoes—whatever. He's even played in Kobes, Flyknit Hyperdunks; testing technologies out just for himself, "Maybe this isn't enough for me, but I like this, this, and this." Giving us feedback so we can integrate that into this solution we're trying to build for him.
What is the process with the upper, is it to build something super-strong and scale it back, or are you trying to hit some certain magic sweet spot from the start?
From all the learnings that we had from Flyknit the first few years that we'd been doing it, we started there. We knew we had to have flexibility and stretch so that you could to get into the shoe, we didn't want that to be a problem, but we also knew that we needed containment to really hold his foot in place and give another layer of protection in critical areas. So we needed a knit that was zonal, which we knew we could do, but then how you fill those zones in, how you knit that on a machine, and how you do it in the time we needed to do it in, all that was thrown on our knit team and they're literally geniuses.
We met with them iteration after iteration, and we saw a structure that they came up with and we're like, "Oh shit, that's it, that's the one right there." It's crazy, it's the one you see now: those big scales along the rand, it just had that feel of protection and muscle, we were able to make it non-stretch, we were able to back it.
LeBron looked at all that stuff until we finally got it into something like an actual shoe that he could try on, that he could look at and see the benefits of it—it took a while, it takes a long time to get the Flyknit right. We actually had to knit this shoe in a completely different direction than any other Flyknit shoe we've ever done before to get to the solution, so it really required a lot of advanced thinking on the knit team's part and patience with the design team from changing it all the time. LeBron saw the benefits immediately, when he saw the extra protection in those critical areas around the shoe, whether it be a little more durable in the toe, a little bit of added bulk around the rand, just those different zones and layers and how the shoe tapers as it goes up the foot—he immediately got it.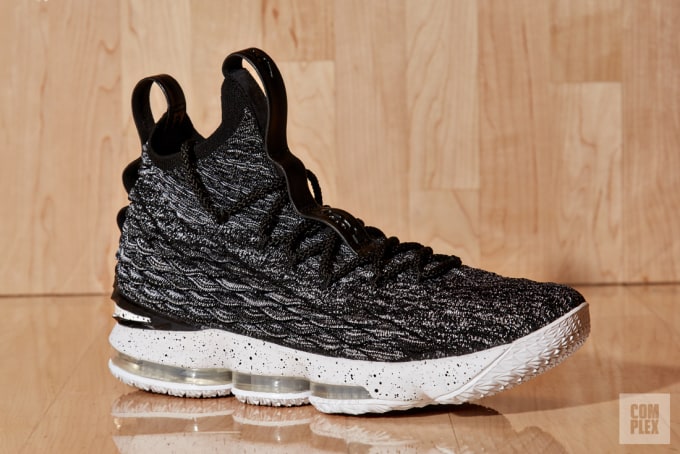 And then the sole unit of the shoe, when I first saw it I thought, "That's a KD sole unit on steroids." Where did this design progress go from—was it top-down, bottom-up, or both at the same time?
It was working from both ends. They were both on the same timetable in some regards. The airbag—we were originally trying to do something around VaporMax, that type of thing, and as we built it for basketball it wasn't really working. But we had been working towards this new Air Max, especially for LeBron, for a while, because he was asking for it. If you remember the LeBron 10, it had a full-length Air Max Zoom, which LeBron will tell you is his favorite ride underfoot. There's a lot of things we loved about that bag, but it was too bulky and not as flexible as we wanted. So we went down this path of getting him a little lower to the ground, getting a little more flexibility into the shoe whether it was with Hex Zoom or even the full-length Zoom and the Lunar in the 11, all to figure out what he liked, what performed better. And all that data we put together to build this Max bag, which is basically an iteration of the 10, the Hex Zoom bags, all those things we learned over the last four or five years. This is built for impact protection, it's a little more zonal, there's more Air in the Zoom bag, and it has this unique combination of Air Max and Zoom.
As a designer you've worked with LeBron longer than anybody. How has he changed or how has his input changed since you started working with him on the 7?
Our relationship has grown obviously, so he's more comfortable with me and I'm more comfortable with him as far as proposing stuff or him giving direct feedback. He's also had a lot more experience with shoes in that time so he knows a lot more, he's pretty much a designer at this point. He knows how valuable his input into the shoe is, and I think that just builds over time when you have trust in the team and you just open up more, and I think the shoes reflect that.
Do you find him asking for different things now then he was asking for back then?
Yeah, and actually kind of surprising stuff, like he keeps wanting to get lower and lower. The dip in the top line of the 14, and the 15 really just having kind of a sock around the ankle—we used to build, if you think about the 2, the 3, the 4, his shoes had wraps and kind of bulky hold-him-in, that's kind of our old thought on protection and containment. But really LeBron is driving us down to a sleeker, lower, ultimately more wearable off-court silhouette, but it's driven by what he's wanting on court. I think the Soldier 10 showed him and all of us that he can play in less than we thought he could. When he pulled that thing out in the Finals and did what he did, we were all like, "Whoa, hold on now maybe we don't have to have as much on the shoe," and gave him confidence as well. And that really kicked us into this phase a little faster than we would have gotten here normally.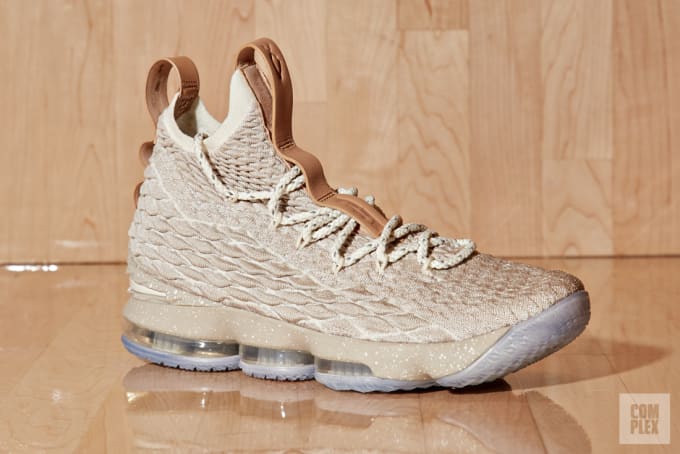 I assume you've been down in Cleveland with LeBron for these, have you gotten a chance to talk to Derrick Rose?
[Laughs] No, I haven't. What's crazy is that I love Derrick Rose, was such a big fan of his, that I actually did an interview a long time ago where I said he was one of the guys I would have loved to do a signature shoe for. And I think it's awesome. I think it's gonna be great for Cleveland, I'm excited to watch him play and see what goes down. It's definitely a great pickup for them. It's just crazy how the universe works sometimes.
I don't even want to ask what you're working on now—probably the 16 and more Soldiers.
Yeah, so hopefully as long as LeBron keeps me rolling we've got the 16, 17, we're thinking up a long way for the guy because we hope he's gonna be around a while and we've got a great team in Innovation working on solutions for him for down the road, so I'm actually really excited where the next three are going. They're all crazy.