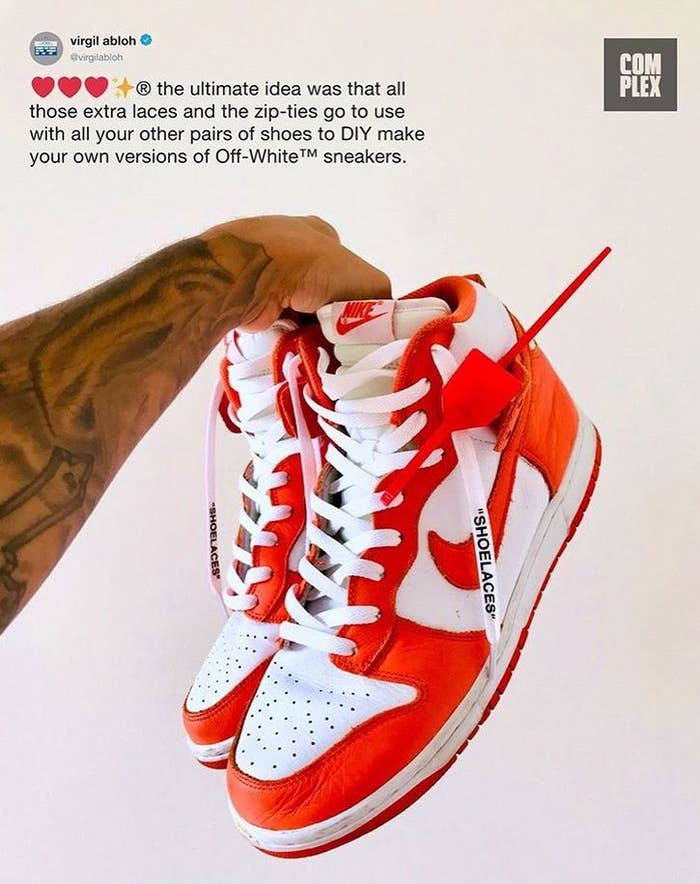 Whether it's DIY dyeing sneakers like the Air Presto and Air VaporMax or creating a homemade version of the "MCA" Air Force 1, Virgil Abloh has been encouraging customized variations of Off-White x Nike sneakers since the collab's early days. In fact, according to Abloh himself, the entire point of the collection's extra laces and zip tie accessories are to allow owners to try their own hand at the Off-White theme.
"The ultimate idea was that all those extra laces and the zip-ties go to use with all your other pairs of shoes to DIY make your own versions of Off-White sneakers," Abloh wrote in a tweet reply to an image of "Syracuse" Nike Dunk Highs equipped with the signature Off-White elements.
It's worth noting that the quotation-printed laces and plastic zip ties aren't limited to Abloh's Nike collaborations. Similar items come with many of Off-White's in-house sneakers as well as work with brands like Timberland.
While reactions to Abloh's tweet are mixed, a number of users replied with their own takes on the concept, some of which are included below.