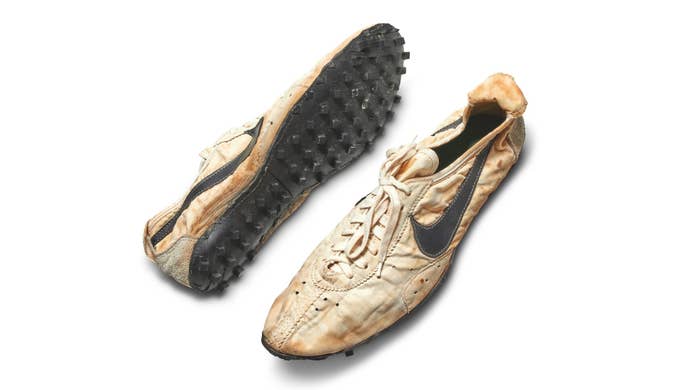 Stadium Goods and Sotheby's teamed up last week for the "Ultimate Sneaker Collection" auction, a decades-spanning lineup of 100 of the rarest sneakers in existence. Days after the auction was announced, Canadian entrepreneur and investor Miles Nadal purchased all but one shoe, dropping a total of $850,000 on 99 of the 100 pairs. Left behind was a piece of footwear history: an original Nike Moon Shoe from 1972.
Believed to be the only unworn pair in existence, the 1972 Moon Shoe is a true relic and features one of Nike co-founder Bill Bowerman's most famous innovations, the waffle sole. Prior to the auction, Sotheby's estimated that the vintage shoes would sell for somewhere between $110,000 and $160,000—quite the underestimation. 
Today, the Moon Shoes sold for $437,500, more than half of the grand total dropped by Nadal to obtain the other 99 pairs of the "Ultimate Sneaker Collection." The shoes were provided to Stadium Goods and Sotheby's by Shoezeum founder Jordan Geller, who says it's the most expensive sneaker sale ever.