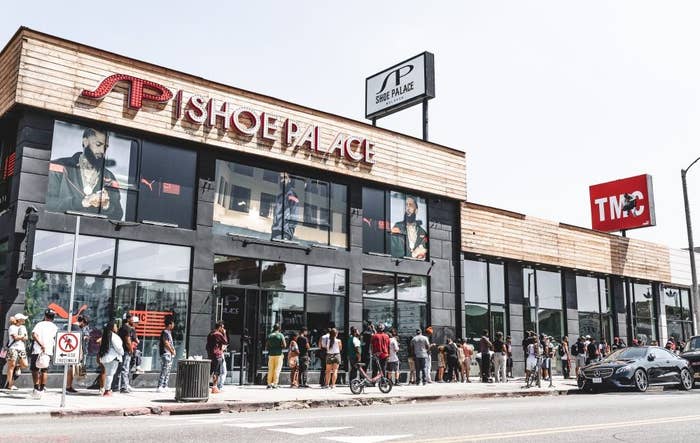 UPDATED 8/13 4:35 p.m. ET: Shoe Palace has issued a statement following the fatal shooting of employee Jayren Bradford at its Melrose Avenue location.
Our Shoe Palace Family is heartbroken over the senseless act of violence that took the life of Jayren Bradford. A loving son, brother, friend and team member Jayren was a light in any room he walked into. We ask at this time to respect his family and friends as they navigate through this traumatic event. As an organization, our focus remains on Jayren's family.
A 16-year-old was arrested yesterday in the shooting.
See original story below.

UPDATED 8/12 10 a.m. ET: New details are emerging from the Melrose Avenue district of Los Angeles, where police confirm a man was shot and killed yesterday following a sneaker-related dispute.
KTLA5 reports 26-year-old Jayren Bradford, an employee of Shoe Palace's Melrose location, was the man who was killed. Homicide detectives believe the shooting, which reportedly took place yesterday around 12:30 p.m. PT, occurred after Bradford attempted to break up an argument over a sneaker raffle. 
"Jay[ren] came from his car and he confronted them saying, 'What's the problem? What's the deal?,'" Bradford's co-worker Keyshawn Williams told KTLA5. "Then everybody shifted their aggression towards Jay. And they were here with other friends, so they all surrounded him and that's when he was shot."
Bradford was reportedly rushed to Cedars Sinai hospital where he was pronounced dead.
According to KTLA5, Bradford lived close to the Shoe Palace store and had just started working there within the last few months. The outlet says he had ambitions of becoming a musician. 
Police are seeking a suspect described as a Latino man with short hair in his early 20s. He is said to have left the scene in a sedan.
See original story below.
A bleak story is unfolding in the Melrose Avenue district of Los Angeles this afternoon after a deadly shooting at a Shoe Palace store. Several firsthand accounts of the incident on social media describe a shooting at the Shoe Palace location on Melrose and Genesee Avenue. 
Sources on the scene have confirmed with Complex that the deceased was a Shoe Palace employee.
The suspect, who is alleged to have fled the scene in a vehicle, has not been taken into custody.
Shoe Palace and the LAPD Wilshire Division Police Station did not immediately return a request for comment. Check back for more updates on this developing story.