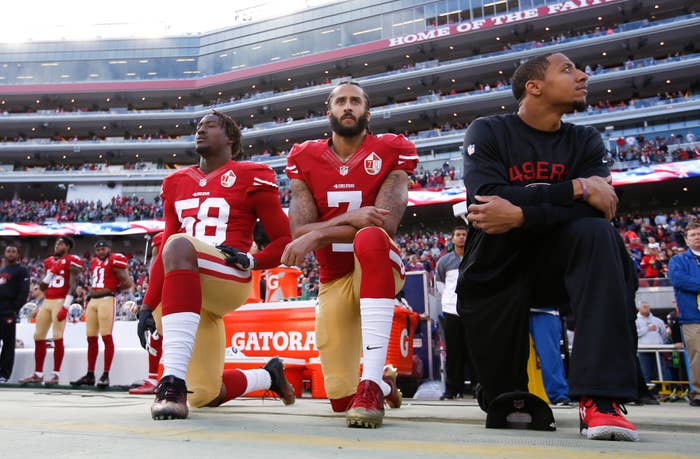 After staying silent on the matter thus far, Nike left no questions about where it stands in the ongoing debate over the NFL's National Anthem protests by aligning itself with Colin Kaeperneck. Putting Kap front and center for the 30th anniversary of the brand's "Just Do It" campaign made it clear how Nike views the matter, and unsurprisingly, the stance was met with a near-immediate reaction on social media.
With Week 1 of the NFL season looming, the already-heated National Anthem debate grew even more intense after the campaign surfaced. Detractors were quick to jump on social media to share images of burning Nike sneakers and chopped up socks and gear, with many proclaiming they'll take their money to competing brands.
But despite talks of a boycott and some investors deciding to off their shares—which were down 3.2 percent today—experts say the Swoosh's decision could pay off in the grand scheme of things.
"This is right on the money for Nike," CEO of strategy consulting firm Vivaldi Erich Joachimsthaler told Reuters. "They stand for this irreverent, rebellious attitude. In this case, it's reinforcing the brand."
In response to the controversy, a Nike spokesperson shared the following written statement with Sole Collector: "We believe in the power of sport to be a transformative agent. At Nike, we support our athletes on and off the field."