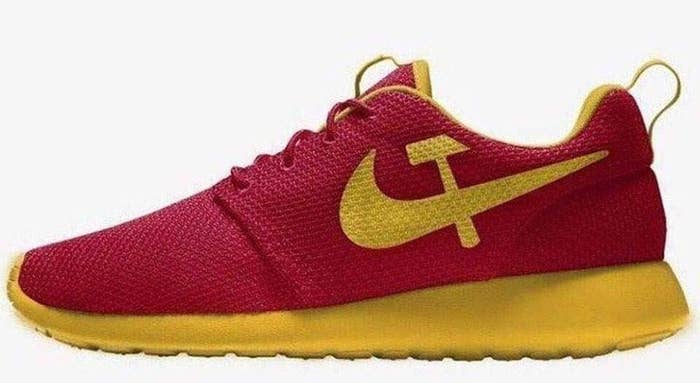 Nike's canceled "Fourth of July" Air Max 1 has been the talk of the sneaker world this week. After Colin Kaepernick reportedly persuaded the brand to nix the holiday-themed release due to its Betsy Ross flag embroidery, Nike's decision reverberated beyond the footwear industry, with Governor of Arizona Doug Ducey going as far as to pull funding for the Swoosh's planned move to the state. Now, Nike's cancelation is making even more noise in the political sector.
None other than Donald Trump Jr. took to Twitter early this morning to share his two cents on the matter. "If the Betsy Ross Flag, the flag of the American Revolution, is too offensive for Nike to commemorate The 4th of July maybe Nike should go with this... seems to be more in line with their views," Trump Jr. wrote, alongside a Photoshopped image of a Nike Roshe altered to resemble the Flag of the Soviet Union's hammer and sickle.
Trump Jr.'s reference is of course an allusion to the USSR's far left leanings, notably its connection to communism and socialism, suggesting that Nike's choice is in line with the political climate in Soviet Russia. What the president's son's tweet seems to ignore, however, is the fact that his father was the subject of an investigation regarding collusion between Russia and Trump's camp prior to the 2016 Presidential Election.
The "Fourth of July" Air Max 1 was scheduled to officially release Monday, but reports surfaced shortly thereafter indicating that former NFL quarterback turned social activist Colin Kaepernick had asked Nike to reconsider the release, stating that he and others found the flag offensive "because of its connection to an era of slavery." The sneakers were then pulled from retailers and later from secondary markets such as GOAT and StockX, where the shoes had been reselling for over $1,000.
"At GOAT Group, we serve a diverse community of over 15M members. As the largest sneaker marketplace in the world, the safety and integrity of that community is our utmost priority. We understand the potential for the sneaker to be seen as offensive, and have since removed it from all of our platforms," GOAT said in a statement. 
President Trump has yet to acknowledge his son's tweet.