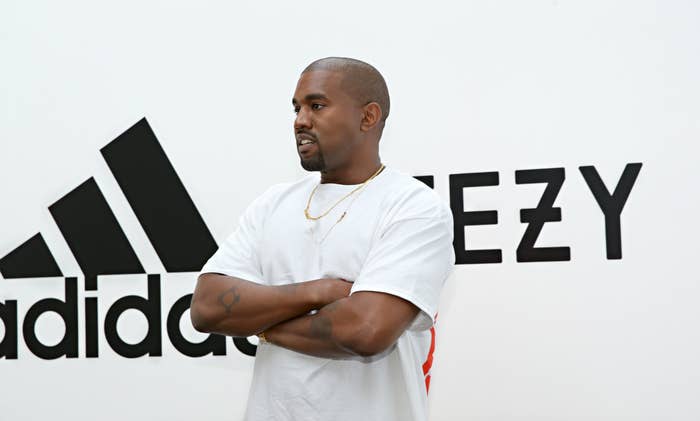 While Yeezy resell values have taken a hit in recent months for a number of reasons, Adidas says things are as fruitful as ever behind the scenes.
Adidas CEO Kasper Rorsted called into CNBC to discuss the brand's quarterly earnings, its reaction to the U.S. midterm elections, and of course, Kanye West's whirlwind year. Many outlets have speculated that West's controversial politics (and recent social media backpedaling) had an effect on Yeezy sales, but Rorsted insists that's not the case. 
"We had a very strong third quarter in our Yeezy line," Rorsted said. "We expect to continue strong business with Kanye West also in the years to come. So far, we've seen absolutely no slow down in the Yeezy business and in our collaboration with Kanye West."
When pressed to elaborate on West's Trump-friendly political stance, Rorsted took a neutral stance. "If he stays away from politics, that's his choice. We don't sign up to all of the statements he makes, we sign up to the creative work that we jointly do, which has been extremely successful for both parties," the CEO said.
UPDATE (05/03): In a recent interview with CNBC, Adidas CEO Kasper Rorsted was once again questioned about the polarizing political views of one of the brand's biggest ambassadors, Kanye West.
"I think you need to look upon what you're signing up [for], and I know Kanye quite well. He's a fantastic creative force. He has his own opinions. We don't always stand to his opinions. But there's no doubt that for both sides, it has been a great relationship. And overall, on the bigger picture, we've been super happy with that relationship. We don't always subscribe to every opinion he has, but it's not something I worry about when I wake up in the morning because he's been a great addition to our brand. Not only in the U.S., but in China, in Russia, in Latin America. These celebrities are global brands."
Check out more of Rorsted's interview, where he also discusses the brand recently adding Beyoncé to its "dream team," below.