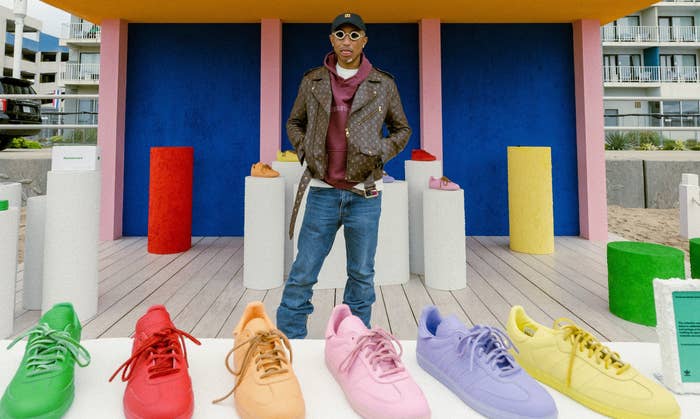 A 10-year partnership with a brand is no small feat, even if the collaborator is Pharrell, someone who has been influencing how many of us get dressed and approach fashion for double that amount of time. So Pharrell still finding ways to elevate the projects he releases with Adidas in the ninth year of his partnership is something to applaud.

"I think he just keeps learning. He never really looks back," says Humanrace chief creative office Edward Robinson. "The guy is always moving forward and I think each project he does he's just adding to his database of references and knowledge. I don't think it'll ever stop."

Pharrell's collaborative relationship with Adidas kicked off in 2014 and has spawned everything from 50-colorway collections of Superstars to original silhouettes like the NMD Hu and Hu NMD S1 Ryat boot that have been met with varying degrees of interest in the marketplace. For his latest project, Pharrell reimagines another classic silhouette from the Adidas archive with a six-pack of Sambas.

The Humanrace Samba Colors collection offers a premium take on the casual low-top that first debuted way back in 1949 and has seen a resurgence in the lifestyle space as of late, thanks in part to collaborations from British designer Grace Wales Bonner. The overall adoption of "bloke core" style from certain groups on social media platforms like TikTok has also aided its momentum. Pharrell and the Humanrace team provided updates like fully leather uppers and leather laces usually reserved for dressier options, something Adidas doesn't typically feature on its footwear.
"It's elevated, but that should just be what we do to an object if we work on it," says Robinson. "The point of a collaboration is that you do something together that you would never do individually. We're focused on the details, getting the stripes right, the thickness of the leather, and I think the leather laces were the real touch at the end that kind of exemplifies that idea of material and craft."

The monochromatic yellow, orange, pink, lilac, red, and green colorways that make up the pack represent the typical color palette of Humanrace, but are also meant to accentuate the more minute details like stitching on the Three Stripes.

"The Samba is a tried and proven silhouette. I just wanted to work on the craftsmanship and see where we could elevate it," Pharrell told Complex at Something in the Water. "The colors actually really play a dual role in expressing where we're headed in terms of our color cards for product lines, but at the same time they make it a whole lot easier for you to appreciate the different details like the stitching on the stripes, you know? That's just different. You're not gonna get that anywhere. But you wouldn't have picked that up if it wasn't tonal."
All six colorways saw an exclusive launch through a beach hut pop-up at Pharrell's Something in the Water festival that took place in Virginia Beach during the last weekend in April (rain caused multiple delays and even a cancellation of the final day of the festival). Attendants got the first shot at the pairs, which retail for $200, a 100% markup from inline pairs of the indoor soccer sneaker due to the elevated materials used to construct it. Anyone who made a purchase was entered in to a raffle for one of four pairs of the friends and family "Humanrace Green" color scheme. But Virginia Beach will not be the only place to get a pair of Pharell's colorful Sambas. On Saturday, they will be available through various stockists around the globe.

"Pharrell has always been very brave about color and pushed us to do colors there we wouldn't usually do in our inline range. I think that's what makes this collaboration special," says Adidas senior product manager of collaboration Daniel Dramani. "The Samba is obviously a very democratic shoe. We didn't have a lot of special versions and I think that's really where he wanted to stand out, deliver the most premium Samba."

These Sambas are the latest extension of the Humanrace brand, which debuted with a skincare line in November 2020 and has gone on to expand into categories like essential apparel and footwear. Robinson says that the goal is to keep exploring ways that they can improve categories that feel authentic to Pharrell.

"It's Pharrell's product company, so it will always expand and move. We went into skin health first because it made such sense for him. We wanted to do it properly. We didn't just want to go in and then do 12 other things," says Robinson. "The collaboration with Adidas is almost like our Humanrace footwear product. I think we're starting to find a nice synergy between the two. We just want to go into each category, add our little Humanrace touch, and leave it better than we entered it. We want it to be a home where 15 years time now it's known for quality."
Of course, the other side of that equation is to make sure that these products are desired by the marketplace. That's a task that can be even tougher in the sneaker space these days given the volume of collaborations we see hit the market on a weekly basis. On top of that, there's the challenge of continuing to evolve a partnership that is almost a decade old. But Dramani remains hopeful that Pharrell x Adidas can still cut through the noise.

"It's always exciting and I feel like he definitely keeps us on our toes and asks us to execute things that we are a bit uncomfortable with," says Dramani. "Ever since the Superstar in 2015, that's what he has done so well to push our boundaries and move us into new spaces. So, you're gonna see a lot more of that in the future as well."