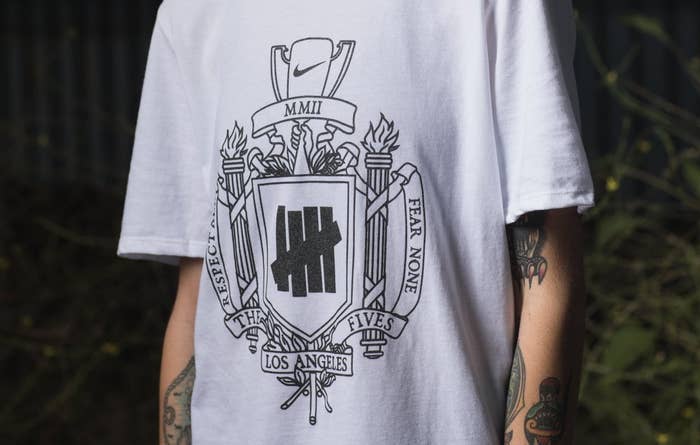 The logo for one of Nike's latest collaborations has drummed up a bit of controversy. Earlier this week, the soon-to-be-launched capsule of apparel with Los Angeles boutique Undefeated was unveiled. The issue is, the soccer-inspired drop to celebrate the beginning of the 2018 World Cup sports a new logo strikingly similar to the Naval Academy seal.
Undefeated tweeted out the first look at the logo for "The Fives" collection on Twitter this past Monday. The brand's signature five-strike logo is placed on a shield and surrounded by columns with banners reading phrases like "Respect All," "Fear None," "The Fives," and "Los Angeles." The logo is completed with a trophy extending out of the top bearing a Nike Swoosh.
This layout is almost identical to the Naval Academy's coat of arms that also features a shield surrounded by columns and banners. Subtle differences include a trident in place of the Swoosh-adorned trophy and a ship instead of the five-strike branding. 
Many users were quick to call out the resemblance between the two logos. 
The Naval Academy could be taking actions of its own following the reveal of the copycat seal as well. "Our legal department is looking into this and we don't have any additional info at this time, but we certainly noticed the similarities, too," Naval Academy spokeswoman Jenny Erickson told the Capital Gazette.
Nike and Undefeated's "The Fives" collection is slated for a special pop-up release this Saturday, June 16 in Los Angeles. There is no word if the launch has been postponed due to the recent controversy surrounding the logo. Nike has not responded to Sole Collector's request for comment at this time. 
UPDATE (06/19): Following backlash for the logo's likeness to the Naval Academy seal, Nike and Undefeated have canceled the release of "The Fives" collection. Nike has since issued a statement saying, "We recently were made aware of our logo being included into a design that has been previously used by one of our longstanding partners. We have always respected the US Navy and its Academy and have been a longtime supporter of the military," the Chicago Tribune reports.
"We do not feel it is appropriate to move forward with the collection. We apologize to anyone who was offended."