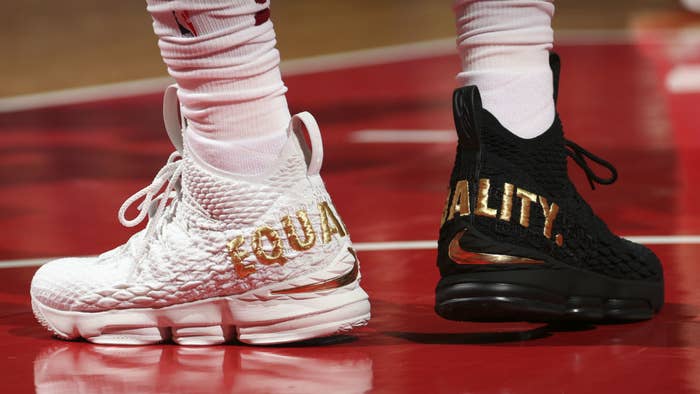 LeBron James' game-worn "Equality" Nike LeBron 15s are finally on display at the Smithsonian National Museum of African American History and Culture.
The pair was initially announced to be entering the museum at an event this past August. It appears in the sports gallery alongside the 16-year veteran's iconic "The Chosen One" Sports Illustrated cover. James famously debuted the mismatched pair last season during a Dec. 17 matchup with the Washington Wizards in the nation's capital. The powerful social justice statement from King James came at the perfect time as the country was (and still is) dealing with heightened racial tension partially due to the current political climate in D.C..
Later that year, Nike also raffled off 400 pairs of black and white versions of the "Equality" LeBron 15 that would raise $457,780 for the museum where Bron's pair is currently showcased.
"One of our main goals is not just collect things with significant historical background and importance, but also think about the objects that allow us to engage in the contemporary questions and issues that the nation is grappling with," the museum's sports curator Dr. Damion Thomas told USA Today.
James is in town this weekend with the Los Angeles Lakers, so hopefully he will get a chance to stop in and take a look his historical kicks in their new home.