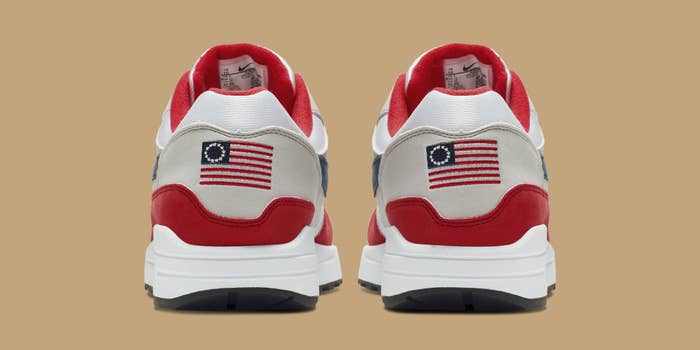 UPDATED 07/05/19 11:25 a.m. ET: Following his threat to cut funding for a future Nike factory in the state in response to the sportswear company pulling the controversial "Betsy Ross Flag" Air Max 1 from shelves, Governor of Arizona Doug Ducey was spotted wearing a pair of Nike sneakers at a Fourth of July party yesterday. 
In a statement to Darren Rovell, the governor's spokesperson Pat Ptak clarified that Ducey did not call for a boycott of Nike with his original Twitter thread. He wanted to highlight the importance of the flag, Betsy Ross, and its history.
Ducey still has yet to respond to Goodyear mayor Georgia Lord's announcement that the city will be moving forward with its initial commitment to provide Nike with a $1 million grant to help fund the future plant.
UPDATED 07/03/19 4:20 p.m. ET: After Governor of Arizona Doug Ducey chastised Nike earlier this week and cut funding for the brand's pending move to the city of Goodyear, the town's mayor has stepped in. 
Goodyear mayor Georgia Lord took to Facebook to share her thoughts on the matter, calling it a "difficult situation" and adding that the city plans to move forward with welcoming Nike—despite Ducey's funding cut. 
Although Ducey did in fact manage to convince the Arizona Commerce Authority to withdrawal a $1 million grant, the city of Goodyear has chosen not to waiver. "Last night, the Goodyear City Council unanimously approved a job creation agreement with Nike. This deal is expected to bring more than 500 jobs and significant investment to our city. We will honor the commitment we made in our agreement," Lord said in a Facebook video.
According to CBS News, Goodyear has vowed to waive $1 million worth of permit and plan-review fees for Nike's arrival along with providing an additional $1 million for job creation.
See original story below.
Nike is experiencing some backlash following the cancellation of its "Fourth of July" Air Max 1. The pair was scheduled to come out this week in celebration of the patriotic holiday. Governor of Arizona Doug Ducey took to Twitter earlier this morning to voice his "disappointment at this terrible decision."
This special colorway of the Air Max 1, like many shoes over the years, was dressed in the colors of the American flag to celebrate Independence Day. Its main detail was a Colonial-era Betsy Ross flag embroidered on the heel. Regardless of Nike's intentions, backlash began growing when official images of the sneaker surfaced online.
One of those who voiced their displeasure was former NFL quarterback-turned-social activist, and endorsee of the Swoosh, Colin Kaepernick. According to a recent report by the Wall Street Journal, he reached out to Nike, and insisted they pull the sneaker because the Betsy Ross flag represents a time in American history when slavery still existed. 
"Instead of celebrating American history the week of our nation's independence, Nike has apparently decided that Betsy Ross is unworthy, and has bowed to the current onslaught of political correctness and historical revisionism," wrote Ducey in a thread on Twitter addressing his frustrations with the decision. 
The brand's decision to pull the shoe has also already led to some financial loss, in Arizona at least. Ducey would go on to announce that Nike's cancelation caused him to contact the Arizona Commerce Authority, and withdraw any funding that was tied to the company's future move to the city of Goodyear, a major announcement he initially said was scheduled to take place today. 
The sportswear giant had plans to open a multi-million dollar manufacturing plant in Goodyear. It would have reportedly provided 505 full-time manufacturing jobs to the city. Operations were expected to start in 2020.
Ducey concluded his rant by encouraging children to research Betsy Ross. "It shouldn't take a controversy over a shoe for our kids to know who Betsy Ross is. A founding mother. Her story should be taught in all American schools. In the meantime, it's worth googling her."
While Nike has yet to react to Ducey's decision, the lack of financial incentives from the state could lead the Swoosh to abandon its initial plans to expand manufacturing in Arizona. A similar situation occurred back in February when Amazon canceled its plans to erect a corporate headquarters in New York City after it was decided the tech giant did not deserve nearly $3 billion in financial incentives for the project. 
In an official statement, Nike says, "We regularly make business decisions to withdraw initiatives, products and services. NIKE made the decision to halt distribution of the Air Max 1 Quick Strike Fourth of July based on concerns that it could unintentionally offend and detract from the nation's patriotic holiday.
Nike is a company proud of its American heritage and our continuing engagement supporting thousands of American athletes including the U.S. Olympic team and U.S. Soccer teams. We already employ 35,000 people in the U.S. and remain committed to creating jobs in the U.S., including a significant investment in an additional manufacturing center which will create 500 new jobs."